Now that you've gotten that person to subscribe to your email list, what are you going to do about it?
How are you going to follow up with them?
What are your options? You'll find out in this episode.
Listen to This Episode
Inside This Episode
In the last episode, I spoke about how to setup your email list. We covered everything from setting up your autoresponder to setting up the relevant pages on your blog and more.
But the next stage is even more important. It's where you:
Yes, this is truly where the magic happens, and if you do it right, you are setting yourself up for success.
So, in this episode, we dissect that entire process and cover:
Lets put it this way – I'm in the process of redoing my email list follow up process and I'm sharing the exact things I'm using to help take the value I provide to the next level.
So go ahead, have a listen and enjoy!
Resources Mentioned
Transcript
Some people prefer to read along with the podcast episode. Others actually prefer to read than listen. If you are one of those people, not to worry. I've got a transcript right here for you 🙂
Click here to download transcript.
About The Podcast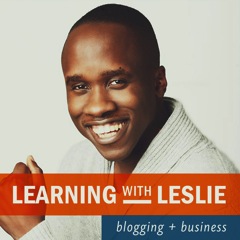 Learning With Leslie is a podcast dedicated to helping you build a business around a blog. No, not one of those blogs that will fall by the wayside when Google has a mood swing, but one that will thrive no matter what gets thrown at it.
I share tips and strategies that I've learnt building blogs since 2008 and interview experts who are knowledgable about various aspects of blogging so that we can learn from their experiences.
If you're a blogger, thinking about becoming a blogger (pun intended) or are not even sure if blogging is right for you, go ahead and tune in to see what this blogging thing is all about.
How to Subscribe To The Show