Imagine this – You have a biology blog. You started this blog to help college students who are struggling in biology.
A student in Timbuktu goes to Google and searches for "how to pass biology." Guess what shows up as number one? A blog post you wrote on 7 Tips To Help You Pass Your Biology Classes.
The result – Free traffic.
Listen to This Episode
Imagine that there are thousands of other searches that you rank for.
This is not something I'm imagining. This is a reality for my biology blog. The result is that 91,410 people have visited that blog 101,457 times in the last month. Search engines were responsible for sending 80,144 of those visits.
I'm going to share how to optimize your WordPress blog for the search engines. The result – you can get some of that good 'ol free traffic.
An Introduction to SEO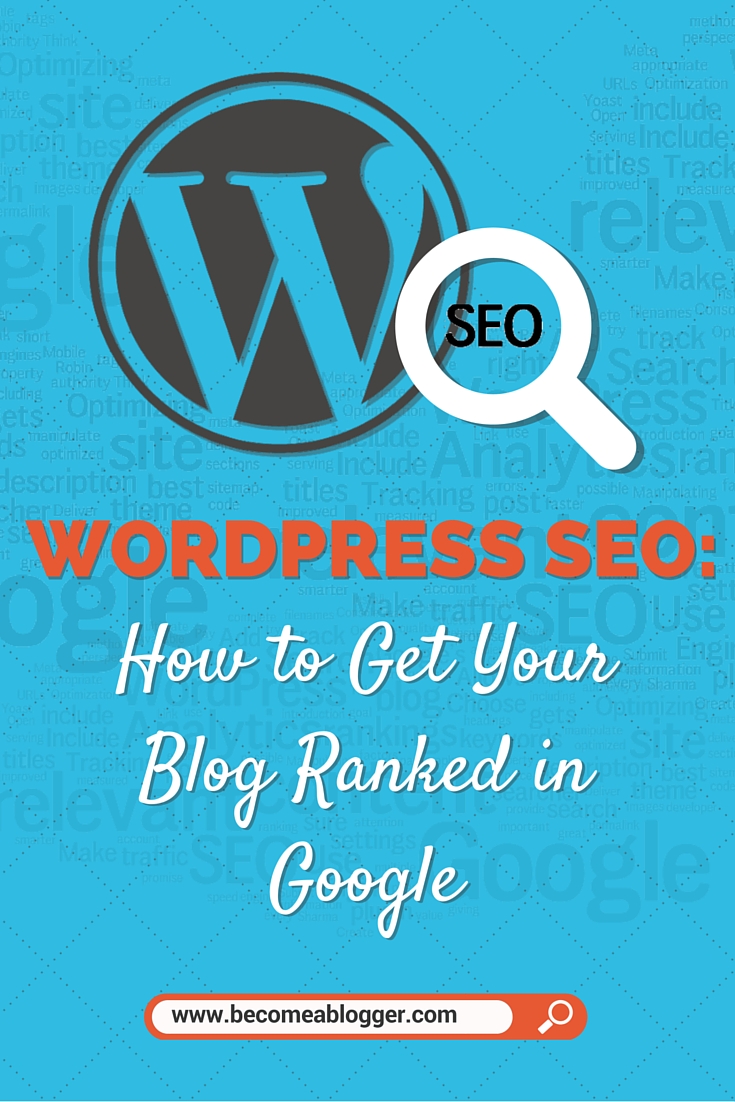 Before we dive into how to optimize your WordPress blog it's important for you to understand what SEO is.
Let's take a look at that.
What is Search Engine Optimization (SEO)?
When you build a blog, one of your main goals is to get people to come to that blog (or it would get pretty lonely).
There are many strategies for driving traffic to your blog. You can use social media sites like Facebook and Twitter. Or get other bloggers to send their visitors your way.
Some bloggers even get exposure on the news and other forms of traditional media.
One of the most stable ways for getting exposure is by having search engines (i.e. Google) send you traffic.
But, in order for a search engine to do that, the search engine has to:
Know what your site is about.
Know what the individual pages/posts on your site are about.
Match that information with what the searcher is looking for.
Google is a smart cookie. They have complex algorithms in place to be able to determine the relevant information.
But to understand SEO, I want you to picture something – Imagine landing in a foreign country. Everything is new to you. You are good with finding your way around.
But there's something different about this new place.
There aren't any signs ANYWHERE. You're walking all over trying to determine where the restaurants are but have to rely on other cues. You're trying to find the restroom in the restaurant, but all you see are random doors.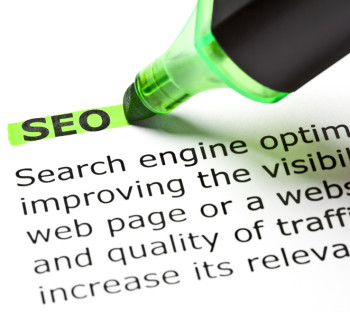 You open one door and discover that it is a restroom, but it's the restroom for the other gender. You are lacking vital information that's necessary for you to make crucial decisions.
You finally figure out where things are, but it was much harder than it needed to be. If there would be signs everywhere to guide you to the places you're looking for, it would be easier.
In this analogy, you are Google and that new country is your Blog.
Google is smart (just like you) and can figure out what your site is about (to a certain extent). But wouldn't you want to make it easier?
Wouldn't you want to put up the right signs to give Google EXACTLY what they are looking for?
Wouldn't you want to make it so easy that you are giving Google a detailed map, or even GPS to navigate your site?
That is Search Engine Optimization.
You are optimizing your website to give Google the exact information they need. This makes it easier for them to index your site and serve you up to the relevant searches.
Google's Ultimate Goal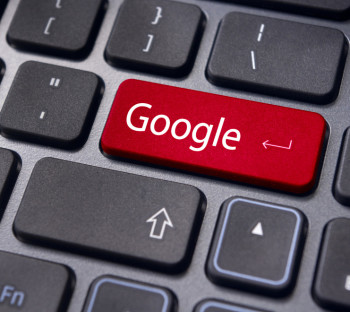 Let's think about the typical searcher. This person has a question or is looking for specific information.
They go to Google (or another search engine) and type in a certain query and click the search button. Once they do that, they go to an initial page of 10 results (and maybe some ads).
This is the Search Engine Results Page (SERP).
They browse that page and click through to the page that seems most relevant to what they are looking for.
If the page is relevant, they are happy. If they are happy, they may even check out what else that website/blog has to offer.
If they are unhappy, they return to Google and check out the other sites and even perform other searches.
Google's ultimate goal is simple: to give the searcher exactly what they are looking for.
So then what should be your goal? To give your readers (and potential readers) exactly what they are looking for.
Can You Manipulate Google?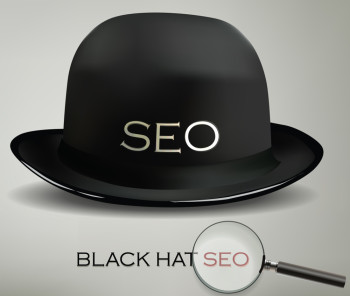 You're may be expecting me to say no, but the correct answer is yes.
In fact, there are entire industries that focus on manipulating Google. Think about it. If you can trick "the machine," you can get a lot of traffic.
I've received a lot of emails from individuals and companies promising to help me get to number 1 in Google. Of course, there are fees involved.
My recommendation to you is simple – NEVER try to manipulate Google.
Why not? Because Google is pretty smart and they are always improving their algorithms.
A quick win today that's based on shady principles can end up screwing you over in the long run. I've seen many businesses disappear overnight because of such shady practices.
The Most Important Factors for SEO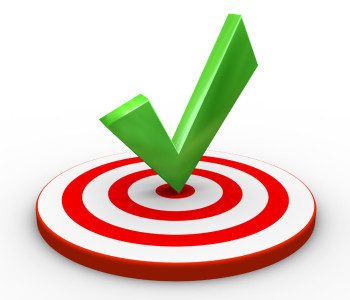 When it comes to ranking in Google, there is one question that can help you set yourself up for success. That question is as follows:
Are you serving your audience as best as you can?
Remember – Google wants to give the searcher exactly what they are looking for.
This leads to my number 1 tip for optimizing your blog.
Don't optimize for Google, optimize for your readers. Serve your audience and you will end up serving Google.
To summarize the important factors:
Create great content. The Internet is a noisy place, but cream always rises to the top. Don't skimp on quality. Create something great.
Create relevant content. The more content you have on one specific topic, the more you will establish your blog as a leading authority.
Give Google what they want. It's good to have awesome content on your blog. It's even better to set it up in a way that gives Google the information they need to make ranking decisions.
Establish your authority. If you are doing points 1 – 3 consistently, you are setting your blog up to become an authority. And the more you connect with other people in your niche, the more you will be recommended as an authority.
How to Optimize WordPress
If you follow my training on building a blog, you are most likely using WordPress. If not, watch this video.
Let's go through some of the best practices for optimizing WordPress:
Change Your Permalink Structure
When you install WordPress, the permalink structure for your posts will look like this:
www.yourdomain.com/?p=123
One of the key principles of SEO is that you should give Google as much information as possible.
This will help them make better decisions on how to rank your site. If your blog post is on how to make ice cream, ?p=123 doesn't provide valuable information.
Instead, you want it to look like this:
www.yourdomain.com/how-to-make-ice-cream/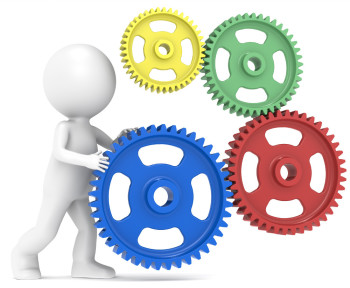 See what I did there? I gave Google more information, even in the URL.
To change this, log into your WordPress admin area, go to "Settings" and then "Permalinks."
We will then have the option to change your permalinks from the default to "post name". Make that change.
Choose a Good Quality WordPress Theme
One of the great things about WordPress is that you have a wide variety of themes to choose from.
However, all themes aren't created equally. Make sure to choose a theme from a trusted vendor.
By doing this, you will help to ensure that the structure of your blog will be relatively optimized on its own. Also, this will help with the next point.
Pay Attention to your Site Speed
Don't you just hate it when you try to load a site and it takes forever? So does the rest of the world.
Remember that Google wants the searcher to be happy. If your site is slow, your visitors won't be happy.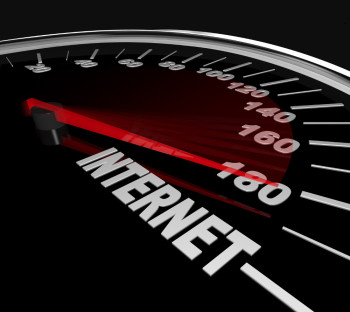 If your visitors aren't happy, Google isn't happy, and they will make adjustments accordingly.
Use a site like GTMetrix to analyze your site speed, and if it's subpar, make the recommended changes.
Some of the factors that affect site speed are as follows:
Choose a theme that isn't "bloated." Poorly made themes take longer to load. By choosing a trusted theme developer, you are reducing this risk.
Reduce the image file size. The larger the file size, the longer it takes to load. That's never good.
Upgrade your hosting. If your blog has grown to where your traffic is putting a heavy load on your server, it might be time to upgrade. I recently switched to WP Engine hosting and it made a HUGE difference in my site speed.
Use a Caching plugin. This leverages browser caching that saves your site so that it loads faster when a visitor returns to your site. A good plugin for this is W3 Total Cache.
Remember – faster is ALWAYS better.

Use the "WordPress SEO" plugin by Yoast
This is a powerful plugin that allows you to take control of how your content shows up in Google.
It also allows you to determine how your content shows up on social media, but that's beyond the scope of this post. For more on how and why I use this plugin, read this post.
Click here to find out more about the plugin.
Optimize Each Post and Page
When you install the "WordPress SEO" plugin by Yoast, it gives you the ability to customize how your post will show in the search results.
Right below the post editor, you have the ability to see how optimized your post is for a focus keyword.
When adding content to your blog always ask yourself the following question:
In a perfect world, what would someone search for to get to this post?
Once you've determined what that keyword phrase is, try to do the following:
Include that keyword phrase in your title of the post.
Try to include it in at least one article heading.
Include it in the URL of the post.
Include it a few times in the content of that post.
Include it in your meta description.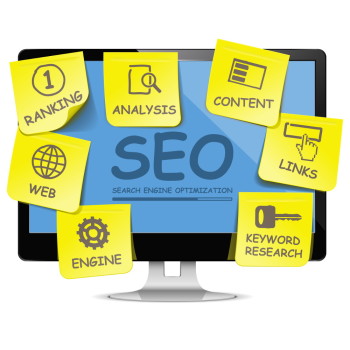 Please note: I'm not telling you to add that keyword everywhere in an artificial way. It's actually quite simple. If you're targeting a specific keyword, it will show up naturally in your content.
Here are a few more things you can do to help optimize your individual posts for your readers:
Use short paragraphs. Attention spans are getting lower and lower as time passes. Also, many people are browsing our sites from mobile devices. Keeping paragraphs short makes it easier to consume on the go.
Break content into relevant sections. If you scan this post, you will see various sections with various titles. This makes the content easily scannable and allows you to get a quick idea of what it covers.
Include relevant images and name them appropriately. Images help to bring your content to life. Include them in your content and name the files appropriately. This gives Google even more information even down to the file names. When you add images, include relevant alt tags.
Link to relevant content. Remember our goal – to serve our audience. When someone reads your content, they may have questions. You can help answer questions by linking to other helpful information. This might be your own content or content from other sources.
How to Track SEO
As you grow your blog, if you use the principles I share above, your site will grow in authority.
As your authority grows, Google will start sending you more and more traffic.
And as Robin S. Sharma puts it:
"What gets measured gets improved"
As a business owner, you want to make sure that you are always measuring key factors.
When it comes to traffic, there are some great FREE tools you can use to measure progress.
Install Google Analytics
Google Analytics provides you with all kinds of great insights for your blog.
It gives you a detailed breakdown of where your traffic is coming from, including the searches that are driving traffic to your blog.
When you install Google Analytics, you will have to create a property in your account. It will then give you tracking code to add to your site.
You can do this in most theme settings. If your theme doesn't have that option in the settings, you can use the "Google Analytics by Yoast" plugin.
Add your Blog in Google Search Console
Google Search Console (formerly Google Webmaster Tools) is a free service that allows you to monitor and maintain your presence in Google's search results.
Watch this great explainer video for a better understanding of what Google Search Console is:
Once you've added your site to Google Search Console, you will need to:
Verify your site
Submit your sitemap
Fortunately, the WordPress SEO plugin allows you to do that easily. Watch this video and see how to do these two tasks:
Your Turn
This is where you get to chime in on this content. Which of these tips have been most helpful for you? Is there anything I missed? Feel free to share below.
Video of Podcast
Resources Mentioned
Recommended Good Quality WordPress themes:
GT Metrics – grades the performance of your site by analyzing it.
WP SmushIt – helps compress the sizes of the images in your posts.
WP Engine – offers optimized hosting that's optimized specifically for WordPress.
W3 Total Cache – a caching plugin that leverages the caching feature of your browser to improve user experience to your blog.
WordPress SEO by Yoast – it gives you full control over how your content is going to show up on social media, in the search engines, etc.
Google Analytics by Yoast plugin – allows you to connect SEO by Yoast to Google Analytics and track all of your site's performance details.
Useful tools for tracking SEO:

Google Analytics – a powerful service offered for free by Google that gives you all kinds of insight for your blog, for your traffic, not just for search engines but for social media traffic and how everything is performing.
Google Search Console – (formerly called Google Webmaster Tools) – It gives you all kinds of details. It allows you to submit your site to Google and allows you to track your rankings and any errors.
Infographic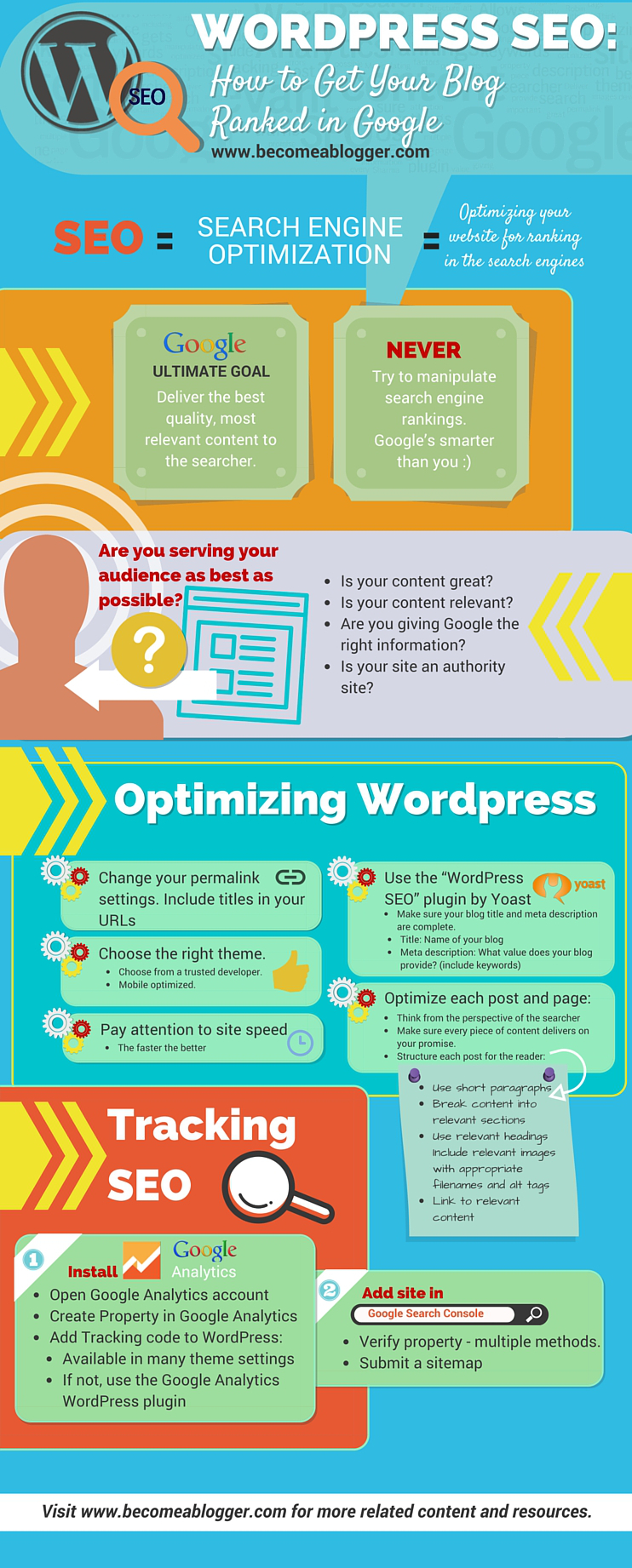 Transcript
Some people just love being able to read along with interviews, or they might just prefer to skip the audio completely and just read through the transcript. Hey, if that's what floats your boat, it is all good. Here's the transcript just for you. 🙂