Do you have a simple vision for your blogging business?
When you create content, market yourself and even sell products, do you feel a sense of complete alignment with that vision?
In this episode, we deal with creating that vision and letting it fuel everything you do.
Listen to This Episode
Inside This Episode
Since leaving my job more than a year ago, I've been struggling with the task of creating a vision statement for my business.
I've been back and forth with a bunch of different drafts, but it never felt right. Fortunately, Over the last two weeks, I've come up with something simple – and you just might laugh when you hear it.
Doing this has completely transformed the way I look at my business, and I think it can do the same for you.
Why I Started Thinking about My Vision
For the last year, I've been working with Social Media Examiner as the Senior Manager of their Social Media Marketing Society (currently closed to new members).
At the beginning of this journey, we had a vision-casting meeting, where they shared their new vision statement with the entire team. That vision statement was simple, catchy, and they really meant it. It was:
All that we serve is quality and we service all with excellence
Ever since that meeting, my way of looking at what I did for Social Media Examiner changed. It was basically governed by that statement. It was so simple, and we got the message.
Then over the last year of building my business full time, I've started to notice that there were so many marketers out there preaching the same "gospel" – Start a blog, create good content, promote that content, make money.
I started feeling like I needed something more, and that there needed to be something different in what I do for me to continue to feel motivated to move forward.
That's where my simple vision came in.
The Importance of a Simple Vision
Going into my second year of being self-employed, I knew that I wanted something more, and that having that simple vision could make a HUGE difference. Here are my reasons:
It's easy to remember.
It helps to give more focus.
It helps you to attract the right people – those who are in alignment with your vision.
It helps you understand what NOT to do.
It gives you the motivation to push through the difficult times.
How to Create a Simple Vision
There's a lot of information out there about how to craft your vision for your business. It ranges from simple mottos to very complex and detailed vision statements.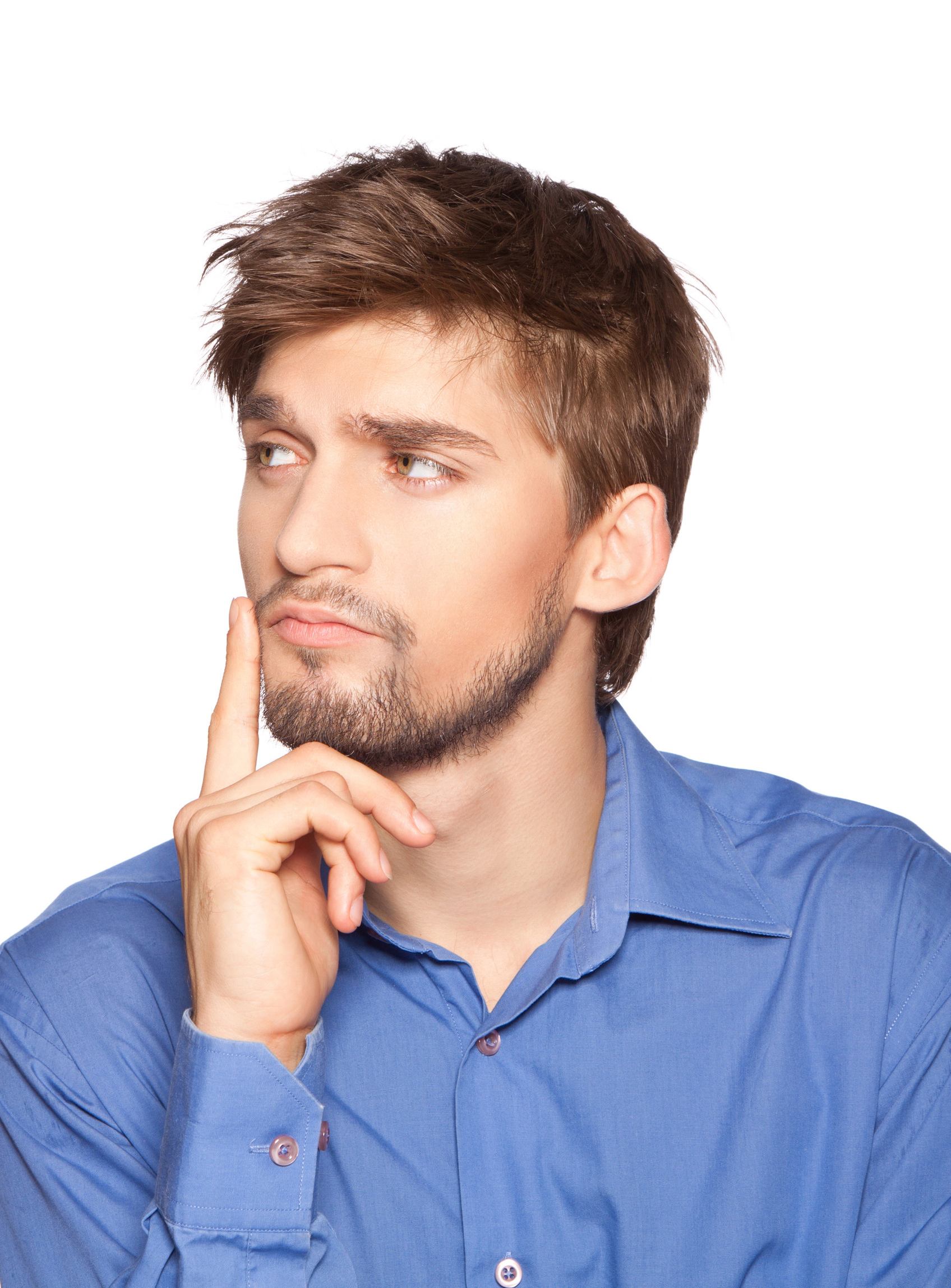 I don't resonate with most of what I see out there. In fact, I've written a few vision statements in the past using various guidelines and can't remember any part of any of them.
I knew that in order for it to be something that impacts me and my business, it needed to be simple.
Here are some of the questions I recommend for you to ask when coming up with a simple vision.
When it comes to your blogging business, what's really important to you?
In a perfect world, what would your business be accomplishing?
Who are some people you admire in your industry and what do you admire about them?
When it's all said and done, what do you want people to remember about your business?
These are some important questions to think about if you want your blogging business to stand for something more than just a job that you created for yourself that pays the bills.
Once you've answered these questions, start drafting your vision. It doesn't have to be simple immediately.
The next step is to get rid of EVERYTHING that isn't absolutely essential to capture what you want your business to stand for.
My Simple Vision Journey
Through this process of working on my vision, I started with some relatively complicated vision statements that I could never remember.
These were vision statements that I can guarantee would've ended up in a document and that's it.
I would've never remembered them and they wouldn't have impacted my business in any significant ways.
In this episode, I share some of those and I share the simple vision I ended up with. When you listen to the episode, you'll find it quite ironic.
What to Do with Your Simple Vision
Having a simple vision means absolutely nothing if it doesn't impact your business in significant ways.
Once you've gone through the effort of fine tuning that awesome vision, you need to make sure that your vision is clear in EVERYTHING you do that's related to your blogging business. Here are some ideas:
Share that vision clearly in all your content.
Share that vision with your team
Make it clear on your blog (especially on your about page)
Let all your branding reflect your vision
While it's not necessary to say or write the exact words in every piece of content, it should be clear that your content is influenced by your vision.
Your Turn
What about you? Do you have a simple vision for your blogging business? Do you have any kind of vision for what you want it to be about? Let me know in the comments below.
Infographic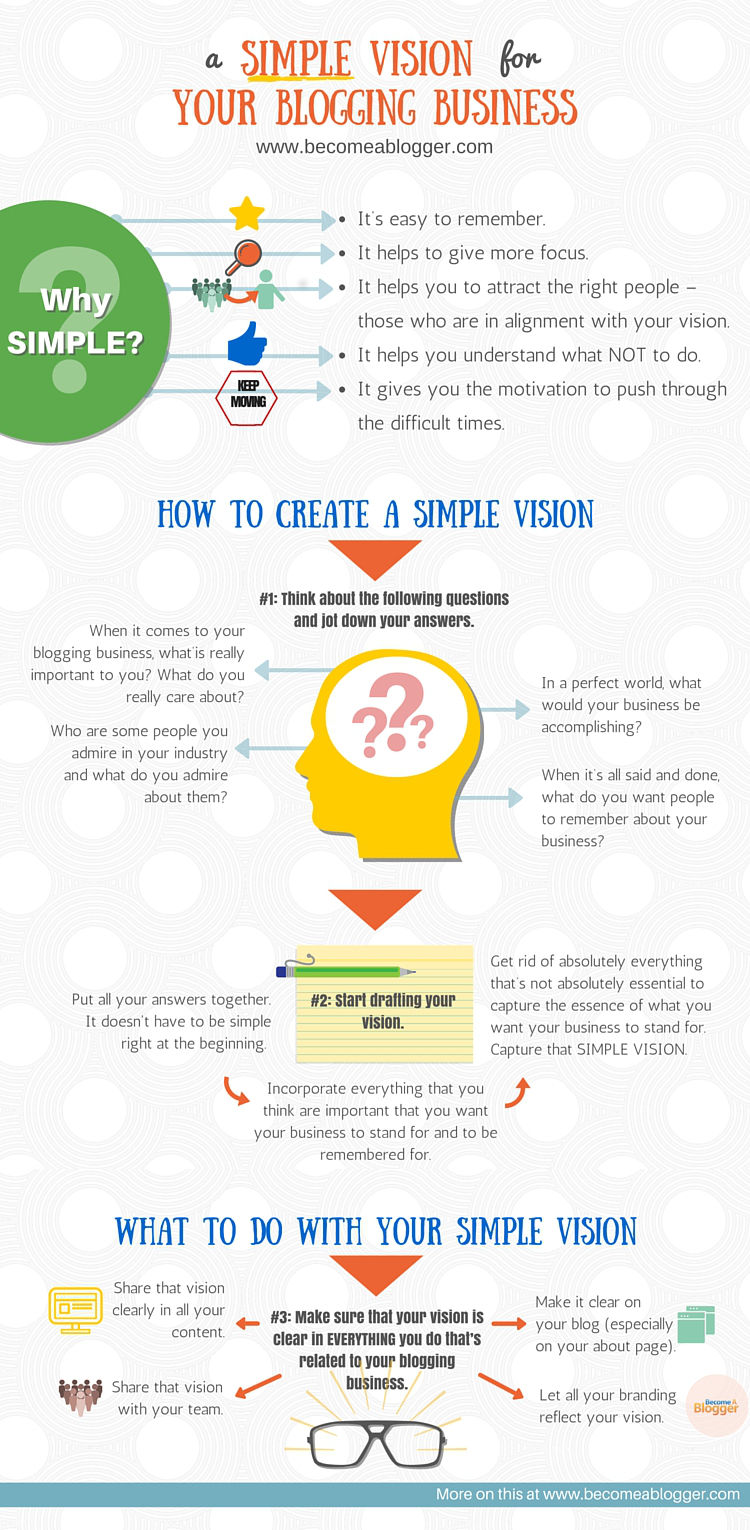 Transcript
Some people just love being able to read along with interviews, or they might just prefer to skip the audio completely and just read through the transcript. Hey, if that's what floats your boat, it is all good. Here's the transcript just for you. 🙂