I can't believe it. I quit my job.
I'm no longer an employee. My financial well-being is 100% dependent on what I do.
Listen to This Episode
It's kinda crazy if you ask me . . . and . . . I'm Excited.
Inside This Episode
If you've been following me for a while, you know that being a university professor was my dream job. However, due to recent events, I've come to realize that I needed to make a change.
The biggest thing that changed is that I decided to leave the job that I love.
In this episode, I wanted to talk about this decision, how I came to it and what it means for the future. I cover:
Why I made the decision to leave my job
What it means for the future of Become A Blogger
How I plan on scheduling my days from here on
What it means for Become A Blogger premium
A new program that I will be launching called Become A Blogger University
What this all means for YOU
This is HUGE, and I'm so happy to share it all with you, so go ahead and have a listen. Oh, and let me know what you think in the comments below 🙂
Transcript
Some people prefer to read along with the podcast episode. Others actually prefer to read than listen. If you are one of those people, not to worry. I've got a transcript right here for you 🙂
Click here to download transcript.
About The Podcast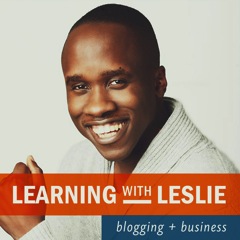 Learning With Leslie is a podcast dedicated to helping you build a business around a blog. No, not one of those blogs that will fall by the wayside when Google has a mood swing, but one that will thrive no matter what gets thrown at it.
I share tips and strategies that I've learnt building blogs since 2008 and interview experts who are knowledgable about various aspects of blogging so that we can learn from their experiences.
If you're a blogger, thinking about becoming a blogger (pun intended) or are not even sure if blogging is right for you, go ahead and tune in to see what this blogging thing is all about.
How to Subscribe To The Show