Part 1 | Part 2 | Part 3 | Part 4 | Part 5 | Part 6 | Part 7 | Part 8
If you've missed any post in this series, use the navigation at the top of this post to catch up!
Now that you know why you should guest post, how to identify quality targets , how to thoroughly research those targets, and how to write a great pitch that gets attention – it's time to get down to the nitty gritty.
Once you've done all your homework, it's time to write the post. But there's a catch to having a guest post perform well…
It has to be good. I mean really good.
I'm not talking about the kind of writing that your mom tells you is good. You're going to have to create something that strangers love.
And while I can't teach you to create better sentences or to develop a better vocabulary, I can teach you something equally as important. Some might even say more important.
Copywriting. Or at least a basic copywriting framework that will allow you to grab a reader's attention and keep them on your page long enough to fall in love with your work.
Why Structure Can Make You or Break You
Many new bloggers think that if they make a good point or teach a valuable lesson in their post then, the way they physically structure the post doesn't really matter. They couldn't be more wrong.
Writing for an online audience is very different than writing for any other audience.
Getting a reader's attention and keeping it online is like herding cats. They're moving fast, they're distracted, and they're overstimulated.
When you write online you have to grab attention early and keep it held firmly in your grip throughout the post like you're hoarding it. You have to absolutely captivate your audience more so than in any other type of writing.
Why is that?
Think of what consuming content online is like. Millions of people are blasting out their messages all day every day – hoping to catch your attention. There is an overabundance of content out there. Readers are overstimulated and inundated with information around the clock.
Because of this fact, all of us online have become serial scanners.
Why You Have to Demand Their Attention NOW
Think about it. When you read a blog post, do you really sit down with a nice cup of coffee and invest 10 or 15 minutes in it – or do you scan the headline and the main points quickly first to determine if it's worth your time or not? You scan first. We all do.
According to the Nielsen Norman Group, your average visitor will give your content somewhere between 10 and 20 seconds to "wow" them before they yawn, stretch, and click away to something more interesting.
And that's assuming that your headline was intriguing enough to grab their attention in the first place!
So that's all you get. 10-20 seconds. There's no time to work up to the good stuff when you're writing a blog post.
Especially when you have a guest post appearing on a larger stage. You have to hit the ground running.
Go take a look at your Twitter stream. Every few minutes a hundred more people blast their message out to the world. Consider your email inbox. Every day you receive tons of new emails promoting different people's content.
Now think about what kind of attention you give all those messages. Before you even decide to click the link and scan the content, you judge it solely by the title – the headline.
How do you treat a boring, mundane headline? If you're like most other readers, you probably scroll right past it. Average headlines get overlooked – plain and simple.
Readers Love to Click Great Headlines
Unless you want your content passed over (like all the content you've chosen not to read) you need to learn to write headlines that stun, shock, and demand attention.
When you write on your own blog, headlines are important – but when you're writing a guest post for a larger audience on a larger blog, strong headlines are absolutely essential.
A great headline hooks readers, demands attention, and most importantly creates curiosity. Your goal in writing a headline is to have the reader think, "What?! I have to go see what that's about!"
This isn't just a post about headlines, so we won't be going into great detail on writing them… but I won't leave you hanging either. Keep reading. Later in the post I'll provide you with a free resource that includes all my favorite headline-writing eBooks… which are also free!
Appearances Matter
Formatting is a very important element of writing blog posts that often gets overlooked. And when I say formatting I'm referring to how the actual blocks of text, the paragraphs, and the subheads look on your computer screen.
Take a look at the post you're reading right now for example. How many sentences are in the longest paragraph? How many paragraphs are there between each subhead? If you look closely, you'll notice that blog posts (ones that get attention anyway) are broken up into small pieces – even if it's a long post.
That's because, as we already know, blog readers are scanners. Remember that you only get a new reader's attention for 10 or 20 seconds when they first visit.
Half of their first impression will be based on how the post looks – and the other half will be based on what the post says.
Look at the image above this paragraph. Which of those looks friendlier to read? How likely would you be to read a big, long, block paragraph? You wouldn't trudge through all that text – and neither will the readers of your post or guest post.
Submit your guest post to your target in one big, giant block and most host bloggers won't bother to read it.
To keep eyes on the page longer, follow these 3 simple formatting rules: [unordered_list style="tick"]
White space is your friend – use it liberally.
Keep paragraphs short: 2 to 3 sentences whenever possible.
Break up the post with interesting subheads whenever possible.
Why Subheads Are Your Secret Weapon
Subheads are the smaller headline-like titles that break up a blog post and introduce new sections. There is probably no element of copywriting more neglected than the sub head.
When you break the word subhead down, it literally means "under the headline." Sub means under and head refers to the headline. So a subhead is literally a smaller headline under the main headline.
While headlines get people to come read your post, subheads pull readers from section to section and prevent them from clicking away. If you master writing great subheads, more readers will follow you home from your guest posts.
Use subheads liberally. Make sure they create curiosity for your readers so they want to read the text that follows. If this brief description of subheads caught your attention, you should probably find and study a comprehensive guide to subhead mastery.
How to Write Like a Pro
You probably spend a lot of time online learning about various elements of blogging. You read about analytics, design, podcasting, creating products – and hundreds of other related topics. And it's good to know about those things. You might even say it's essential.
But are you ready for a little tough love? If you don't learn to clearly communicate your message in writing, all of that other stuff will get you nowhere. You have to learn to write well. There's no way around that when you're running a blog.
Now while I'm not here to help you with sentence structure and punctuation – I can give you something extremely valuable that has the power to increase the quality of your writing overnight: My copywriting formula.
Your Secret Blog Post Formula
Well, maybe it's not a secret, but it is effective. I'm about to share with you the 8-step copywriting formula that I used to write successful guest posts on major blogs within a month of launching my site… and I've continued to use it ever since.
This formula is merely a structure for you to follow. Consider it a track to run on when you're writing. It's designed to grab a reader's attention and keep them interested in your post all the way through. There are practical and psychological elements to it that just flat out work.
8 Steps to Killer Copy
Step 1: The Headline
As we've already covered, a great headline is vital to the success of your post. Not a pretty good headline – a great headline. If your headline doesn't evoke curiosity, no one will click through and read your post. (Free headline resource coming up!)
Step 2: Bring the Pain
All good blog posts solve a problem. They either teach us to get rid of something we don't want (writers block for instance) or they teach us to get something we want but don't yet have – like tons of customers.
So in the first lines of your post, you need to make that pain or desire real. Make your reader actually feel the pain or desire that needs to be resolved.
Step 3: Relate to the Pain
After you've described the discomfort of not yet having a solution to the problem, show that you understand their discomfort. Use phrases like, "It makes you want to just give up", or, "It can make a person feel useless when that happens." This shows your reader that you understand them and that you're no stranger to "the pain" they're feeling.
Step 4: Relate to the Reader
Now you want to let the reader know that they're not the only ones who experience this type of problem. Write something along the lines of, "It's ok, though. We've all been there." or, "You're not alone." to express that it's normal to experience what they're experiencing.
Step 5: Define the Problem
In this section, you'll define the specific problem that your post will solve. Explain the problem to them in terms of why they probably think the problem exists – as well as your own insights about why they're experiencing this problem.
Step 6: Define the Cause of the Problem
This portion of the post transitions or bridges you from discussing the problem to the actual cause of the problem and then ultimately the solution to the problem. Use a short phrase like, "There are really two primary reasons this problem occurs…" Then explain those reasons.
Step 7: Provide the Solution
Once you have identified what the problem is and what causes the problem, it's time to provide your solution. Describe your solution in great detail.
This will likely be the longest part of your post. After delivering the solution, briefly tell your readers how their life will be better after having solved this problem.
Step 8: Call to Action
I don't know why, but the Call to Action is something many bloggers drop the ball on. It's a brief but very important part of your post. It answers the question, "Ok, blogger. I just read your post. Now what do I do?"
Tell your reader exactly what you want them to do next: "Download my eBook" "Subscribe to my newsletter" "Send me an email" "Share your story in the comments" etc.
If you don't tell them to take action, I promise you they won't.
How to Take This Formula With You
It's not a magic formula. You still need to write well and have a strong message. But I promise that if you use this formula to structure your guest posts, they'll perform much better than if you wing it.
At times, you may vary from the formula a bit – and that's fine. It's not meant to produce blog posts that all look alike.
As you use it and develop a level of expertise with it, you'll find yourself making personal adaptations and tweaks here and there. As long as they produce results, tweaks are fine.
To help you get used to using this formula, I've developed a free printable Copywriting Cheat Sheet for you.
Download it and use it with my compliments. It outlines all 8 steps on an 8.5 x 11 sheet – and includes links to my three favorite headline writing eBooks.
Until Next Time: Homework
By now you should know which blogs you're targeting – and you should have drafted a few pitches. Download your free Copywriting Cheat Sheet and use the advice in this post to write your first draft.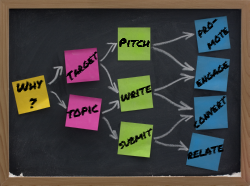 If you feel it's ready to submit – go for it! If you're not sure, have a friend or associate look at it. But be cautious of waiting for a level of perfection that never comes. At some point you just have to take a shot.
Let me know how it goes for you!
In the next post, we'll discuss how to maximize conversions (getting subscribers from your guest posts) by writing a powerful guest post bio and creating landing pages.