Part 1 | Part 2 | Part 3 | Part 4 | Part 5 | Part 6 | Part 7 | Part 8
If you've missed any post in this series, use the navigation at the top of this post to catch up!
After targeting the perfect blogs for your guest posting campaign and thoroughly researching them to come up with the perfect topic for their audience, you're now ready to approach a few of your targets and pitch your idea.
How do you approach your target blogger?
How do you write an OUTSTANDING pitch to get that guest posting spot? Continue reading!
Why Writing an Outstanding Pitch is Vital
The pitch is probably the most important part (and the most blundered part) of the guest posting process.
There are two primary reasons why I say it's the most important part.
#1: Until You Get a "Yes" Your Killer Content Doesn't Matter
A lot of people would tell you that writing an amazing post is the most important part of guest posting. And I'd almost agree with that.
Creating great content is huge, but when you're first starting out and your targets don't know you, you have to get accepted first – otherwise it won't matter how well you write. That's why a great pitch is so important.
#2: Your Targets Probably Receive Tons of Pitches
You need to realize that the people you're pitching probably receive hundreds and maybe even thousands of guest post pitches. This can work for you or against you.
On the downside, it works against you because it's easy to be lost in the shuffle with so many other people pitching them. The upside is that most of those pitches are dreadfully crafted and have absolutely no chance of being accepted – so you have the opportunity to stand out by sending a great pitch.
This post will teach you exactly how to write a pitch that will get you noticed.
Should You Write First or Pitch First?
Some people prefer to write the post before they pitch it and others pitch the idea first and then begin writing.
Ultimately, it's up to you. I've done both.
Just realize that after you pitch, your target blog owner will occasionally suggest a different slant on the post. If that's the case and you've already written it, you just need to be prepared to do a re-write.
For the purposes of our discussion here, we'll proceed with the idea that you're going to pitch first and write the post after the pitch is accepted.
You should also know that some blogs will specifically tell you in their guest post guidelines if they want a full article up-front or if they'd prefer an outline in your pitch.
Speaking of guest post guidelines…
The Guest Post Guidelines ALWAYS Win
This post is going to teach you everything you need to know about how to write a great pitch. And the very first thing you need to know  is that your target blog's specific guest post guidelines always win.
Many blogs post their own guest post guidelines that very specifically tell you how they want things done. Some are very easy to abide by and some are very strict.
If you read something in this post (or anywhere else) that contradicts a particular target blog's guidelines… always go with the target blog's guidelines.
If there are no guidelines posted, or if part of the process isn't specified in their guidelines, use the information in this post. This method has worked spectacularly for me and many others.
If your target blog goes to the trouble to post their own guidelines, it's clearly important to them. Following their preferred method of submitting a guest post is one of the best things you can do to increase your chances of being accepted. As you might guess, ignoring them is a good way to get ignored.
How to Get Your Pitch Rejected
Sometimes the best way to learn the right way to do things is to study (and then avoid) the wrong way. So before we cover what a good guest post pitch looks like, let's look at some unsuccessful pitches and diagnose why they were unsuccessful.
All of these are actual guest post pitches received recently by either Leslie or me.
None of these pitches had even a 1% chance of being accepted. I'm not saying that to be elitist or critical. It's just fact.
The sad part about this is that some or all of the people who sent these pitches might be good writers capable of producing a great guest post. But since they sent such bad pitches, no one will ever know that.
Let's just fire through some of the reasons these are bad pitches… and then we'll cover how to write a great pitch that will get you noticed.
In the unsuccessful pitches above…
Not a single one of them pitches an idea. In fact, one of them indicates they'd like to be given an idea.
None of them demonstrate an understanding of the target blog's audience or topic. One of them even asks for the target blog owner to write back and explain their audience.
Only one of the pitches includes a link to a writing sample – and the one that does lists two articles that are totally irrelevant to the topic of the target blog.
Not one of these pitches mentions any real benefit to the target blog if they accept the guest post.
I could go on, but I think you see the point. There is nothing interesting or compelling about any of these pitches and they offer no benefit to the target blog.
That's why pitches like these go straight to the trash folder. (Except when you're saving them to share in a post like this.)
What Your Target Wants to See In Your Pitch
When you're pitching a guest post, you're really selling yourself and your work. Sure, your ultimate goal is to land a guest post and get some subscribers, but you shouldn't come off as selfish in your pitch. Your post should tell your target blog why a post from you would help them.
Remember, you're asking a popular blogger to allow you the honor of coming into their home (blog) as a guest and directly addressing their family (audience). The guest post is more than an opportunity for you to get links or subscribers – it's also about providing value to your target blog and their audience. Your payoff comes only after you've earned it by doing an outstanding job on your post.
Your pitch ought to make saying "yes" as easy as possible for the target blog's owner. Shortly, I'll show you exactly how to write a pitch. But for now, you need to become familiar with the four pillars of competency. These are the four very important things that your target blog owner will need to know about you before they even consider accepting your pitch.
Pillar 1: You Know Who You're Pitching
Most blogs are pretty transparent about who's in charge. Find out and address your pitch to that person. You should never use "Dear editor" or just, "Hi there!" as an opening. Your pitch should begin with a name – like, "Hello, Leslie!"
Pillar 2: You're Familiar With the Blog and Their Audience
In the earlier posts in this series, I've encouraged you to target relevant blogs, and to get to know their content intimately. When you understand the type of content they prefer, you can reference it in your pitch – thereby demonstrating that you're knowledgeable and credible.
There are reasons I emphasize researching your targets so much. First of all, it makes you stand out because very few aspiring guest posters bother to do it. Second, it shows that you care about doing an outstanding job.
Pillar 3: You Know How to Write Well
A lot of aspiring guest posters fail to include links to examples of their writing in their pitches. A large, reputable blog will never give you a shot unless they either know you already – or unless you make it easy for them to see samples of your writing.
It's not their job to go Google you. They're the ones doing you the favor of letting you post on their site, so you need to go to the effort to provide them with links to examples of your best writing.
Pillar 4: You Have an Actual Idea
The responsibility for pitching a relevant topic that will resonate with the blog's readers is yours and yours alone. The fastest way to get your pitch from the inbox to the trash folder is to say something dumb like, "I can write on any topic, so send me one and I'll get to work."
Scan, click, delete.
ALWAYS pitch a relevant idea – and include at least one suggested headline.
Once you've proven that you're worthy of their attention by demonstrating these four pillars of competency, you're on your way. Just by proving you're not clueless, you've put yourself ahead of easily 60% of all the other pitches they receive. Sad, but true.
But now, let's dig in to the detail of writing the actual pitch email.
How to Craft a Killer Pitch
Here's a step-by-step guide to walk you through creating a guest post pitch that gets noticed and accepted. Notice that each of these steps relates to and elaborates on one of the four pillars of competency.
#1: Compose a Good Opening
Your opening should include a personal greeting, and demonstrate your familiarity with their work.
Hello, Leslie!
I've been a subscriber of Become a Blogger for some time now – and I especially enjoy listening to Learning With Leslie on my morning run.
#2: Pitch the Topic
I've been working on an idea for a post about how to use guest posting to build your email list – and it struck me that this would be a great fit for your audience.
#3: Build Credibility & Provide Writing Samples
Recently, I've had several successful guest posts on major blogs including ThinkTraffic, Boost Blog Traffic, and Firepole Marketing – which you can see here:
(paste the links to your writing samples here)
#4: Pitch a Headline
The working headline for the post is How to Build Your Email List by Guest Posting Like a Pro although I'm open to changing it up if need be.
#5: Point out Why Your Idea is Relevant to Their Audience
I feel that the post would be especially relevant to your readers because many of them are in the early stages of audience building, understand that guest posting is important, but find the whole process intimidating.
#6: Outline the Post Flow in Bullet-Points
The flow of the post is…
An explanation of why guest posting is so important when building your audience.
It describes the reasons most guest posters fail to get their pitches accepted.

Lack of familiarity with the blog
Not pitching a specific idea
Not writing a quality post

It then gives several tips and examples of how to remedy those problems and write a pitch that gets attention.
#7: Summarize the Topic and Relevance
Although there are many courses out there that teach guest posting, I haven't seen a lot of posts that walk new bloggers through the basics of the process very well. For that reason, I think your readers would find it very useful.
#8: Close the Deal
What do you think? Should I write it up and send you a draft?
I look forward to hearing your thoughts,
Gary Korisko
That's a good pitch. It's nothing elaborate or particularly difficult. It's just professional, organized, and well-thought out.
I promise you that if you write well and send out a pitch like this, you will get noticed and you will land guest posts.
A Bonus Just Because I Like You
I realize that pitch may be a little difficult to analyze as a whole since I broke that into pieces in order to explain it. So I have a surprise for you.
I have created a free PDF report exclusively for Become a Blogger Readers that not only has the entire example pitch in it – but also includes several of my own actual pitches that were accepted by major blogs like ThinkTraffic, Goodlife Zen, and Firepole Marketing.
This report not only shows you my original pitch, but also links to the actual guest post so you can see how the final product came out. You can download Pitches That Get Noticed right here.
How and When to Follow Up On Your Pitch
I've found that usually the more reputable the target blog owner, the better they are about following up on a good pitch. Send a bad or confusing pitch and you may never hear back.
After sending your pitch, you're going to be excited to hear back from your target. While being seen as ambitious and eager is a good thing, coming off as a pest is not. Over time, I have found that a very short follow-up note once a week is received pretty well by most bloggers.
When you follow up, forward the original pitch and write a short note like this at the top of the email:
Hi Leslie:
I just wanted to follow up and see if you had a chance to take a look at the guest post idea I sent you last week (below). I'm very interested to hear your thoughts on it.
Thanks!
That's it. Short, friendly, and polite.
By following up like this weekly, you're actually helping the target blog owner out. Most of these people have so many emails and projects to keep track of, that sometimes they just forget or lose track.
Your short check-in is a friendly way to help remind them to take a look at your pitch.
If after 3 or 4 follow-ups you still haven't heard back, you probably won't. If that happens, you can pitch your idea to another blog if the topic is relevant to them.
What Pitching Is Really All About
Most of the time, your pitch is your first impression to a bigger blogger who can help you gain exposure. For those reasons, it's important that this first impression be an outstanding one.
Use this post as a guide, download the free Pitches That Get Noticed report, and follow all the other steps in this series. If you do, you'll stand out in the crowd and start landing guest posts.
The next post in this series will cover everything you need to know about writing your guest post: Copywriting, creating a landing page, and writing a bio that gets clicks.
Until Next Time: Homework
Choose 2 or 3 of your target blogs. For your first time, try targeting blogs that are bigger than you, but not too much bigger. Write an email pitch to each of them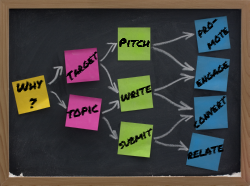 about your well-researched topic.
You can send the pitch if you like, but you might want to hold on to it instead until you read the next post in this series – which is everything you need to know about writing your guest post.
Talk to me!
Have you sent pitches before that failed? How do you think this process might help change that for you? Let's discuss it in the comments!