Do you wish you had a clear strategy for figuring out where to focus?
In this post, I'm going to give you some practical steps for creating your Social Media strategy.
Listen to this episode
Why Social Media
Over the last decade, social media has come a long way. Check out these numbers from 10 years ago: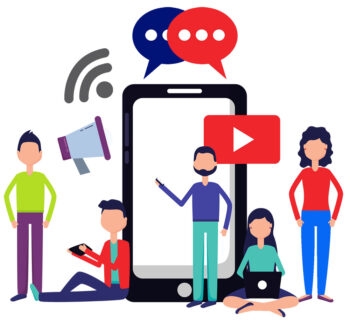 Facebook had 608 million users
Instagram had 1 million users
Pinterest had 10,000 users
Twitter had around 100 million users
TikTok was the sound of a clock.
Fast forward one decade and
Facebook has 2.7 billion users
Instagram has 1 billion users
Pinterest has 322 million users
Twitter has 330 million users
TikTok is still the sound of a clock, but it's also a platform with 1 billion users.
Social media is now a part of our every day lives – with users spending hours on the platform each day. With this comes significant opportunities for you and I.
Never before have we had the ability to reach people as effectively as we can today. If you aren't leveraging social media to grow your brand, it might be time to consider starting.
But for many people, the thought of a social media marketing strategy seems daunting. With that said, the goal of this post is to help simplify that process for you.
Identify your Social Media Goals
Here's the truth – most marketers waste their time on social media. We spend countless hours browsing our news feeds without a clear goal. This is a waste of time. If that person is you, stop it now.
Instead, let's start by identifying your goals for Social Media. Here are some possible goals you may have in your business: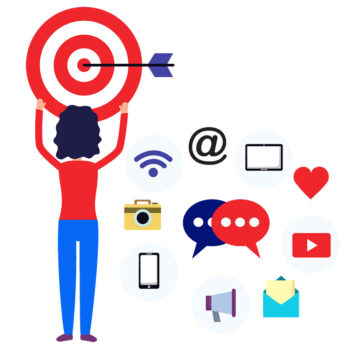 Grow your following: Maybe you have a message to share. And to get that message out there, you need to grow your following.
Increase engagement/connect with audience. Maybe you have an audience, but you're trying to deepen the connection.
Drive traffic: Maybe you have a blog or other website and you want to get people there.
Drive sales: Maybe you have a business and you are trying to increase revenue by driving sales.
All these are valid goals. But here's my question – What is your ultimate goal for your business? If you're running a business, the ultimate goal is most likely to drive sales. If that is the case, then everything you do in your business should have a way to tie back to that bottom line.
Because if your business is making money, you will be able to do more. You will be able to grow your team, create more content, provide more value and serve others more.
Have a system for tracking those metrics
Let's say you have a blog and an online store. You post content on Social Media to grow your audience and ultimately drive sales. Awesome.
But if you don't have a system for measuring your success, how will you know what's working?
A better approach is to create a system for tracking the ROI of your social media marketing efforts. And with a few tools, you can do just that. Here's what I recommend: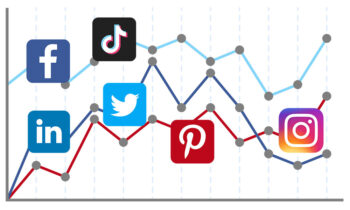 Install Google Analytics on your blog
Setup goals in Google Analytics to track key actions (like product sales)
Use Campaign URL's whenever you share any of your content on social media
Track the results and refine your campaigns.
If any of that sounded like a different language, don't worry. I created a free course on how to track the ROI of social media.
Check it out and you'll be well on your way to becoming a tracking ninja.
Analyze top-performers in your industry
It's time for you to do some undercover digging. Well, not really. It's just time for you to see who's out there and what they are doing.
Search on Google and on the different social platform to see who the movers and shakers.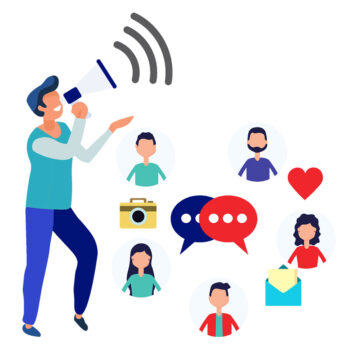 Once you find them, do a deep dive into their social media strategy. Ask the following questions:
What platforms are they focused on? Do you notice a trend among people in your industry to focus on a specific social platform? If you start noticing a trend, this will help you decide where you should focus.
What are they doing? What kind of content are they creating? How do they promote their stuff. What are they doing to engage and connect with their audience? Are they focused on videos? Do they do a lot of stories?
What aren't they doing? This is a very important question that will give you insight into how you can stand out. If there's a clear thing that's missing, you can step in and fill that void.
Take stock of your assets
As you build out your social media marketing strategy, it's important to use your assets. These assets come in different forms when it comes to your online strategy. Here are some of the main ones:
Your Content. These are your articles, podcast episodes, and videos. Whatever content you've created, take stock of that. We have a spreadsheet of every piece of content on this blog. That comes in handy for deciding what to share on social media for different purposes.
Lead Magnets. These are great for helping you to grow your email list. And yes – you can share these helpful resources on social media as a part of your strategy.
Products/Services. Remember, you're running a business. And businesses sell stuff. And every so often, you will want to sprinkle in some promotions to bring exposure to what you offer.
By taking stock of everything you have to offer, you can come up with a plan for promoting what you have.
Choose your social platform(s)
We have set the foundation. It's time to decide where to focus. The reality is that if you try to be everywhere, you won't do a great job anywhere. Unless you have a great time of people helping you.
That's why I usually recommend choosing one main platform and a secondary platform. Your main platform is where you will spend the bulk of your social media marketing time. And the secondary can will be . . . well . . . secondary.
Here are some of the questions you should be answering when trying to choose a platform: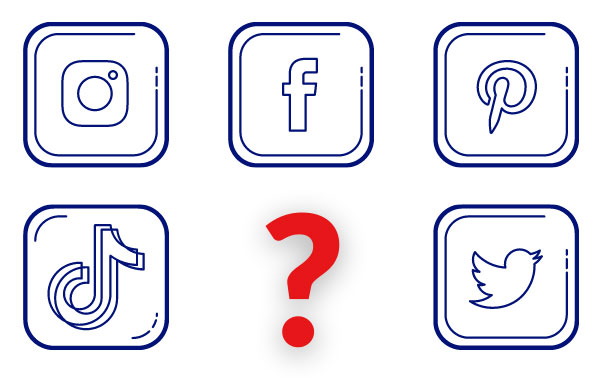 Where is your audience engaging? This is key. If your audience spends a lot of time on a specific platform, it's a good idea to be there. One of the indicators of where they are spending time is where influencers in your space are. And fortunately, you already know that because you read what I said about that already.
Which platforms do you enjoy? It's a good idea to have fun in your business. If you love a specific platform, you'll enjoy creating on that platform. If you enjoy doing that, you'll be more likely to actually do it.
Use your answers to those questions to decide where you will focus. Here are some general guidelines that give insight into what the platforms are good at:
Instagram: Instagram is a very visual platform that has a relatively younger audience. However.
Facebook: Facebook is the largest social network at the moment with over 2.7 billion users. If you're target audience is alive, they are most likely on Facebook. Their users are older than Instagram users on average.
Twitter: Very fast paced.
Pinterest: Another visual platform. I look at Pinterest as a digital scrapbook. If you're blog is about a very visual topic (i.e. food, recipes, etc), you may want to consider Pinterest.
TikTok: The new kid on the block that's growing faster than any other platform to date. It's a short form video platform.
Other: get to know those platform.
Create accounts on all the platforms
I don't recommend trying to be active on all platforms. But I do recommend creating your accounts on every platform. This will reserve your name so that nobody else can register it.
At some point in the future, you may want to expand to other networks. Reserving your names is a good and important step to take immediately.
Optimize your social profiles/pages
Ok, you've chosen your primary (and secondary) social profiles. Depending on the platform you choose, you will either have a profile or a page.
For example, if you're using Facebook to promote your business, you will need a Facebook page. Using a profile for business purposes is against Facebook's Terms of Service. But on TikTok, you will be creating a profile.
Regardless of where you are focusing, you will want to optimize those accounts. Here are some tips for doing so:
Make your message clear and concise
Each social platform will allow you to add your bio. This will usually be a very short byline. Since you only have a few words, make them count.
In a few words, make it known what value do you provide and who you provide that value to. Do you help people solve a specific problem? Make it clear.
A great format to use is the following:
I help [INSERT AUDIENCE] do/become/achieve [INSERT OUTCOME]
Here are some examples of great bios:
"I help creative people start, grow, & scale a successful online business."

Tyler McCall on Instagram
"Helping your family GROW in faith so you are NOT Consumed by life."

Kim Sorgius on Instagram
"#PersonalBrand Business Coach, helping entrepreneurs build profitable, future proof businesses around their expertise! Proud 🇬🇧"

Chris Ducker on Twitter
"Passionate about empowering islanders to have global impact."

Ife Badejo on Facebook
Where can they connect with you
Since you are using Social Media to promote your business, this part is very important. Let people know where they can connect with you?
Should they visit your blog? Or even better – do you have a specific resource that can benefit them? Include a link. In a perfect world scenario, you'd have a platform-specific opt in page set up.
That way, when they land on that page, it feels like you created it for them.
Of course, this takes a lot of work. At the bare minimum, you should have a link to a page that's relevant to what you do.
Decide on a social media posting frequency
Your posting frequency on social media is important to think about. You want to post enough to remain top of mind for your audience. But you don't want to try to post so much that you get overwhelmed with the thought.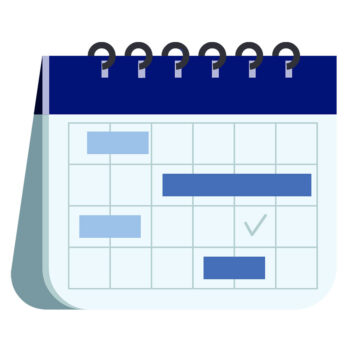 Here are some things to consider when choosing your posting frequency:
What's working for others?
Remember those industry influencers you researched earlier on. How often are they posting? Are they posting daily, weekly, or otherwise? Do you see a relationship between posting frequency and engagement? Analyse what's working for them and take that into consideration.
What can you sustain?
While you might see the influencers in your space posting a ton of content, that might not work for you. It's very possible that they have an entire team helping them create content. You're most likely a solopreneur.
But that doesn't mean you won't be able to have a significant impact with your posting. Choose a frequency that you can sustain, even if that's only a few posts per week.
Create content
This is where the magic happens. You've done your research. You've seen what others are doing. You know what value you have to share and who your target audience is.
It's time to start creating content. When it comes to what you're doing directly on social media, your goal is to engage people. You want them to see your content and interact with it.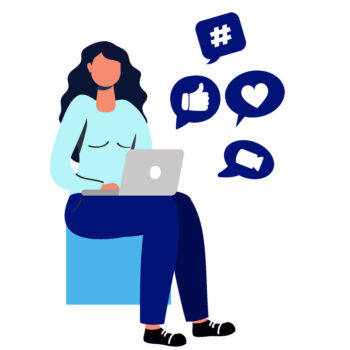 There are different types of content you can create that engage people in different ways. Everything from status updates to pictures, pre-recorded or live videos to stories.
Test out different forms of content and tweak based on engagement. What you will notice is that some of your posts will get more engagement than others. Pay close attention to this.
A good rule of thumb for your posting is to use the 80/20 principle. 80% of your posts should be content that's used to engage and connect with your audience. 20% of your content should be promotional (since you're running a business).
This is not a hard set rule. But it's a good place to start. Here's the thing – people aren't on social media to see promotions. They are there (generally) to connect with others.
Focus on the social part of what you do on social media. And sprinkle in the promotional stuff so that you can have a good balance.
In the process, monitor your analytics to see what resonates with your audience. If you see certain kinds of posts getting more engagement, create more of those. But make sure the content you post resonates with the brand you're trying to build.
Use Campaign URLs
One of the big issues many social media marketers face is not knowing how to determine ROI. How do you know what's actually working when it comes to growing your business.
Fortunately, there is a way to do that. You are able to determine exactly how much a post is worth, so that you can tell what's working. You can do this with campaign URLs.
This is a topic all on it's own. In fact, I created a free course that walks you through exactly how to do that.
Check out How to Track the ROI of Social Media.
Grow your social media know-how
Social media marketing is a complex topic that goes much deeper than what I can cover in one post. Each social media platform has its own nuances. And these nuances seem to change almost every day.
That's why it's very important to study what's actually working. There are many courses out there on the different social platforms. I recommend going through some training for your primary platform.
Not sure where to start? I've had the privilege of working with some of the top experts on social media marketing. These are the people I recommend you follow for learning about any of these platforms.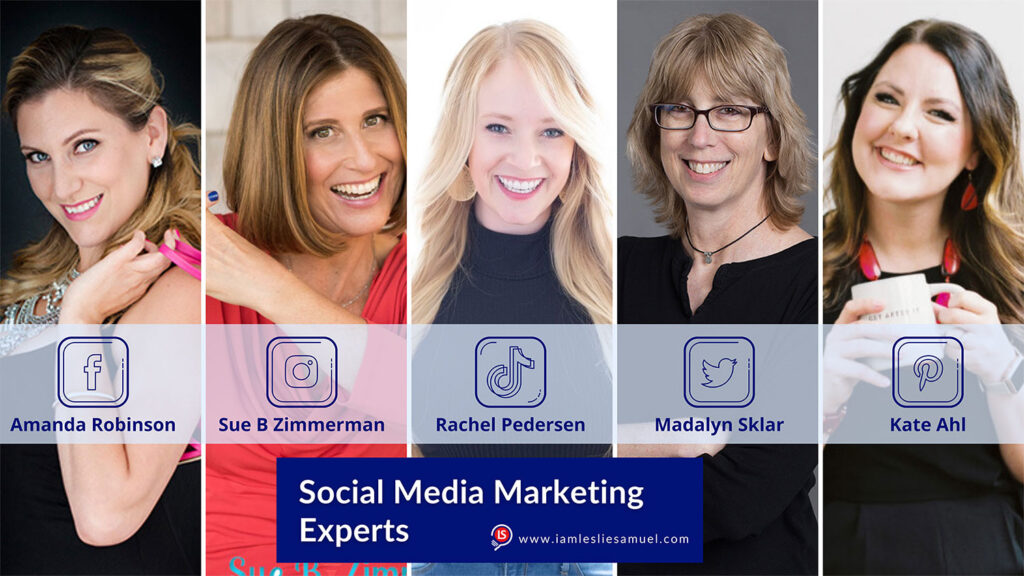 Facebook Marketing
Instagram Marketing
Twitter Marketing
Pinterest Marketing
TikTok Marketing
Infographic