Social Media and Blogging have gone hand in hand. But over the last few years, things have changed.
If you're wondering what the future holds, and what, if any, changes bloggers need to make, then keep reading.
Listen to the episode
Click below to listen to me discuss this topic in more depth.

Social Media is Changing
A lot has happened in the social media landscape over the last 2 years. Of all the social networks, Facebook has been at the center of most of the controversy.
To name a few of the issues, there's everything from privacy breaches, the Cambridge Analytica scandal, and Russian meddling with elections.
As a result of all of these issues, Facebook is now the most distrusted tech company. And there are legal implications to everything that has happened.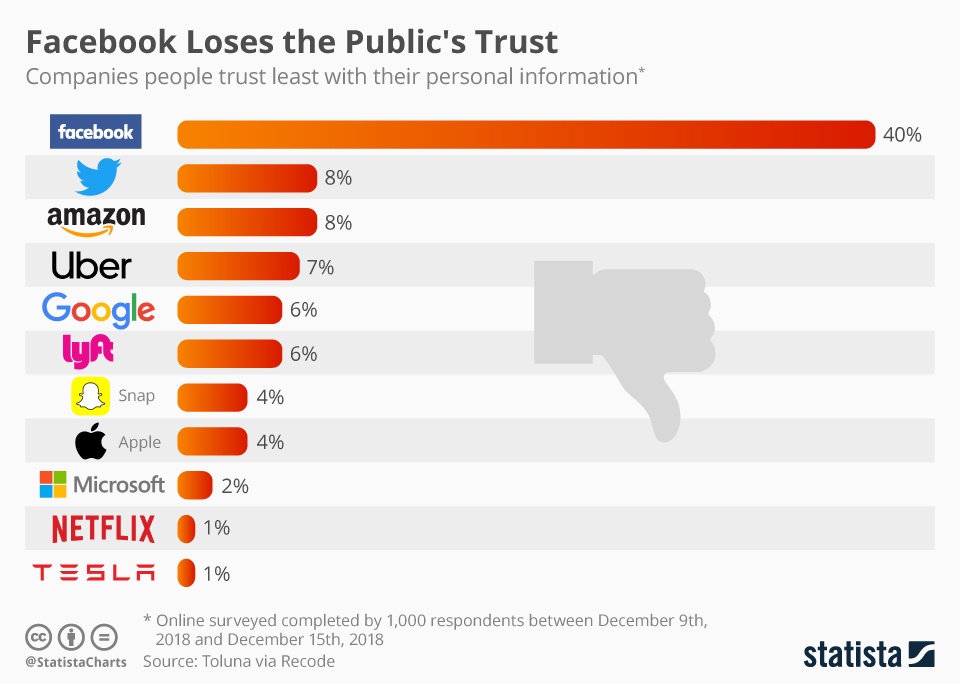 In fact, Facebook has reported that they are preparing for an up to $5 billion fine by the FTC.
It has come to a point where Facebook has to make some drastic changes if they want to survive.
If no changes are made, government regulation is on the horizon (as well as more fines). In fact,
These changes will have ripple effects that will change the way we interact with social media all across the board.
What the research shows
Things aren't looking good for Facebook right now. According to Edison research, Facebook actually has 15 million fewer US users than in 2017.
Those numbers look even worse among ages 12 – 34. The estimated amount of uses went from 79% in 2017 to 62% (82 million to 65 million).
And according to Social Media Examiner's Industry report, there is a declining interest in Facebook (from 67% in the previous year's report to 61%).
To make things worse, only 51% of marketers actually plan on increasing their organic Facebook activities (down from 62%).
Not to mention, this data was collected and reported on before the recent changes Facebook announced at F8.
If I were to guess, I'd say the numbers would be even lower today.
Facebook's announcements at F8
At F8 (Facebook's annual developer conference), Mark Zuckerberg took to the stage and announced some drastic changes.
Facebook is getting a complete redesign – the most significant redesign to date. In his words, they are building a "privacy-focused social platform."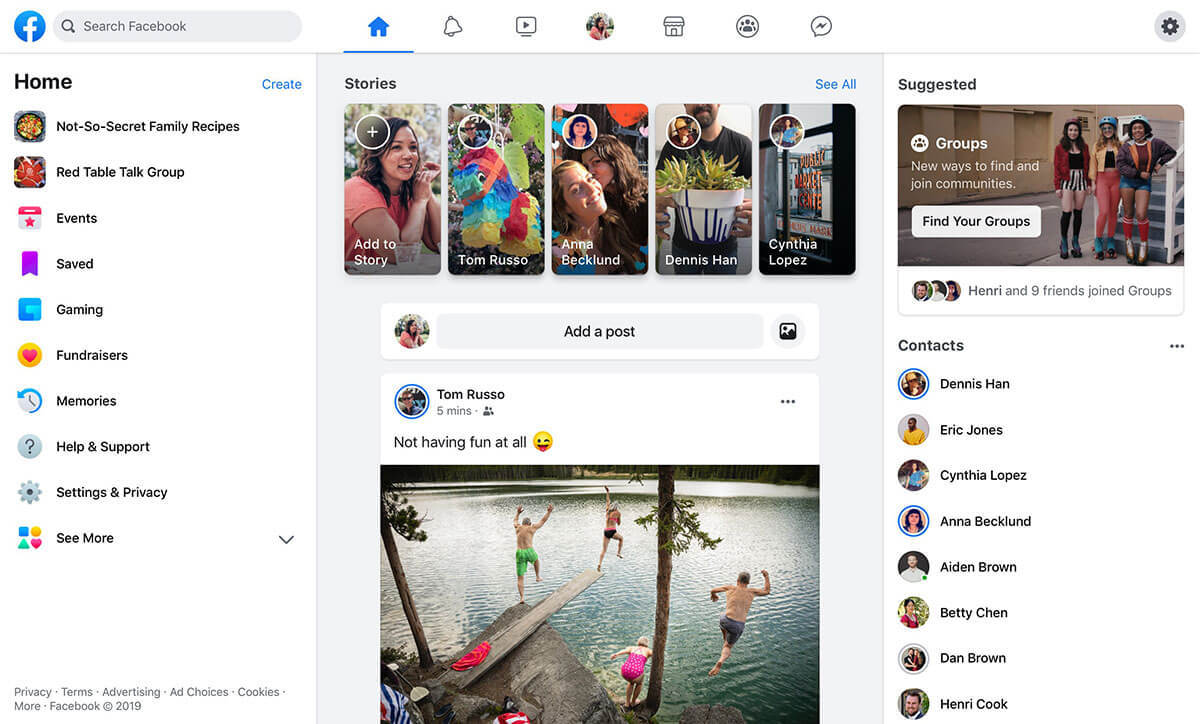 In this new design, Facebook groups, stories, and events are being emphasized, while News feed is being de-emphasized.
If you'd like to watch the entire Keynote, here you go…
What this means for bloggers
Over the last few years, we've seen organic reach take a drastic decline. Things posted to Facebook pages are only reaching a tiny fraction of the people who like your pages.
With these changes, organic reach will be virtually dead. Facebook will no longer be a platform for free public exposure and organic traffic generation.
If you've been dependent solely on social media for driving traffic to your blog, your traffic will decline significantly.
Many bloggers will fall by the wayside. But, I believe that this provides an excellent opportunity for bloggers who are willing to step up their game.
How bloggers should adapt
If you're still with me, this means you still have some hope. You may be wondering what you can do in light of these changes. Is all hope gone?
Absolutely not. I'm going to share 10 tips with you that I believe will help you thrive in this rapidly changing world.
Tip 1: Stop building your platform on rented land
There are so many bloggers and content creators who fall for the social media hype. They see a social platform as being a relatively easy way to get their stuff out there.
So they go all in on that platform and build their entire "empire" on there. Unfortunately, when you do this, you put yourself at the mercy of the platform.
And the bad news for you and I is that these platforms don't see building our businesses as their priority, nor should they.
They are in it to make their businesses successful, and that's exactly how you should be thinking.
When you build your own blog, you are building your platform. And while it may not seem as glamorous as having a million subscribers, you are setting yourself up for long-term success.
Tip 2: Have a strategic content creation strategy
No longer should we be creating content for content creation sake. Each piece of content should be tied to your business model, whatever that is.
I'm definitely NOT saying that you should monetize every post, slap ads all over your content or make everything promotional.
However, what I'm saying is that you should think through how each piece of content contributes to the goals you set for your business.
It may be that the purpose of a post is to be educational. Well, make sure that it's providing the right kind of education for your ideal customer. And make sure that it leads them on a journey to either consuming more of your content or going deeper in their relationship with you and your business.
Tip 3: Focus on your email strategy
Newsflash: Email is NOT dead. In fact, it's far from it. Having an email list is having a direct line of communication with your audience. And in my business, my email list is the #1 driver of my sales.
I've connected with a number of bloggers who have been around long enough to see significant declines in social media reach. The ones who are still around and thriving are the ones who prioritize email as a part of their blogging strategy.
Don't let Mark Zuckerburg (or any other social media execs) determine who gets to see your content. Take control of that process. Focus on your email strategy.
Tip 4: Go deep rather than wide
In the early days of blogging, it was much easier to get away with broad niches. That's no longer the case.
The world doesn't need more general health and fitness blogs. Been there, done that. However, the world of vegan women who do CrossFit would probably be excited to see a blog for them.
Instead of trying to expand to serve everyone (or to cater to all your own interests), focus even more on a specific niche and be the best source of information for them on the Internet.
Tip 5: Quality trumps quantity
Remember when everyone would say to create a bunch of quick and easy content like the top 10 lists? Or to just create a ton of content and not be focused as much on the quality?
Well, those days are gone. While there's some argument to be made for showing up often, it's becoming more important to make sure that you serve your audience in the best way possible. Instead of posting thin, fluffy content, focus on delivering value at every step of the way.
Along similar lines, it's not about the number of subscribers you have. It's about the quality of the community you've built. You don't need that many people to build a successful business.
If you have 834 people who are willing to spend $10/month or 167 people willing to spend $50/month in your business, you have a 6-figure business.
Tip 6: Learn about Search Engine Optimization
Remember SEO? Well, it's still relevant. Everything from doing the keyword research to making sure each post is optimized to give Google the info it needs.
The better you are at SEO, the more likely you will be to show up in the search engines. The more likely you are to show up in the search engines, the more traffic you will have.
It's time to step up your game on the SEO front. And I don't mean hiring some random SEO team who emailed you promising to get you on the first page in 30 days.
I mean investing in SEO education for yourself or someone on your team, or bringing on someone who has a proven and verifiable track record.
Tip 7: Use video in a helpful way
We used to say that video is the future. We can no longer say that. Video is becoming an essential part of how the internet functions and how people consume content.
If you aren't using video as a part of your content strategy, you're missing out. Video provides a great opportunity for you to educate, inform or entertain your audience in a way that can contribute to your bottom line. It's a great way to get in front of a new audience as well as provide more value to your current audience.
YouTube is still the second most popular search engine in the world. And quite frankly, I find it a much easier to rank in YouTube than in Google.
Tip 8: Think as a community builder, not a content broadcaster
This is one lesson I'm actually taking from Mark Zuckerberg. If you want to build a thriving online business, you have to stop thinking like a broadcaster. It's not all about people listening to what you have to say.
While that does work to a certain extent, a more powerful way to build online is by facilitating conversation and connection. We are community builders. And fortunately, there are all kinds of tools to make this easier in 2019.
Tip 9: Show up consistently with multiple touch points
While it isn't smart to build your platform completely on Social Media, it's definitely smart to use social media to show up consistently where your audience is.
Make a decision about where you want to engage with your audience and create content on those platforms that complement the content on your blog. Stimulate conversations and be a part of the community.
The more they see you and get value from you, the more likely they will be to do business with you.
Tip 10: Track, test, tweak, improve
I decided to save the best for last. This is the ninja tip that makes the world a difference. Here's the fact – there isn't ANY strategy that will work for any two people in the same exact way.
What you need to determine is what works best for you. Fortunately, we have free tools that allow us to effectively determine this.
By using Google Analytics, setting up your goals correctly, using tracking URLs, and Google Search Console, you have everything you need.
Yes, I mentioned a bunch of technical stuff there. Yes, it takes work. No, it's not all easy. But is it worth it? Absolutely.
In Conclusion
You may have noticed something as you read through all those tips. I'm not suggesting anything new. There was nothing revolutionary about what I proposed here.
In fact, all I'm basically saying is that we need to get back to the core of what it means to be a blogger and run a business.
Let's go back, to move forward. Create awesome content, do it consistently, build your community and have a solid business model.
If you make those things your priority, you are doing exactly what you need to do to thrive with your blogging efforts in 2019 and beyond.
Resources/References
Infographic