One of the tricky thing about marketing on the internet is that it's been difficult to accurately  figure out how well your campaigns are doing.
Think about it – As bloggers, many of us start out not knowing exactly how to turn this "blogging thing" into a business. We throw a bunch of stuff out there and hope that something sticks.
Hopefully, we stumble onto something that works, and when we do, we keep doing that over and over.
However, there's a more strategic way to market.
In this post, I'm going to show you how to use UTM tracking.
What is UTM?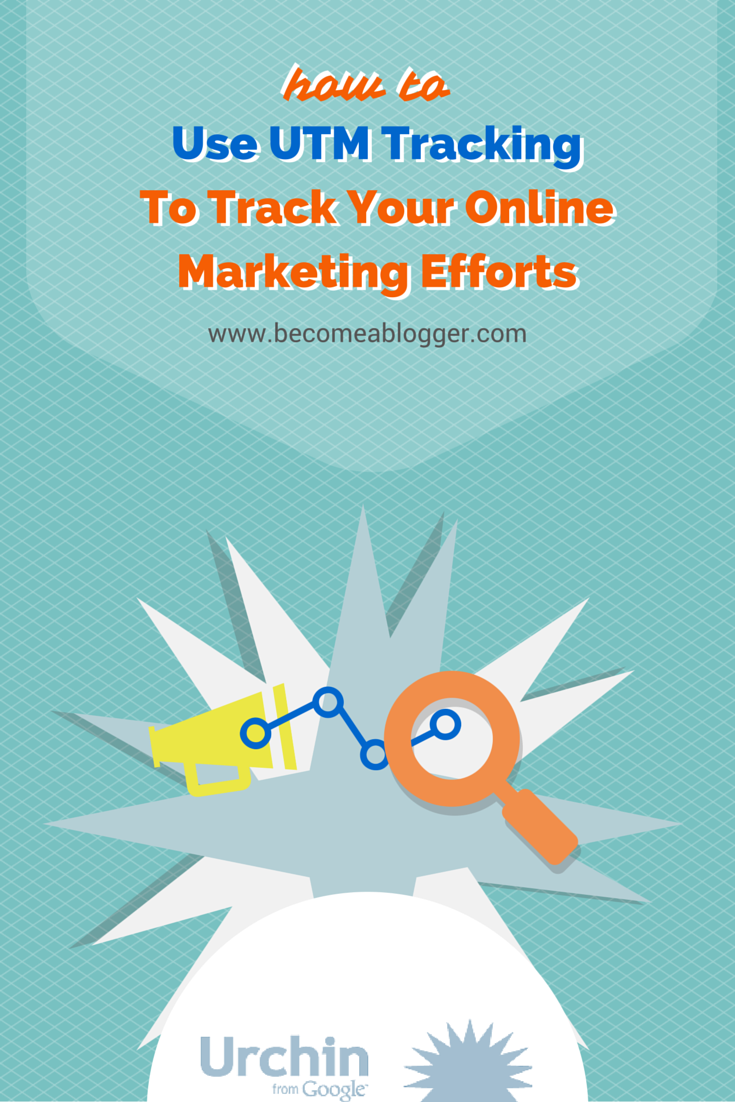 UTM stands for Urchin Tracking Module, and no – the name doesn't indicate what it is. And while I could bore you with the history of the software, suffice to say, this system wasn't originally created by fine dining establishments in order to track marine life delicacies.
Simply put, UTM allows you to create special tracking links that monitor the performance of the links you put out in the world.
When you combine that with Goals and Conversion Tracking in Google analytics, you have a recipe for world domination! Well, not exactly, but you are able to do some pretty fancy analysis. Allow me to explain with an example.
When this post goes live, I will go through a process of sharing it.
I will share it on the following social networks: Facebook, Twitter, Google+, LinkedIn, etc. On Wednesday, it will go to my email list as part of my weekly newsletter.
To get a full view of how those campaigns perform, I will create UTM links for all of these avenues of promotion, the links will provide information about all of my campaigns.
For example, I'll be able to go into my campaigns in Google Analytics and see how many visits come from the link that I posted on my Facebook wall (as opposed to the links shared on Facebook by visitors to my blog).
In addition to that, I will see how many opt ins come from the specific post on my Facebook wall and if anyone purchases access to my Become A Blogger University.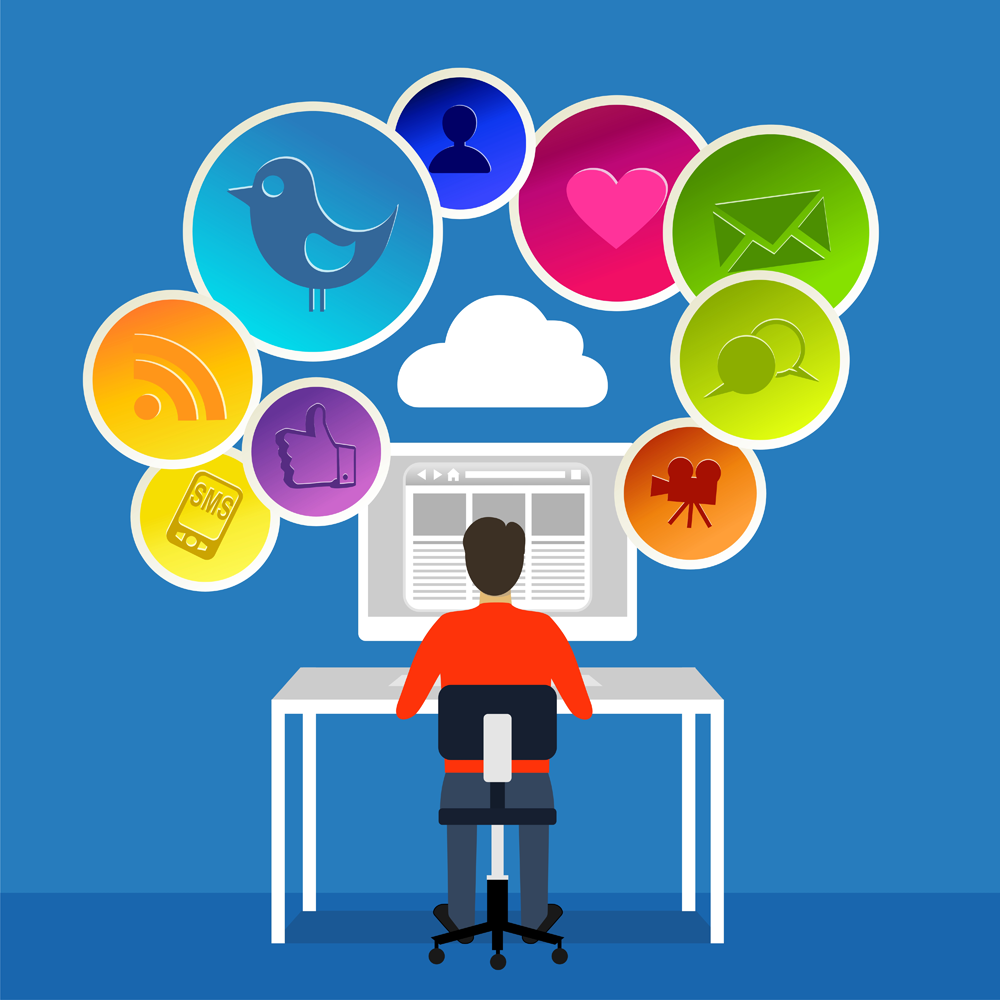 In addition to that, I can compare the visits from my Facebook wall posts to those from my post on Twitter to see which performs better.
If I notice that when I post to Facebook, I get more signups than on Twitter, I know that it makes more sense to invest more time (and maybe even more money) on Facebook promotions.
I now have actionable data that can contribute to the growth of my business.
An additional step I'll take when publishing this article will be to send out an email with two links to this post. The first link will be at the top of the email and the second at the bottom.
Because each link will have a unique tracking code, and because they're both a part of my Monday mailing, I can go into my Monday mailing campaign in Google Analytics and see exactly how each link in each mailing performs.
How to set up UTM Tracking
If all of that sounded like complex magic, don't worry, I will show you exactly how to do it in a very simple way.
The tool you need to use to set up your UTM tracking codes is called the Google URL Builder. This is a free tool that that allows you to enter your campaign details and generate a tracking link for any URL.
In step 1, you enter the URL of your website. In my case, that would be the URL of my blog post.

In step 2, you fill in the campaign details, which includes the following three required fields:
Campaign Name: This is where you put the name of the type of marketing effort. For example, you may put things like Social Media, Email Marketing or Guest Posting. Essentially, these are the different types of campaigns that you'll be running to drive traffic to your blog.
Campaign Source: This is where you get a little more specific with the source of the traffic. For example, for your Social Media campaign, the source can be Facebook, Twitter, Pinterest, etc. For my Email Marketing campaign, I have a Monday autoresponder and a Wednesday newsletter as my campaign source.
Campaign Medium: This is where you get even more specific. For example, for my Social media campaign on Facebook, I can either post links in my profile, or on my wall. For my Monday autoresponder, I have two links and for those I set my campaign medium as "first link" and Second link".
Those are the three required fields for your UTM tracking link. However, you have 2 more optional levels of specificity that you can choose: "Campaign Term" and "Campaign Content".
These are fields that are typically used for ad tracking. However, they can also be used to obtain even more specific with your campaigns.
For example, my Facebook wall posts are tracked under the campaign medium "wall posts." However, I can receive even more specific by using a date, or the specific post that I'm referring to.
I can add those details in the "campaign term" and "campaign content" sections.
How to track your campaigns
At this point, you should have a good idea of how to set up UTM tracking links for your content.
But how do you actually see the results of your tracking efforts? That happens in Google Analytics.
When you go into Google Analytics, look for the left sidebar (as shown below) and click on: "Acquisition" > "Campaigns" > "All Campaigns".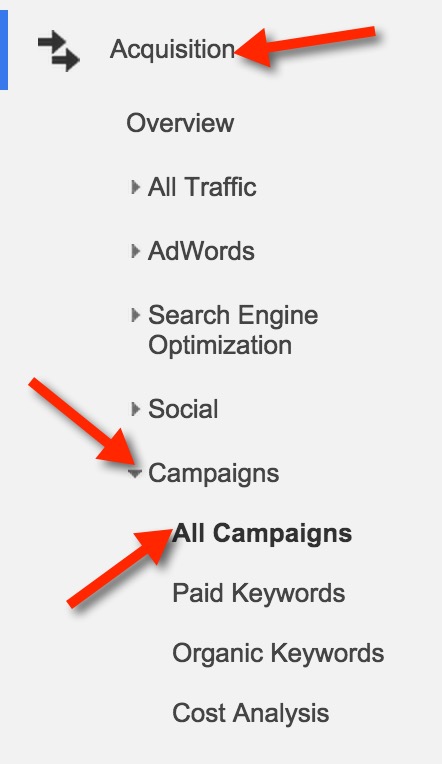 That will take you to all of your campaigns. From there, you can click into the campaigns (i.e. Social Media) and see your Sources and Mediums as shown below: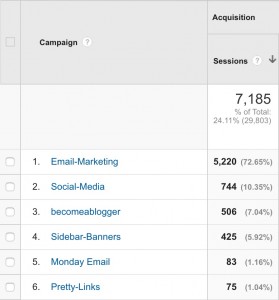 This screen is where the magic happens. You're able to see exactly how many visits you've received from each source, in addition to other very valuable information like how long those visitors remain on the site and how many pages they visited.
To take your tracking to the next level, make sure you have your goals setup so that you can track things like email list signups and product sales.
This gives you the ability to see exactly how each link performs based on key metrics.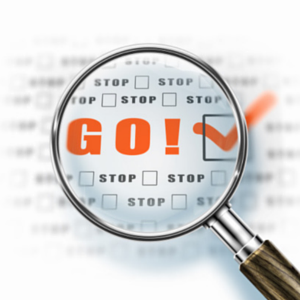 Action Steps
Now that you have a good foundation on how to set up UTM tracking links, here are the steps I recommend for you to take.
If you haven't already done so, go ahead and set up a goal in Google analytics that indicates when someone signs up to your email list.
Create tracking links whenever you share your content anywhere.
Check your campaigns in Google Analytics weekly to see how your content is performing.
Your Turn
Do you use Google UTM tracking links when promoting your content? If so, how is it working for you? If not, is this something you plan on doing now that you've read this article? Let me know in the comments below.
Infographic