Popup Domination is a plugin that I installed to my website that had a drastic effect on my conversions. My opt ins increased significantly overnight. Watch the following video for a detailed review and video walkthrough of Popup domination.
We all know that one of the most important aspects of internet marketing is building a list. Popup domination takes that concept and builds on it to make it a much faster process.
When I started my Biology Website, I knew that I needed to work on building a list from the beginning. I eventually decided to give away free biology powerpoints to entice my website visitors to sign up for my mailing list. My list started growing by a handful of new subscribers every week and I was relatively satisfied for the amount of effort I was putting in.
On September 18th, I installed Popup Domination on my website, and my conversions increased by 568% when I compare the 6 week prior to installing with the 6 week after installing Popup Domination.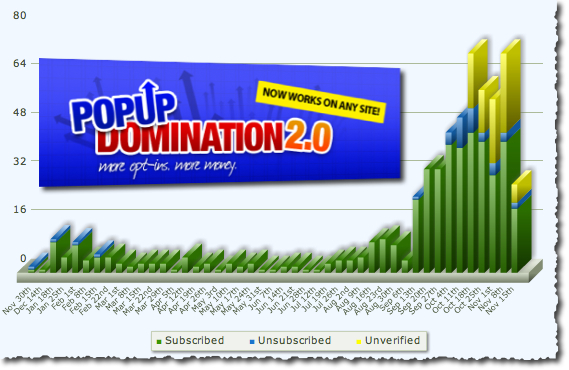 If you are an internet marketer in ANY way, I HIGHLY recommend Popup domination, because it's probably the product that will make the biggest difference in your conversions.
Your Comments
What do you think about Popup Domination? Have you used it? What kinds of effects have you seen? Do you recommend it? Have questions about it? Let me know in the comments below. If you are reading this via email, click here to leave a comment.