Episode: 284
Who: Lisa Irby
Blog/Website: 2CreateaWebsite.com
Is blogging dead?
How can you use your blog to manage your brand?
Listen to This Episode
In this episode, I'm talking to Lisa Irby from 2createawebsite.com, a DIY guide to creating a website. She's an online entrepreneur who helps bloggers and website owners create, monetize and market their websites. She has been in the online marketing game since 1998 and has had a lot of success building her online business and has seen the blogosphere undergo a number of changes. I brought her on here to talk about how blogging has evolved over the years and what it takes to build a successful blog in 2016 and beyond. She has had lots of experiences in this industry and I'm excited to finally have her on my show to tackle this topic!
Lisa's Story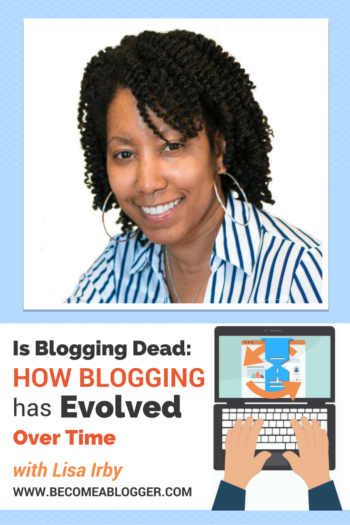 Back in 1998, Lisa was nosing around looking for ways to make money online. She ended up taking a course on affiliate marketing, and started doing really well with it.
Then Google came along and changed the game. Her income went way down. SEO started prioritizing built out sites that updated regularly. Big authority sites were staying high in the rankings. Remember, this was pre-social media: the only way to get traffic was to get good rankings in the search engines.
So Lisa decided to create an authority site. Back in 1998 and '99, the only people who had websites were hiring developers for $10-15,000 or learning how to build them themselves. You still needed to know HTML and CSS to build a website. Lisa knew how to build websites at a time when most people had no idea what they were doing.
Her website launched in 2002. Her goal was partly to teach people the basics of building a website, and partly to make money through affiliate programs. She could refer her clients to hosting platforms and make a lot of money that way.
But it was hard work back then: Lisa started off using Microsoft FrontPage and later switched to Adobe Dreamweaver. She had to manually create and then link all the pages in Dreamweaver. She also had to create the menus herself.
Blogging is Born
Fast forward to 2006. Blogger was huge, and it seemed like everybody was starting a blog. Lisa says that this didn't really make sense to her at the time. Blogging seemed great for personal stuff like tracking fitness goals, but she wasn't sure how a blog could fit into her business. Plus, her site was doing great on Google and she was afraid to change what she was already doing. She also didn't want to move off of Dreamweaver.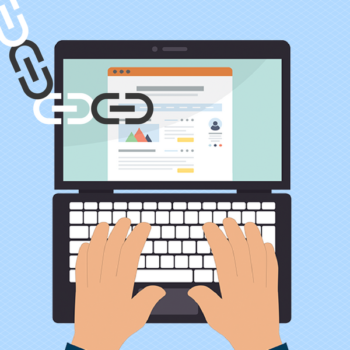 So in 2007, Lisa added a blog to her site under a sub-domain: blog.2createawebsite.com. At first, she says that she didn't really know what she was doing. She was mostly regurgitating content from her static site on the blog, and all of her traffic was still going to the main site.
In hindsight, Lisa knows what her big mistake was. She says that she should've just installed WordPress on her site instead of creating a sub-domain. To the search engines at the time, it looked like she had two totally separate sites. Her static site had all the "link juice."
What is link juice? One of the things Google looks at to determine rankings is authority. Authority is measured by links. Who is linking back to your site? Who is sharing your content on social media? That's what Lisa calls link juice. So when she had two separate sites, it affected her organic reach because the link juice or her blog was not reaching the static site, and vice-versa.
So in those early days, Lisa didn't really "get" blogging. She didn't understand why people thought it was so great.
The Social Media Revolution
In 2007-8, social media really took off. So, like everyone else at the time, Lisa created a Facebook fan page. And because of how social media works, she started putting more of herself into her posts and adding more personality. This was Lisa's "a-ha" moment. She realized that people wanted storytelling. They wanted to know that there was a real person behind the site. This was a game-changer for her blog.
She was only sharing her blog content on social media. So what was the effect on her static site? She was still adding content and taking advantage of her good link juice. It would've been crazy to abandon it at the time, because rankings really were about quantity. You had to have lots of pages, hit the right keywords, and you'd get the traffic.
But the blog was where people came back to comment, and where Lisa was able to really connect with her audience. The blog was more about branding, whereas the static site was really for ratings.
So is Lisa still updating the static site today? Yes. And she just recently migrated to WordPress. So up until this year, she was still updating the site manually. But her focus has really shifted to the blog because it is tied to her email list. It's much easier to drive traffic there.
Lisa's email list had a couple of false starts before it really got going. She started one in 2007-8, but it didn't really work. She wasn't sure what to send them, and she shut it down. She tried again in 2010, and decided to take advantage of her blog.
Since 2012, she's been using AWeber's Blog Broadcast feature. It works for her because she doesn't blog a lot. If you're posting multiple times per week, it's probably not the right strategy for you. It's an automated process that sends subscribers updates every time she posts.
When Lisa first got her email list going, she gave away some incentives for people to join. But she says you've really got to think it through if you want to do that. Early on, people would sign up just to get the freebie and then unsubscribe right away. So it's important to think about how your free giveaway converts into something else. Now, her giveaways are more streamlined with her paid content.
What's Changed Since 1999?
I want to know how things have changed during Lisa's time online in terms of how she creates and disseminates content.
The biggest thing, she says, is that it's all about building a brand now. She started her blog as a way to get traffic, but now it's about her loyal audience. These are the people who don't want to miss a post and are willing to get on your email list.
Blogging now is about connecting with your audience, which makes it so much more enjoyable. You're not choosing topics from a keyword tool. You're focused on what your audience wants to hear. It's not about keywords and SEO anymore, because your email list makes you less dependent on Google. And that is a good thing!
Lisa says that people who talk about blogging being dead have not realized that your blog can be used as a tool to humanize your brand.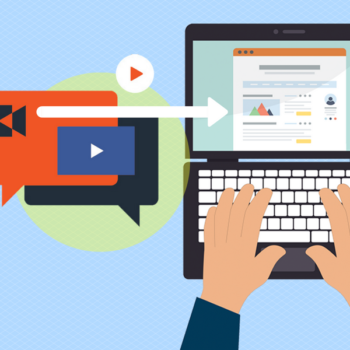 Lisa also does a lot of video these days, which she started up in about 2007. This is another great tool for humanizing your brand. She uses video to direct people to her blog and her email list. It's a great way to connect with people. She's exclusively on YouTube for her free content, although she also has a Vimeo account for when she wants a more professional look. Video isn't a traffic-building tool for Lisa, it's a brand-building tool.
What about social media? Lisa confessed that this is something she wants to get better at. She uses it to promote her content, and she's recently branched into Facebook live. But she feels social media is not something that she uses as well or as much as she could.
So Lisa built her business mostly without social media. It might be old school, but she's all about her email list. It's the number one way she gets people back to her blog.
But just from a quick look at her social media pages, I can see that she gets pretty good engagement. So how does that work? How does Lisa get people to engage?
She says you just have to ask them. There's a lot of power in asking "what do you think?" or asking people to share their thoughts at the end of a post.
Letting Your Hair Down
Another thing Lisa thinks is really important is being selective about what you share. There's so much regurgitated content out there, so Lisa works hard to write about topics that are different and really speak to her personal experience.
She's learned to be vulnerable on her blog. She'll write about mistakes that she's made or things she wishes she'd done differently. People can really relate to that. You've got to be you. "Don't be afraid to let your hair down on your blog," Lisa says.
Sometimes, when you're an authority, it can feel like you have to pretend to be untouchable, like you never make mistakes. But no matter how much success you've had, you've also made mistakes along the way. Lisa thinks it's even more important for authorities to share their vulnerabilities. And it does wonders for your engagement.
But what if you're just not comfortable letting people see that side of you? Lisa says to take it one step at a time. Don't end your post with the mistake. Share your mistake, but then follow up and talk about how you corrected it. Ending on a positive note can help ease you into that level of vulnerability.
Lisa gets lots of comments saying things like, "It's so nice to know that someone I really respect online goes through the same things that I'm going through." People want to know the person behind the blog.
Monetization
Lisa's monetization strategies have changed over time. At first, she was all about affiliate marketing. But around 2012, she decided she needed a product of her own.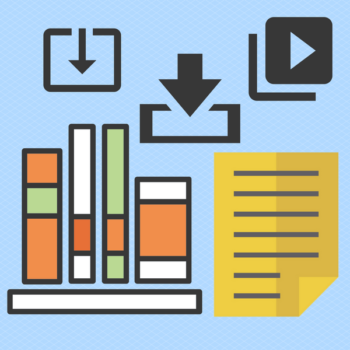 Nowadays, she focuses on selling courses. She says it's so much better to have your own products and to be building up your own business instead of building someone else's. But she still has a lot of success with affiliate marketing, too.
Lisa uses Udemy to market her courses right now, but she's starting to move towards self-hosting. Udemy has its pros and cons, like any platform. One of the big benefits is ease of use. They take care of all the technical stuff for you, and they only take a 3% commission. The downside is that there's a cap on how much you can charge. Plus, the way the site is structured means that Udemy students expect a heavy discount on courses. Lisa gets around that by finding students through her email list and turning off the promotions for her courses, but it can be a big problem.
But Lisa doesn't just use her email list to promote her content and her products. She also reaches out from time to time to ask what her subscribers want, what they struggle with, and how she can help. This is great for relationship-building. People really appreciate being included in your content-creation process.
She also has an auto-responder sequence on a separate list attached to her static site. This is targeted at people just setting up their websites, so it offers some basic tools and then checks in with them a few weeks later.
Top Tips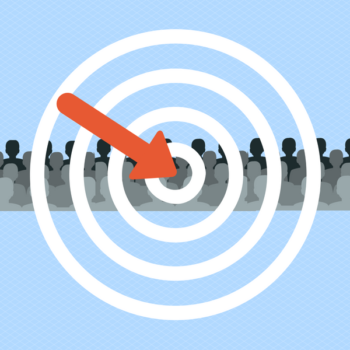 I asked Lisa for her top tips for bloggers just getting started today. She had two big tips:
Identify who you want to target. It might sound basic, but you've got to think about what your audience want.
Don't be afraid to be yourself. Be vulnerable. Admit your mistakes. That's all part of your brand management.
Finally, Lisa is about to re-launch her WordPress course! If you want to find out more, head on over to 2createawebsite.com/Wordpresscourse
Our conclusion? Blogging is far from dead!
Resources Mentioned
Infographic