Are you struggling to keep on top of your email?
Do you have dozens, hundreds or even thousands of unread messages in your inbox?
Do you get stressed out every time you log into Gmail?
Listen to This Episode
In this episode, Erin Chase will reveal practical ways to manage your email like a pro.
Inside This Episode
Erin Chase is the founder of 5DollarDinners.com, author of the $5 Dinner Mom Cookbook series and her blog is original home of the 20 Meals for $150 Meal Plan series.
I had her on the podcast 3 weeks ago to talk about creating systems to get stuff done and manage your blogging business.
After that episode, I was informed by her assistant that we missed out on gleaning awesome information about how Erin manages her email inbox.
This is something I've struggled with and I knew that it's something that holds a lot of people back. So I decided to have her back on to help us tackle our inboxes.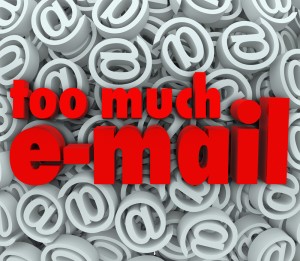 Why it's important to have systems for managing email
According to Erin, not managing your email can result in you missing out on all kinds of opportunities.
Think about it – as your business grows, there will be people and companies who are interested in working with you.
Having a "clogged" inbox can cause you to overlook that one important email.
Use the "One-Touch" Concept
Erin proposes using the "one-touch" concept for managing your incoming emails. This means that each email gets opened once and one of three actions are immediately taken:
Delete it – These are for emails that don't require a response.
Delegate it – If you do have an assistant or someone on your team that can take care of a specific issue, you can delegate it to him/her.
Take action – These are for emails that you need to act on. Your action might be as simple as replying immediately, or adding a specific task to your calendar and removing it from your inbox.
Shut off emails you don't need to get
Erin recommends unsubscribing from any emails that aren't necessary for you to run your business.
Examples of these kinds of emails are social media notifications (friend requests, comments, likes etc), email newsletters that you aren't actively reading, or any other email that doesn't help you accomplish your goals.
A good program for helping you with this is Unroll Me, which helps by combining all of your active subscriptions into one email, and making it easy for you to unsubscribe from unnecessary emails in bulk.
Create email filters
If there are emails that you don't need to see as soon as they come in (i.e. notifications of people who unsubscribe from your list), create a filter that automatically adds them to a folder instead of letting them pile up in your inbox.
The benefit of doing this is that you can easily go in at a time you predetermined and access all of those emails, but it helps you to easy the overwhelm of seeing a full inbox.
Use canned responses
If find yourself answering the same questions over and over, it's much better to create canned email responses that you can easily access to respond to those questions or other kinds of inquiries.
Gmail has a feature called "Canned Responses" that can be used for this. However, to use it, you have to first activate it in the "Labs" section of your gmail settings. This is the service Erin uses and recommends
I've been using a new service called Yesware, which also allows you to categorize your canned responses, use a number of personalization features as well as easily search and find your canned responses. I HIGHLY recommend it.
Other Settings
There are two other settings Erin recommends using to help manage your inbox. The first has to do with having and managing only one inbox.
It's possible that you might have multiple email addresses. Instead of having those as separate inboxes, combine them all into one by using the "Accounts" section of the settings.
This will give you the ability to send emails from all of your email addresses in one place. Also, when someone sends you an email to a particular email address, your response will come from the email they sent it to.
The second setting is the "Send & Archive" feature that makes it so that with one click you can reply to an email and have it archived, removing it from your inbox.
In Summary
I'm so glad that I was able to get Erin on to provide these practical tips for managing email. The two things I took away from this interview that I will be taking action on are:
I will be using the one-touch concept for my incoming emails.
I will be setting up filters to help clean up my inbox in an automated way
Infographic
Your Turn
What about you? Which of these tips will you be implementing to help you be more efficient and effective with the way you deal with email?
Let me know in the comments area below.
Resources Mentioned
Unroll Me – helps manage subscription emails by combining them into one email.
Yesware – a service I use for managing my canned responses that I send out through email.
Transcript
Some people prefer to read along with the podcast episode. Others actually prefer to read than listen. If you are one of those people, not to worry. I've got a transcript right here for you 🙂
Click here to download to transcript.
About The Podcast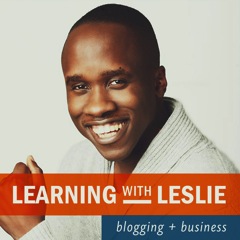 Learning With Leslie is a podcast dedicated to helping you build a business around a blog. No, not one of those blogs that will fall by the wayside when Google has a mood swing, but one that will thrive no matter what gets thrown at it. I share tips and strategies that I've learnt building blogs since 2008 and interview experts who are knowledgable about various aspects of blogging so that we can learn from their experiences. If you're a blogger, thinking about becoming a blogger (pun intended) or are not even sure if blogging is right for you, go ahead and tune in to see what this blogging thing is all about. How to Subscribe To The Show