I'm a big fan of online videos, and so is the rest of the world.
Youtube is the second most used search engine in the world, and in a big way, responsible for the success of my Biology blog.
Within the past two years, the emphasis of video on Facebook has increased dramatically.
As a blogger, videos are powerful tools for gaining exposure and getting your message out to the world. If you want to use online video effectively, however, you want to put your best foot forward. You want your videos to look AWESOME.
Listen to This Episode
In this post, I'm going to walk you through the steps of creating professional videos. My focus will be on videos created with cameras. If you're interested in recording your screen (screencasts), then check out this post.
Please note: Throughout this post, I will recommend specific types of equipment, but will not specify specific models. If you read this article (even just) a few months after I make the recommendations, technology will most likely have evolved.
I will include links (for specific model) that can be changed as technology evolves and better recommendations surface. However, I do give specific models I'm currently using in the podcast episode above, plus a few extra tidbits.
The Camera and Your Options
When it comes to cameras, technology has changed significantly over the last few years; keeping up can sometimes feel like an effort in futility. But, there's a way to keep things simple and still produce professional videos. Let's start with some basic and easy-to-access options.
Your smartphone
Yes, that device that's sitting in your pocket, or next to your keyboard, can likely shoot quality video. Based on my experience, the smartphone that features some of the best video quality has been the iPhones (although I am an Android fan, I have to give props where props are due).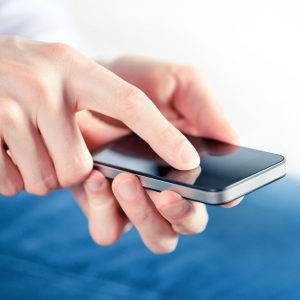 However, Android devices have come a long way and are starting to produce high-quality video. I won't name any particular device here; there are many that do a pretty good job. Make sure to do your research and choose the one that suits your needs best.
If you're interested in using your smartphone to create high-quality online video, you should listen to my interview with Monique Johnson and Crystal Collins on how to use Mobile Video to grow your blogging business.
A Webcam
For those of you on a budget, you can still get a pretty decent recording from your computer's built-in webcam. Lighting, however, can be a concern; webcams are not traditionally the best quality video recording devices.
If you want to step up your game using webcams, I recommend getting a high-quality USB HD Webcam. This is what I do for my webinars, and the video quality is great. The price isn't bad either.
Click Here For Recommended HD Webcam
A Digital Single-Lens Reflex Camera (DSLR)
When it comes to online video, DSLRs are my cameras of choice. Unfortunately, they can be bulky, but when it comes to video, they do an awesome job (especially if your settings are correct).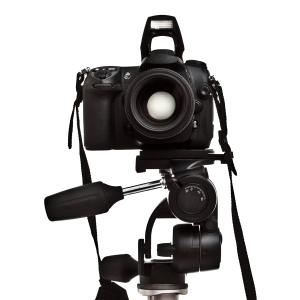 What I love about DSLRs is that you're able to have a shallow depth of field, which results in an image that focuses on the subject while allowing for a blurred background. The blurring effect gives your videos that extra look of professionalism.
The key thing with DSLRs is that you want to make sure to get one that has a microphone input.
Click Here for Recommended DSLR
To achieve that shallow depth of field look, you will need a decent lens. Unfortunately, lenses can be pricey. There is one exception – a fixed 50mm lens. These lenses don't have a zoom but are the secret weapons for many videographers because of the quality image that can be achieved at a relatively low cost.
Click Here For Recommended 50mm Lens
Lighting
While your camera plays a big role in the quality of your video, your lighting plays an even bigger role. If you take video in a dark room, it wouldn't matter if you're using a $10,000 camera, the quality will still be bad.
On many occasions, you can take advantage of natural lighting or the lighting in your room to produce videos of decent quality, but if you want to step things up a notch, you will want a lighting kit.
Even in my decently lit office, I depend on a lighting kit because it takes the image quality to the next level. When you depend on your camera to amplify your lighting (by increasing the exposure), you end up increasing the "visual noise" of your videos; resulting in poor image quality.
Take that load off the camera and let your lighting do the heavy lifting. You'll find yourself pleased with the final product.
Click Here For An Affordable Lighting Kit
Microphone Options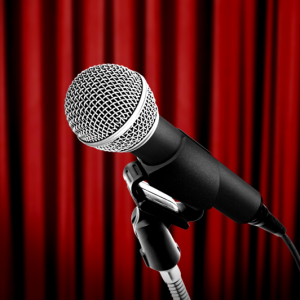 Here's a fact. You can create an awesome video, with all kinds of cool illustrations, and clever editing, but if you combine your effort with crappy audio, then all you have is a crappy video.
On the other hand, I've seen many sucky videos (in terms of visual quality) with decent audio that people absolutely love.
Audio is IMPORTANT.
Fortunately, you have some options that center around one important principle – if you want good audio, get your microphone close to the sound source. This is the reason radio DJ's, whose businesses are built around audio, sit with their mouths within inches from their microphones.
This also means that you NEVER EVER want to use the camera's built-in microphone. Not only is it far away from the sound source, but it tends to pick up the sound of the camera itself.
So what are your options?
Option 1: A lapel microphone.
This is one of the most common options we see for online videos. With a lapel mic, you clip the microphone onto your shirt collar or another type of clothing close to your face. The beauty of this type of microphone is that you are free to move around (unless you're using a wired one) without altering the quality of your sound.
Recommended Lapel Mics: Inexpensive option | High-Quality option
If you are using a smartphone for your videos, you want to make sure to get a lapel mic that will work with your smartphone.
Option 2: A shotgun microphone.
This type of microphone is usually placed on a stand above and slightly in front of a person, with the microphone pointing at that person's mouth. This setup is ideal because there's no visible mic in the frame and the quality is great. Unfortunately, this option is usually on the more expensive end of the spectrum.
Click Here For My Recommended Shotgun Mic
Alternatively, you can go with a compact shotgun microphone that sits on top of your camera and does a pretty good job when it comes to audio quality.
Click Here For The Compact Shotgun Mic Pro
Important note: If you're using a microphone that plugs into a camera, you want to make sure your camera has a microphone input jack.
Option 3: A digital recorder.
These are actually very neat devices that can be used for video, interviews, and a bunch of other audio-related activities. For example, I use my digital recorder to record my podcast episodes. Here's the cool thing, most of us have digital recorders already. They're called smartphones and are a great option for recording high-quality audio without additional spending. Here's an example of a video where Crystal, Monique and I recorded audio on an iPhone.
Click Here For My Recommended Digital Recorder
A Few "On-Camera" Tips for Professional Videos
We've covered the equipment you'll need creating awesome videos, but we're missing an important element – YOU!
People often struggle with appearing natural on camera. So here are some tips that can help you make a good impression.
Tip 1: Relax Before Recording Your Videos.
The last thing you want to do is appear uptight on camera. Listen to that song that calms you down, hang out with your family, or just do something relaxing. Then, get to it.
Tip 2: Smile during your videos.
This makes a HUGE difference. Having a pleasant, smiling, disposition will make people enjoy your videos that much more.
Tip 3: Create another video.
Practice makes perfect. Keep recording more videos and you'll improve over time.
Tip 4: Don't worry about who's watching.
When you're recording your video, nobody's in the room with you (unless someone's actually recording for you). Don't think about the people who may or may not watch the video online. Just focus on what you're doing.
Tip 5: Look DIRECTLY into the camera.
Avoid looking unprofessional by paying attention to this element of your video. Looking into the camera (specifically the lens), helps your audience create a connection with you (and as a result, with your content).
Tip 6: Watch yourself and watch others.
When I watch myself on video, I often walk away with ideas for improvement. This was how I learned of my tendency to look away from the camera; so I've worked on fixing that. Also, when I look at other people's videos I pick up great "do's and dont's".
What about you?
Are you making online videos? If so, share a link to one of your videos in the comments below. Is there a tip that I didn't mention that can help us all make better videos? Leave that in the comments too. I'll see you down there.
Infographic