Over the last few weeks, I've been talking a lot about selling from your blog.
You know . . . selling . . . that thing that you have to do if you're running a business.
Don't worry, it's not a bad word. It's a good thing – if you do it right, and that's what I talk about in this episode.
Listen to This Episode
Inside This Episode
One of the beautiful things about online business is that there's no ONE right way to do it. There are many.
Yes, there are principles that do apply, but they can be applied in so many different ways.
Well, the same is true about selling. There are many ways to make sales. There are also many ways to increase sales.
What I decided to do in this podcast episode is to go over 20 ways that you can make or increase sales (if you're already selling) on your blog.
Are there more? Of course, but these are the ones I'm familiar with, so I thought I'd share them with you. [unordered_list style="tick"]
My 20 Ways
Do a review of the product/service
Create an ultimate resource for the product/service (see my GetResponse Resource Center)
Teach people how to use that product/service (I do this in my Free Blogging Videos)
Offer support for that product/service
Find people with a particular problem on Social Media and help them solve it
Do a webinar
Setup a Resource Page
Create Banners and other selling images
Promote on social media (like I did with my new camera)
Conduct live workshops/talks
Offer something in exchange for something else
Give Bonuses
Do time-sensitive promotions
Eliminate distractions by focusing on fewer things
Create more products
Get others to love and talk about your product/serviceMake your product indispensable
Give away more
"Would you like some fries with that?"
Test your pricing levels
Can you think of other things that can be done? Probably. If so, let me know in the comments below.
Resources Mentioned
GetResponse Resource Center – the resource center I created for GetResponse user to help them in their issues with the service.
TweetDeck and Hootsuite – social media manager services that help one monitor social media activities, specifically on Twitter.
Services I use and recommend for everyone else to use in their online businesses (these are affiliate links):
Become a Blogger Resources – where you will find a comprehensive list of everything I use for my blogging business.
Sony DSCRX100 M II Cybershot – the camera I recently purchased that compared way better than my camera on my iPhone.
Transcript
Some people prefer to read along with the podcast episode. Others actually prefer to read than listen. If you are one of those people, not to worry. I've got a transcript right here for you 🙂
Click here to download transcript.
About The Podcast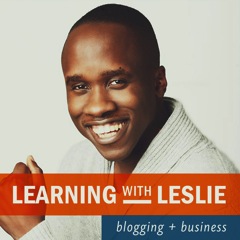 Learning With Leslie is a podcast dedicated to helping you build a business around a blog. No, not one of those blogs that will fall by the wayside when Google has a mood swing, but one that will thrive no matter what gets thrown at it.
I share tips and strategies that I've learnt building blogs since 2008 and interview experts who are knowledgable about various aspects of blogging so that we can learn from their experiences.
If you're a blogger, thinking about becoming a blogger (pun intended) or are not even sure if blogging is right for you, go ahead and tune in to see what this blogging thing is all about.
How to Subscribe To The Show