Does selling make you feel like a sleazy salesman?
Have you been holding back and not selling to your audience?
What's keeping you from doing it?
Listen to This Episode
As many bloggers do, you probably go back and forth asking yourself when the right time would be to actually start making money with your blog.
How early should you start?
I have had the same dilemma and have realized that it's because I've looked at selling in the wrong way. I remember saying things like:
Don't sell in the beginning, because you want to earn trust first.
If someone comes to your site and they see that you're selling, they might leave.
In the beginning, just focus on providing VALUE, not on making money.
Sounds right, don't they? They are, but only if you're looking at selling in the wrong way (like I was). I've come to realize that having a different mindset about selling totally shifts things. I've had to redefine my concept of selling. Here's the definition I came up with:
"Selling is helping someone by guiding them to the perfect solution to their problem."
Click here To Tweet That
Makes a whole lot of difference, right? It takes the sleazy element out of selling and makes it something where you ARE providing value.
When we change our mindset about selling, we're able to accomplish more.
I sell now because I want to provide value to YOU. I will NOT hold back anything from YOU. I use things that help me and I want you to know about them so that they can help YOU. I create products because I've learned a lot and I want to help you by teaching YOU.
That is WHY I sell.
Inside This Episode
And so, in this episode, I share with you the reasons why it's important to start selling sooner rather than later and not hold back anything of VALUE from your audience:
Selling takes practice.
Yes, it takes time. Never underestimate what it takes to sell. It takes a lot of effort to learn the craft. Some bloggers may be natural at this but some of us (like myself) will need a lot of practice to know what works and what doesn't.
Train your audience to expect to buy.
If everything you do is always for free, people will expect everything you do to be always for free. There are ways to deal with this, but it's better if they grow with you with the right mindset. If you're not in this as a business, this doesn't apply. But if you are – well, you've gotta make things happen.
Develop the mindset of a Business Owner.
We all know for a fact that businesses need money to survive. Businesses need a budget. Businesses need to think strategically about money. These are facts that we as business bloggers need to keep in mind as we run our online businesses.
Promoting other people's products prepares you to promote your own.
In my opinion, affiliate marketing is the perfect way to start when it comes to selling. Why? Because it's so convenient — You don't have to create a product or provide the service, you don't have to build a warehouse and have a bunch of inventory, and you don't need to handle the customers directly. You can just create the content to promote these affiliate products and practice the art of selling.
Small successes early on keep you motivated.
I've been blogging for six years now. Because I started making money early in my blogging career, I knew I could make more. Starting early on with results, no matter how small or big they are, can give us great motivation to keep on going.
No matter which niche you're in, if you're running a business, you'll need to have the right mindset about selling. Listen to today's episode to learn more about being the salesman that your audience will love to follow even more.
Resources Mentioned
Transcript
Some people prefer to read along with the podcast episode. Others actually prefer to read than listen. If you are one of those people, not to worry. I've got a transcript right here for you 🙂
Click Here to Download Transcript
About The Podcast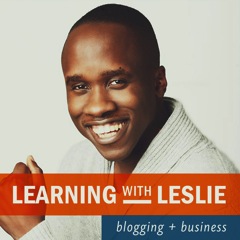 Learning With Leslie is a podcast dedicated to helping you build a business around a blog. No, not one of those blogs that will fall by the wayside when Google has a mood swing, but one that will thrive no matter what gets thrown at it.
I share tips and strategies that I've learnt building blogs since 2008 and interview experts who are knowledgable about various aspects of blogging so that we can learn from their experiences.
If you're a blogger, thinking about becoming a blogger (pun intended) or are not even sure if blogging is right for you, go ahead and tune in to see what this blogging thing is all about.
How to Subscribe To The Show