I was running short on ideas for this Podcast episode so I decided to post on Twitter, Google Plus and my Facebook Page to ask for suggestions.
What followed were a bunch of suggestions, but there was one that stood out for me. Farnoosh Brock from Prolific Living posted the following:

When I read that I thought to myself – AHA, THAT'S IT!
A few weeks ago, I got an email from my partner Cassandre Beccai because she had started experiencing just that! She was slaving away creating awesome videos for her audience and within a few hours, she could tell that there were certain people hating on her by giving her videos a bunch of thumbs down.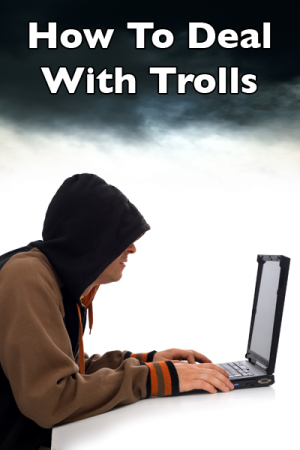 What she wanted to know was How I would recommend dealing with those individuals.
This is something I've had to face and as you get YOUR blog out there, it doesn't matter how awesome it is, you WILL start receiving negative comments.
In this Episode, I share 10 Tips on How To Handle Trolls, Personal Attacks and Negative comments on your blog.
What are my top tips? Here's a quick summary:
Tip 1: Acknowledge that YOUR blog is YOUR blog
Tip 2: Make sure that what you are doing at your blog lines up with YOUR core values
Tip 3: Keep track of ALL the positive comments you get
Tip 4: Review those positive comments from time to time
Tip 5: Celebrate the haters
Tip 6: Decide on how you want to deal with those negative comments
Tip 7: IF you decide respond to negative comments, respond with positivity
Tip 8: Pay attention to trends
Tip 9: Remember the positive comments and WHY you are doing what you are doing
Tip 10: Plow straight ahead
Of course, in the episode I dig deep into each of these points, so make sure to have a listen
Listener Questions
I also answer a Question that was called in by Elby Higginbotham about How to drive traffic to your blog regularly when there are so many things to take into consideration like ALL the different social media sites.
Your Comments
Have you ever had to deal with trolls, personal attacks or negative comments on your blog? If so, how do YOU deal with it? Let me know in the comments below.
Transcript
Some people prefer to read along with the podcast episode. Others actually prefer to read than listen. If you are one of those people, not to worry. I've got a transcript right here for you 🙂
Click here to download transcript.
Resources Mentioned
Become a Blogger's Social Sites: