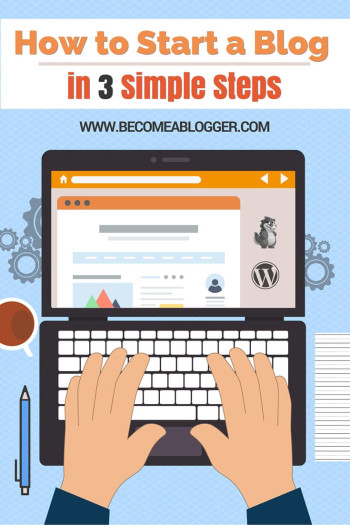 So you've decided to start a blog. That's great and I'm excited to walk you through the process.
Maybe you're passionate about a topic that you want to share with the world.
Maybe you want to build an online business and you heard that blogging is one of the best ways to get started. Whatever your reasoning is, I'm here to help you.
On this page, I will show you how to start a blog in 3 simple steps.
Step 1: Get Your Domain Name and Hosting
The first thing you will need is to get a domain name and hosting. In simple terms, you need to get your very own www.yourdomain.com (i.e. www.becomealogger.com) and you need a place to store your blog (your hosting).
The company I recommend (especially if you're just getting started) is Hostgator. The process is not as difficult as you would think. In fact, I show you how to do it in this video…
Step 2: Install WordPress
WordPress is the system I recommend for creating your blog. It's great because it's relatively simple to setup. You can literally set it up with a few clicks. Watch this video and you will see how easy it is to do.
Step 3: Install a WordPress Theme
Now that you have WordPress installed, it's time to make it look pretty. How do you do that? By installing a WordPress Theme. There are MANY free WordPress themes out there. In this video, I show you how to install a nice theme.
Recommended Premium Theme Developers:
Continue your Education
Ok, so your blog is up and running. But what's next? How do you create the right kind of content? How do you turn it into a business? How do you build your blogging business? I will help you out with that as well.
Well, I would love to help you. Become a Blogger Insider and you'll get my weekly action tips to help you build a better blog as well as my FREE 2021 Blog Content Calendar Spreadsheet. Sign up below.
Get my 2018 Blog Content Calendar Spreadsheet
Become a Blogger Insider and get FREE access to my 2018 Blog Content Calendar Spreadsheet and my weekly Action Tips
Need Someone to Hold Your Hand?
Are you excited about blogging but feel as if you need someone to literally take you by the hand and walk you through the process of building your blogging business?
Then I'd like to invite you to join my Become a Blogger Coaching Club.
I created it because I wanted to find a way to help people personally without making it a huge financial burden. By working with members as a group, I'm able to provide them with a ton of value at a cost that other coaches might laugh at.
[Link to Free Weekly Coaching Calls]
Why I offer my coaching at such a low price
I started a Biology Blog a few years back because I always wanted to be a university professor. I started it while teaching at a high school because I really wanted to teach at a University. The problem was that I didn't have a PhD.
Well (making a long story short), that blog landed me my dream job as a university professor in a doctoral program even without a PhD. Blogging has changed my life for the better. Today, I'm a full-time blogger.
I WISH someone taught me about this when I was in college. But I know that I couldn't afford to pay high coaching prices when I was in college.
I want to make my services available to the young man or woman who is where I was back then at a price that I could've afforded back then. That's why I do it.
So, if you want to join me, go ahead and do so.
I'll be waiting on the other side.