I don't care what you are doing online, you want Google to be your friend. No, seriously – you do.
Listen to This Episode
Why? Simple – because they can send you A LOT of traffic. Trust me – I know. Google is the #1 source of traffic for my Biology Website, and I'm not complaining. Just look at this graph: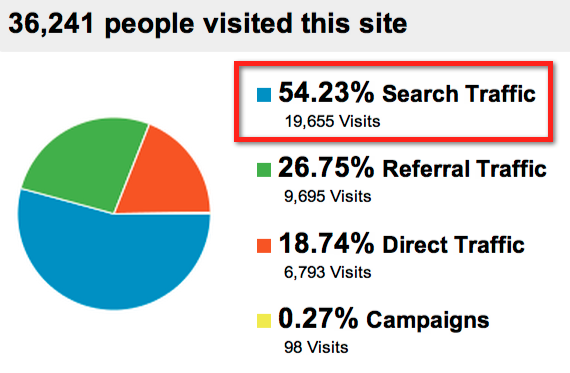 Yes, that's almost 20,000 visits from the search engines in 1 month, and yes my search engine traffic is probably around 95% Google (didn't do the exact calculations, but that's close to accurate).
And yet, for many "internet marketers" out there, this can be a scary thing. Why? They try all kinds of "clever tricks" for ranking well in Google, and from one day to the next, Google can make an algorithm change that takes their blog/website/online presence from 60 to 0 in 2.5 seconds.
In fact, in a recent talk at SES San Francisco, Matt Cutts, head of Google's Web Spam team warns SEO experts about the next update by saying: "You don't want the next Penguin update, the engineers have been working hard" and that, "The updates are going the be jarring and julting for a while".
According to 1 report, over 250 Million websites have been affected by the penguin update.
In a poll done by Search Engine Roundtable with 1000 responses, 65% of them responded that they were hurt by the Penguin update.
What does that mean for the blogosphere?
No – Forget that. What does it mean for YOU? Yes, YOU who are just getting started with your blog, and YOU who have been working on your blog for a while? That's exactly what this episode is about.
So don't get PIMP slapped by Google 😉