Who: Adam Baker
Blog: Man Vs. Debt
Project: I'm Fine, Thanks! <== Check it out!
Transcript: Right Click to Download
Listen to This Episode
Attention: This interview was scheduled for next week, but was so good and promotes something that will help so many people that I decided to post it 1 week early. So the reference to Blog World at the end refers to Next Week.
I meet Authority Bloggers all the time – people who have built blogs that have established them as an authority in their niche. This is pretty commonplace today – People start blogs, become popular, start selling info products and make a significant amount of Cashy Cashy.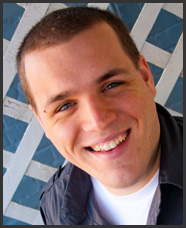 However, every once in a blue moon, I meet someone who is doing something that just REALLY STANDS OUT!
Well, let me tell you. I saw a tweet about something Adam Baker was doing, within an hour we had arranged to do an interview that same day (which was yesterday), we did the interview and I'm posting it today.
Why such a quick turnaround? Because I BELIEVE IN WHAT HE'S DOING and I want to do my part to let the world know.
When I was in college, I read a book called Rich Dad, Poor Dad and it completely changed my mindset. For the first time in my life, I knew that I could do something HUGE in my lifetime, and I didn't have to settle for the status quo.
Adam and his team are working on a project that I believe can serve as that kind of inspiration for people all over the world, and I wanted to share it with you so that you can be one of the first people to have that experience.
Just check out the trailer below:
Ok, so now you see what I mean. I think that this film can transform the lives of so many people that I needed to grab him up for this interview.
Inside the interview, you will discover:
The catalyst that changed Adam's life forever
How him and his wife decided to Sell their crap, get out of debt and live the life of their dreams
How the "Man Vs. Debt" blog started and grew into the powerful force that it is today
Elements of a successful blog
About the "I'm Fine, thanks" project
What to do if you don't know what to do in life
And MUCH, MUCH MORE . . .
Just do me a favor, listen to this interview, be inspired, and take action!
Resources Mentioned