It's true. You've heard a lot of internet marketers say it, and maybe you've wondered about it for a while – "The money is in the list".
However, I like to look at it differently. I don't think I've heard anyone else say it this way, so I'll go ahead and say that it's original. Are you ready for it? Here it is!
"The money is in the relationship" – Leslie Samuel
You can quote me on that one 😉
Allow me to let you into some personal details (and don't worry, there's a point to it).
True Love
In 2004-ish, I was falling for a certain young lady, who made me the happiest man in my life on May 10, 2006. However, at the time, she was seeing someone else (but that's another story for another day).
Anyways, we used to co-direct a musical group together, and as a result of that, we spent lots of time with each other. We had lots of conversations. Sometimes deep, sometimes shallow and just pure fun.
The more time we spent with each other, the more we grew fond of each other (it also helped that she was pretty HOT . . . . . . . . . . – sorry, I got distracted for a second).
Another thing that happened as a result of spending time with each other was that we started trusting each other. I eventually asked her to be my girlfriend, and later on – my wife. She said yes both times. And we've been having fun ever since. YAYY!
Can you believe that? I was able to sell her the concept of being tied to ME for the rest of her life! I'm good!
Ok, back to Internet Marketing
So what did my love story have to do with Internet Marketing? It's quite simple. The reason I was able to sell her the concept of spending the rest of her life with me (a very hard sell if you ask me) was because she knew and trusted me.
Why is it though that when it comes to internet marketing, we try to sell things without a relationship?How would the situation turn out if I asked her to marry me as soon as I realized I liked her? I'll bet everything I own that it wouldn't have turned out too promising.
Could it be that we are missing out on a really special relationship – one that goes way beyond making money online?
I would like to argue that if we don't make relationship-building a priority in our marketing efforts, we are missing out on something AWESOME.
Why Building a list is so Awesome
Building a list is one of the best methods I've found for nurturing relationships with your website visitors. How? It's pretty simple. When someone gives you their contact information, they are essentially saying – "I'm going to trust you a little, and then see how you treat me".
It is at that point that you can help them grow to trust you more, or run away to "the other guy". If you continue to send them valuable information that helps them accomplish their goals, they will learn to look to you as the "go-to guy" (or gal of course).
By using your list effectively, you are nurturing relationships that can help you change the world using the internet (yeah, there I go with that change the world stuff again).
The Dreaded Popup
When I first started internet marketing, I hated popups. They were so ugly and annoying. However, about a year ago, I found out about Popup Domination. It was a popup, but different – much more attractive.
Then I added it to my biology website and it increased my conversions by 568% overnight. In other words, every day, I got almost 6 times as many subscribers as before using the plugin.
I eventually realized something – I was offering the world something of tremendous value. Because of that, I felt it was my obligation to try to get it into as many hands as possible, because by doing so, I was doing my part to change the world.
That changed everything for me, and has helped my online business to grow in many ways.
Then, I found WP Subscribers . . .
A few weeks ago, I found out about another WordPress plugin that absolutely blew my mind. It's called WP Subscribers.
It took the benefits of Popup Domination and multiplied it several times over. I added the plugin to my Biology Website, and immediately fell in love.
Why? Let me tell you!
It does popups WAYYY better than Popup Domination, by giving me more control of Where it shows up and when
It allows me to split test different popups to see which performs best
When someone signs up to my list, that's it. The popups (and other opt in forms) no longer show up (AWESOME)
In addition to Popups, it also allows me to Set up Opt in forms in my side bar, posts, footer, header, and anywhere else
I can create exit popups that show up when someone leaves my site
I can set it up for people to opt in with one click via Facebook Connect
Everything is VERY customizable
I get detailed stats showing how well everything works.
I can give commenters the option to automatically subscribe when they leave a comment.
The BEST part about it all is that once someone subscribes to my list, they don't have to be bothered by the popups and opt in forms. They just magically disappear!
Here are a few images that show some of the features: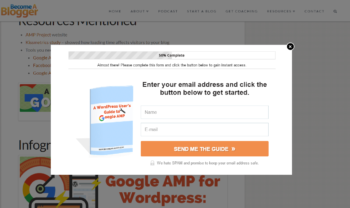 So I decided to give it a whirl. Of course, I didn't go all out and put popups EVERYWHERE. I used three of the features – the lightbox popup, post opt in, and footer opt in.
My results so far
I was surprised to see that there was a significant increase in conversions.
It may not look like a huge increase, but when I went from Popup Domination to WP Subscribers, my conversions increased by approximately 83%. Let me make it a little more practical.
If before the switch, I had an average daily opt in of 30 subscribers (which is about where I stand), after the switch, I'm getting approximately 55 subscribers daily. Does that sound better to you? It sure does to me 🙂
Building YOUR list
Has building your list been something you've been focusing on? If not, I would highly recommend for you to start.
This REALLY is something that can help take your online business to the next level.
If you are working on building your list, I would highly recommend for you to use WP Subscribers, because it WILL help to get you there faster.
Click Here to Get WP Subscribers
Your Comments
What has been your biggest struggle when it comes to building your list? Let me know below.