If you want to track the ROI of social media, you have to identify and break down your goals. This will inform how you set up your tracking and set a firm foundation for your online marketing.
In this lesson, I will show you how to set trackable goals to start the process of determining ROI.
This is your first step for tracking ROI, and will help you know if what you're doing is working. There are a few questions you need to answer to do this right:
Question 1: What is the ultimate goal of your business?
In other words, who do you help and how do you help them? Here are some examples of different goals people might have in their businesses:
I help entrepreneurs break through their current barriers to achieve true success. That's my main focus.
I help busy moms create healthy meals for their growing families quickly and easily.
I help church musicians get better at playing gospel piano.
Question 2: What metrics tell you whether you're accomplishing that goal?
In other words, what can you track that tells you whether you're headed in the right direction? Here are examples:
How many people I give free coaching experiences to.
How many coaching clients I sign up.
Number of meal plans sold.
Number of signups for a free chord chart that you give away to email subscribers.
These are all trackable, and that's awesome.
Question 3: On what platforms do/will you connect with your audience?
Will you be using Facebook, Twitter, Instagram, and/or LinkedIn? Do you have an email list? Will you be doing podcast interviews? Wherever you plan on marketing, put those places down on the list.
Organizing your platforms into campaigns
Now that you know the answers to these questions, it's time to organize these platforms in two levels. These two levels will be your campaign names and your campaign sources.
Here's an example: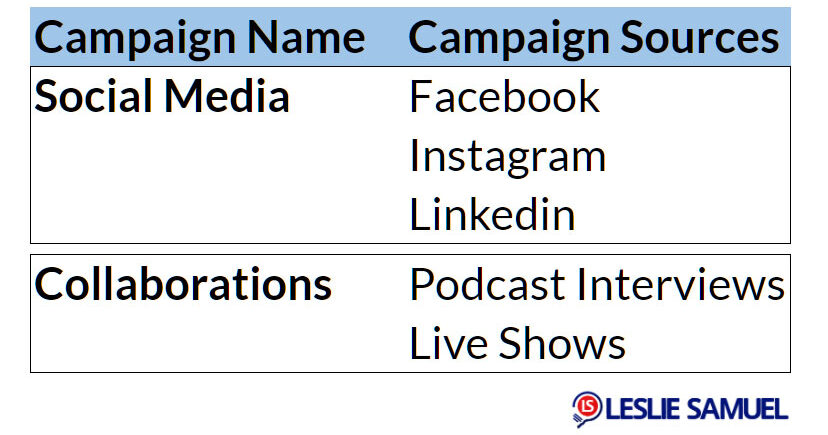 The first campaign is Social Media. And the Campaign sources in this campaign could be Facebook, Instagram and LinkedIn.
The second campaign is Collaborations. And under that campaign, the sources are Podcast Interviews and Live Shows.
These are examples and you can use them, or you can create your own. Do whatever makes sense for your business.
Also, leave a comment letting me know one campaign name you plan on doing for your business.
And with that, what are the campaign sources that will go along with that one campaign. I would love to hear from you.