Do you want to know some of Serena Appiah's secrets for keeping your blog growing after leaving your job? If you've been thinking about ways to expand your brand's reach, but aren't sure of the best path… you're in luck! In this interview, Serena shares the exact steps she took to grow Thrift Diving into a 6-figure blog after losing her job.
Listen to the Episode
This info is based on an interview I did with Serena. Feel free to listen to the episode below. You can also subscribe in Apple Podcasts, Stitcher, Spotify or anywhere else.
Who is Serena Appiah?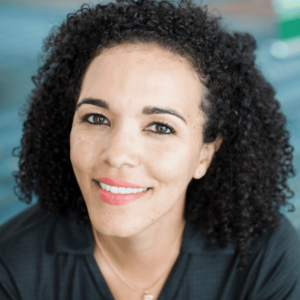 If this is your first encounter with Serena, you are in for a treat! Serena is the owner, publisher, and carpenter-in-training behind Thrift Diving! Currently made up of a blog and a YouTube channel, Thrift Diving inspires people to decorate, improve, and maintain their homes using things like paint, power tools, and items from thrift stores.

As a mom of three boys between the ages of 7 and 13, Serena has outfitted her home with many thrift store treasures — not only because it's economical and fun, but because raising three boys means things will get dirty (or broken!). She's also been blogging in some form since 2006, so she has lots of insight & experience to share with us!

Why Serena Started Blogging
Back in 2006, Serena only saw blogging as a way to let her friends and family know what was happening in her life. She would write posts here and there, but never anything too serious. Then in 2010, she decided to start a dedicated blog around home decoration and repair. After two years of consistent posts, she found out that people were actually making money with blogs…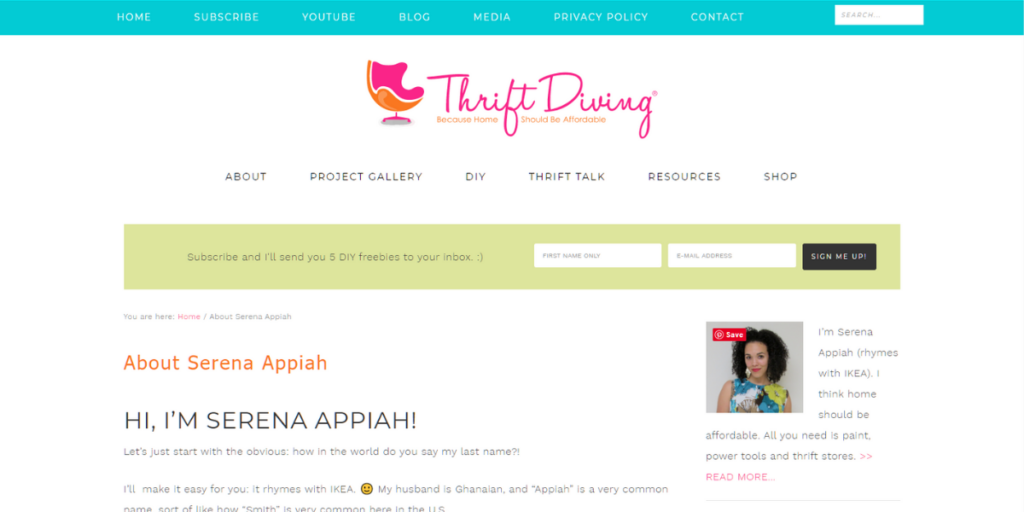 Good money at that! Still, at her 9-5 job, Serena decided she would work to grow her blog into an income-producing business. By the time she lost her job in January 2015, Serena had built a profitable blog and an engaged community… but she still didn't think it could serve as a full-time income source.

Moving From Part-time To Full-Time Blogger
When Serena lost her job, she only had about $1000 dollars saved. She decided she would collect unemployment, look for a job, and continue to build her business. All she wanted was enough money to pay the bills! Having made $10,000 in 2014, she had an idea of some steps she could take to move things forward… now it was time for action. Here are three things she did to get the ball rolling: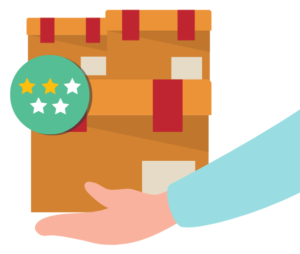 Tip 1: Reach out to brands
Serena was fortunate to have already built some brand relationships at this point. For those starting out, think of some favorite blog-related products you already use. Reach out to those companies and offer to promote their product/brand to your audience. Brands may be hesitant at first – that's okay! Do a free product review or two (if needed) and show that your promotion is valuable. Once they see that value, your first brand deal won't be far away (we'll dig deeper into this in a minute).
Tip 2: Be intentional about your time
Serena used a time-tracking app called Boosted to help organize herself. It also helped her to see how long tasks were taking to complete. As many of you probably know, blogging & building a business take time. Boosted made it simpler for Serena to manage and complete her projects before showing how she did it. Tracking her time helped Serena to sort out which new projects she could take on and which she couldn't.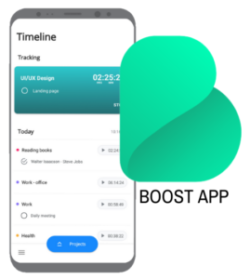 She also prioritized doing things that would produce income. It's easy to get distracted by all that running a business can bring. Knowing her priorities from the start helped Serena continue in the right direction, even when obstacles came up.
Tip 3: Focus on optimizing SEO
We can't stress enough how important SEO is to your blog's success. Serena suggests taking time before writing your posts to research keywords that people are searching for. Compare a few, then make sure to add those into your title, the titles of your pictures, and throughout the post.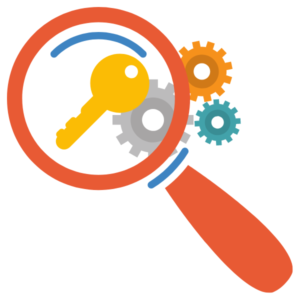 Also, ask yourself what your goal for this post is. Once that's clear, make sure you're focusing on creating value and solving problems. Google looks for quality. When you answer relevant questions, they are more likely to suggest your post. Google is your friend! The more you can use it to send you free traffic, the less time (and money) you'll have to spend on marketing in the future.
Interacting With Brands
Serena has a lot of experience working with brands. She's fortunate enough to have them coming to her now, but life wasn't always that way. Here are some suggestions she keeps in mind for getting the most out of her brand partnerships:
Actively look for brands to work with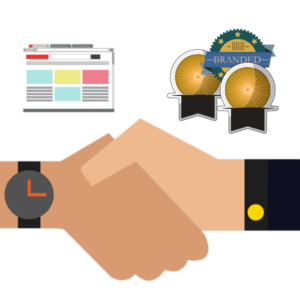 It's up to you to make sure brands know you are willing and able to advertise their product. Reach out to them directly, let them know you're interested, then move on to the next. The least they can say is "no". Most likely, they'll suggest a free product review as a "first test", then base future deals on those results. That's fine! Show them that you're worth the investment.
Caution – Easy distraction ahead
Once brands do start coming to you more often, you'll have more leverage to negotiate with them. It will eventually get more difficult to choose between projects. Which is the better option: Paid, short-term brand deals? Or fun, longer-term personal projects that you'd already planned to complete?

Don't be tempted to immediately go with the brand deal because there is money involved. Instead, focus on two things: projects that will excite you & that your audience will love. These will always put you in a good place and will help to keep your audience engaged at the same time.
Be okay with being uncomfortable asking for more
As you continue to grow, the numbers in your deals need to grow with you. That means adjusting your 'fee' with brands as you prove your value to them more and more. Keep in mind, brands have the money. They also will be more than happy to pay if the returns are right.

While it may be uncomfortable, asking for more than you think brands will pay for your task is the right thing to do. Remember, you have to pay taxes on whatever you're getting from them too, so any extra you can get is helpful. Embrace the discomfort and you'll be more likely to come away with a deal that just might surprise you. And if they agree too quickly? You probably didn't ask for enough!
Serena's Other Keys To Successfully Growing Your Blog
Told you Serena would have lots of valuable info to share! Keeping in mind even the few tips you've heard already will have you on the right track. But wait… there's more! Below are a few last things Serena suggests you keep in mind to maximize your blog's growth.
Diversify your platforms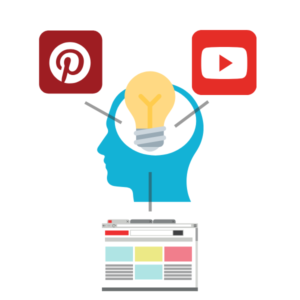 It's always good to be active in many places online. Serena's main platforms have been her blog/website, YouTube, and Pinterest. She uses her blog for written content, YouTube for video content, and Pinterest for connecting with the DIY community. When she started making YouTube videos, it completely changed her approach to work. It showed that her audience enjoyed the feeling of completing activities with her! Now, she rarely does any project without filming at least some of it to share.

YouTube has opened doors for Serena. It has brought new income streams (ie. affiliate products & brand deals), new subscribers (via 'suggested videos'), and even inspired more creativity with her project ideas. That happens to be a great segue to our next point…
Listen to your gut
Occasionally, opportunities come up that force you to choose between two great options. In Serena's case, this took the form of a brand deal that, at first, didn't seem like something her audience would care about – but it looked like fun. She decided to go with her gut, made the video, and it ended up being one of her most popular uploads to date. Watch for these opportunities! Your audience feeds off of your energy – if you come across something that excites you, they just may enjoy it too!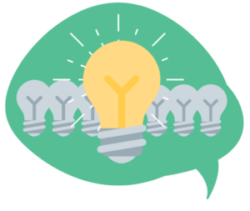 Make the content you don't see others making
Keep an eye out for trends that other creators are jumping onto. Feel free to follow the trend yourself, but be careful to look for ways that you can put a different spin on it. Also, be very aware of which content is working for you, and make more of it. It's easy to get caught up in being different, but remember that creating more of what's doing well is important too.
Build an email list and engage with it: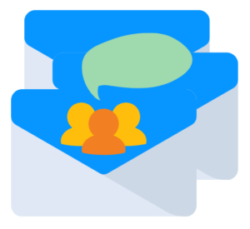 Serena's email list is something she admits she would like to do more with. She does, though, have systems in place that make sure it continues to grow and give value to her subscribers.

On sign-up, her new subscribers receive an email that includes 5 freebies. That first email also asks them to respond to the question, "What's your biggest DIY struggle?". She does this to begin engaging them but then takes it a step further. She hired her mom to respond whenever someone sends a message back! These responses give a more personal feel without the extra work for her, and they 'whitelist' her email. No more visits to the spam folder for emails from Serena – highly recommend this!
Think about creating your own products to sell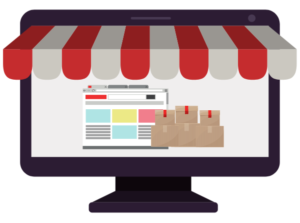 Products (physical or digital) are awesome because they come from you as a personality. Your community will appreciate that you are looking to give back to them in such a valuable way! They should serve both as an income stream and as a catalyst for more engagement.
Conclusion
Serena never did have to go back to a "normal job". Three months after leaving her 9-5, the money she earned from brand deals outpaced her unemployment checks – and it has only gone up from there. Making a reliable income from your blog soon after leaving your job is possible!

Now she attributes most of her blog's success to three things: 1) Optimizing SEO, 2) Going with your gut, and 3) Learning to be comfortable in discomfort. Serena is a perfect example of recognizing what's working, then taking action to improve things little by little. If you're consistent, those small improvements can turn dreams into reality. With her tips in mind, commit to yourself that you'll apply some (or all) of what you've learned here – if she can do it, you can too!
These tips are a great start, and I hope you'll apply as many of them as possible – your blog will thank you! For those of you looking for an extra push and specific, hand-holding guidance with building your blog, join the Blogger Coaching Club! It's a service I offer that many people have gotten the chance to benefit from, and I'd love for you to experience those benefits too! Click the link above to check it out. See you there!
Tools/Resources/References