One of my Goals for 2011 is to start outsourcing consistently and strategically. Why? Because it's time to stop the insanity. No, really. Running an online business can really tire you out. I've been there before and I'm determined not to stress myself (or my family) out unnecessarily. Not only that, but it gives you the leverage to grow your business beyond what you can accomplish on your own. Really, this is how you take your business to the next level, but only if you do it the right way. If you do it the wrong way, all you'll end up doing is throwing away money. So, that being said, I want to give you some tips that I believe can help you outsource effectively. Here goes . . .
First, Decide on what YOU need to do
I've been doing a lot of thinking about my business recently, and what I've come to realize is that I'm in the business of information marketing and community building. I provide information for others to consume. Information that I believe is helpful to my audience and I build community around my topic/niche.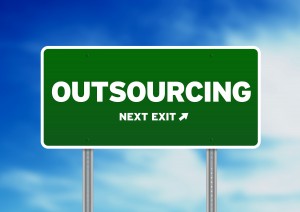 That being said, the most important thing for me to do in my business is provide high quality content and to nurture the community that I'm trying to build around my topic. That's where I need to spend a large majority of my time. No, bump that. That's where I have decided that I need to spend ALL of my time. In other words, the tasks I need to be focusing on are:
Producing high Quality content

Writing Blog posts
Making Videos

Connecting/Networking with other bloggers
Actively commenting on Youtube
Tweeting and Facebooking
Since content and relationship are my specialty, I want my content to be second to none. Because of that, I want to put all of my energy into those aspects of my business and leave everything else to others. What's important for YOU to do in your business? Deciding that is the first step.
Outsourcing the rest
Since I know what's important for ME to do (or what I want to do), I've decided to build towards outsourcing everything else. There are so many other aspects of my business that can take a ton of time. In other words, they can take valuable time away from what I need to focus on. These tasks include the following:
Handling all the techy stuff

Design (logo, sidebar elements, graphics, etc)
Installing scripts (membership sites, new secret developments, etc)

Transcription
SOME content development
Customer Service (support tickets etc)
Outlining tasks
In the beginning stages of my business, and even up to now, I did most of the things myself. When doing that, it's a good idea to come up with step by step instructions as to how to do everything that needs to be done. In other words, writing instruction manuals. That way, when you are ready to outsource the task, it's easy to orient your outsourcer as to what needs to be done. This really comes in handy and can be done as either written instructions or videos.
Then, it's important to have a clear description of what you need each outsourcer to do. For example, I just posted a transcription job on oDesk. In that description, I let them know that I needed them to transcribe approximately 5 minutes of video every weekday. In addition to transcribing it, I let them know that I needed it edited for any grammatical errors I might make and that they should remove any unnecessary stutters, etc.
I was pretty detailed in terms of what I wanted and how I wanted them. When outsourcing, it's not good to hire someone without being able to guide them as to what you want them to do, or you'll just be wasting money.
How to find someone to hire
I've done this a number of ways, ranging from word of mouth to using sites like Elance, Scriptlance and oDesk. Now, I have to say this. I've previously  used Scriptlance for most of my outsourcing. I'd tried Elance also and it worked relatively well. However, I just started using oDesk this week and oDESK ROCKS! Seriously, my buddy Chris Deals had been telling me about oDesk for a while, but I'm usually pretty hesitant to try something new. In fact, we have this running joke that whenever he recommends something to me, I'm never impressed about it. Then later on (usually a few months), I come to him about the same service/product talking about how amazing it is.
Well, in this case, he was right. oDesk is pretty amazing and let me tell you why:
There are a ton of people on there from all over the world.
It's extremely inexpensive to hire someone, even at prices like $2.50 per hour.
People who are looking for work can take tests that are relevant to what you need done and you can see how they scored.
Their tracking system is the best I've ever seen.
The BEST thing about oDesk
I've hired a number of outsourcers in the past where I've had a strong feeling that I was being over-billed. They would quote a low per-hour price (like $2.50 per hour) and then say that the project took 24 hours of work, when I really felt as if it could've been done in 10. With oDesk, I'm pretty sure I won't run into that problem.
When someone is working for you, it tracks their activity and gives you screenshots of what they are doing at random times, including how much they are typing and how many clicks they've made in each time interval. This is great because you can easily see if they are keeping on task and being productive. If they billed you for 2 hours of work and you see that they were on Facebook for 30 minutes, you know that something's not too right, and you can dispute their charges. In other words, it's very secure.
Provide good training and feedback
Once you've decided on an outsourcer, there's still more work that needs to be done. You've hopefully put together some good training resources/instructions for them. Now it's time to provide them with the training and give them good feedback on what they have done. If they do good work, praise them. If they do mediocre work, praise the good that they did and provide them with feedback as to how they can improve. Actually, I've been blown away by the quality of response I got from my job listing and the quality of work that my first outsourcer has done.
So to recap on my suggestions for how to outsource Effectively:
Decide what you need to do
Decide what you need others to do
Have clear written guidelines
Post the job on oDesk. In my opinion, forget the rest, go with the best. However, I'm sure others would have other opinions and I'll be glad to hear them in the comments below.
Provide great training and quality feedback