Google is the king of search. And fortunately, they give us some pretty advanced SEO tools to help us drive traffic to our blogs.
But most people struggle to understand how it all works together. By the end of this post, you will understand how Google Analytics and Google Search Console can help you grow your traffic.
I'll also dig deep into some simple strategies for using this data to grow your business.
Listen to the episode
As usual, each of my posts has a podcast episode that goes along with it. It covers everything in this post and goes into a few extra details. Go ahead and click play below to listen. Also, consider subscribing in iTunes.
Why this is Important
With all the changes happening in Social Media, more and more bloggers are focusing on SEO. Traffic from Google is coveted because if you do a good job, it can result in lots of traffic.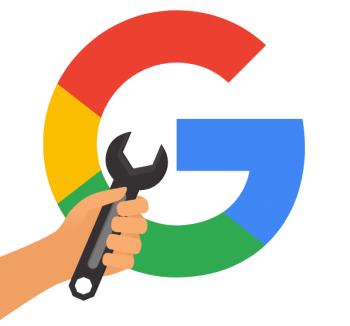 Unfortunately, most bloggers add Google Analytics to their site and MAYBE submit their sites to Google search console, and that's it.
They never look at the data, and if they DO look at the data, they don't do it in a way that makes it actionable.
But Google wants to serve up the best results to the people who are searching for things. It makes them more money when they do this well.
And they've given us FREE tools to help us know exactly what we should be doing. If you use these tools well, the result can be a lot of organic, targeted traffic for your blog.
With more traffic, it's easier to grow your business.
Let's go into the differences between these tools.
What is Google Analytics
Google analytics is a free service offered by Google that allows you to analyze your traffic. It tells you all of the following (and much more):
How many people are visiting your site (as well as a bunch of details about those people)
How they got there (whether that's from the search engines, social media, other referrals, or by typing in the URL)
What they do once they get there (i.e. what pages they're visiting, how long they are staying, etc)
How well they are converting (i.e. signing up to your email list, buying your stuff, etc).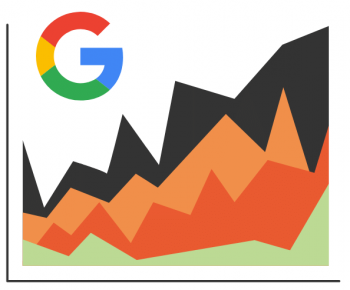 The way it works is fairly simple (while being quite complex under the hood).
When you add your site to Google Analytics, they give you some code. Once you add the code to your site, they are then able to track EVERYTHING.
At the most basic level, it will track the general activity on your site, including a lot of the things already mentioned.
As you get more advanced, you're able to specify what exactly you want Google to report on.
For example, you can set up goals in Google Analytics. This is your way to tell Google to register certain actions (i.e. bought your ebook) as a goal to track.
Once you do that, you are starting to unleash the power of Google Analytics.
What is Google Search Console
Google search console is also a very powerful and free service offered by Google. It allows you to "monitor, maintain, and troubleshoot your site's presence in Google search results".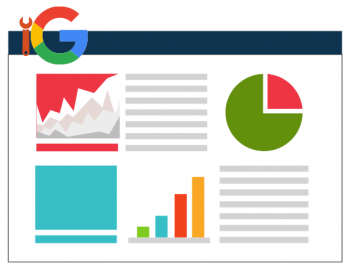 While fewer bloggers use Search Console than Analytics, it is such an important tool if you want to increase search traffic.
The power in Google Search Console is that it tells you exactly what you're ranking for. It also tells you exactly where you're ranking in the search engine results.
The Concept
There are many tools out there for doing keyword research. In many cases, you're trying to find new keywords to target.
The idea is to see what people are searching for and create content to answer their questions. In the ideal scenario, you find something with lots of searches and little competition.
But there's another way that's often overlooked. Instead of looking for what are potentially great keywords to target, focus on what's already working.
Both Google Analytics and Google Search Console have ways of giving you this data. Let's look at how you can use them for growing your business.
How to Use Google Analytics for Business Growth
I love me some Google Analytics because of the wealth of data that's in there. Every so often, something shows up in there that surprises me.
For example, the most popular post on my blog is a post on how to vlog with your smartphone. For some reason, that post really took off on social media and then started getting lots of organic traffic.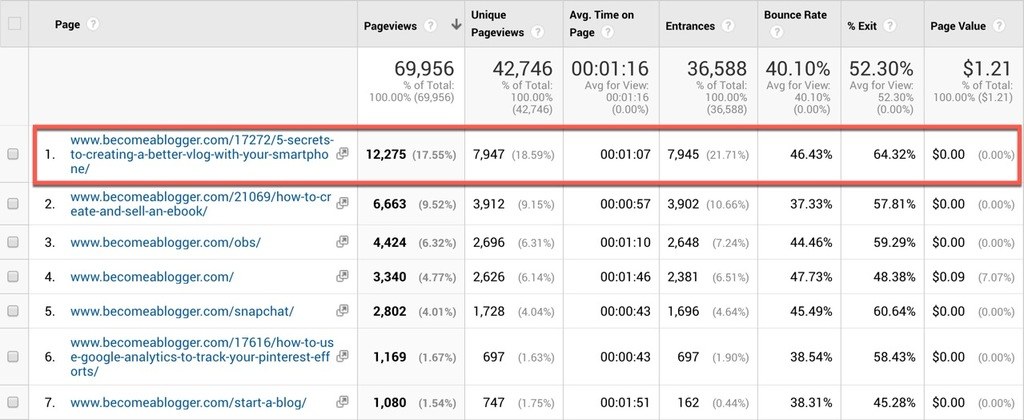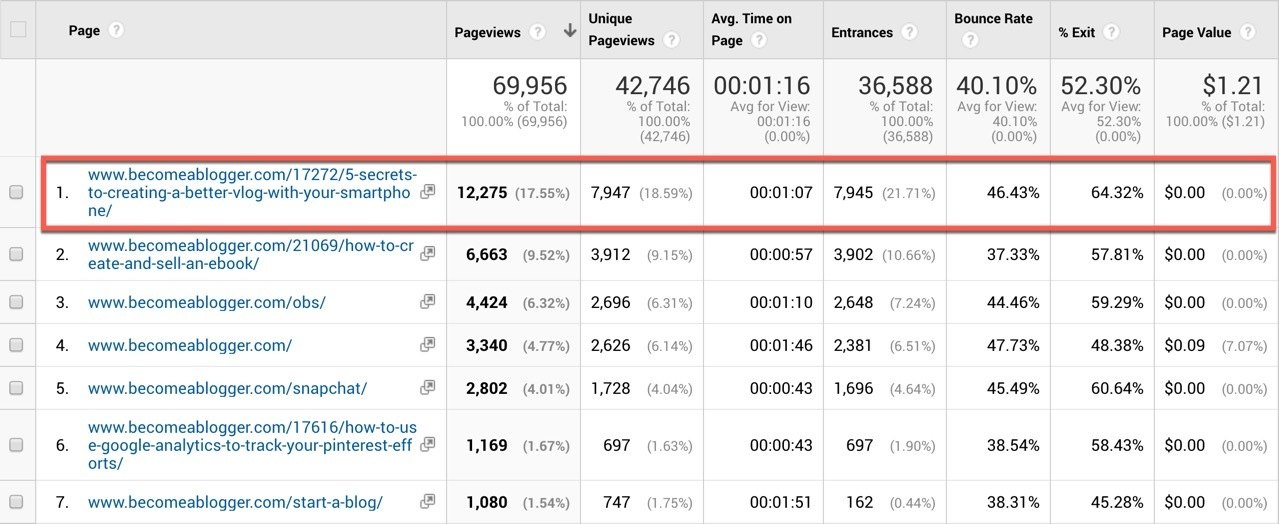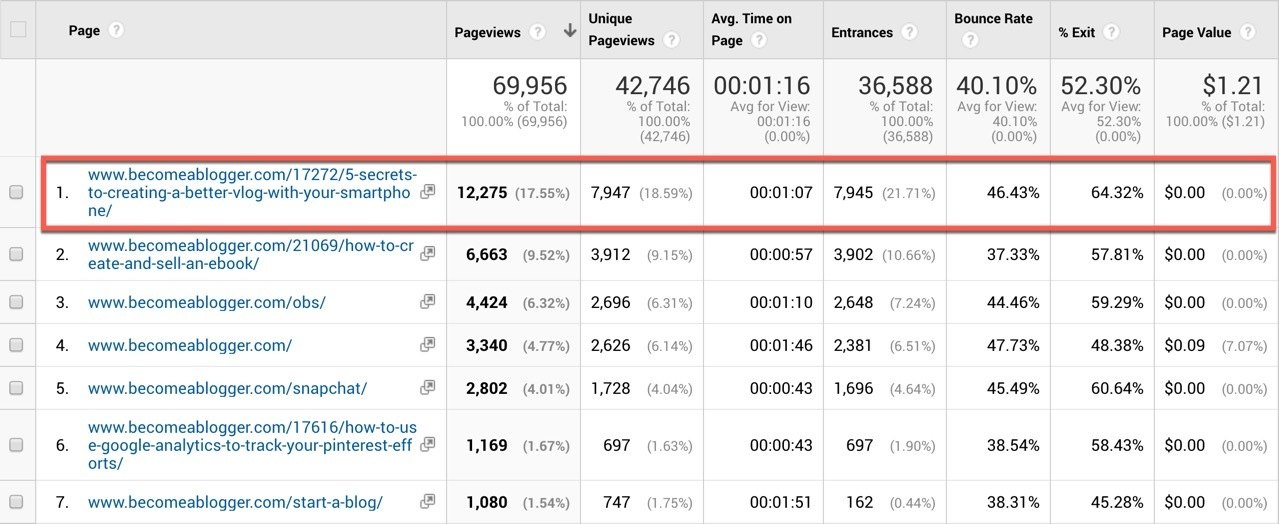 When I first noticed this, I checked out the blog post. While the post was well-written, it didn't lead anywhere that had an impact on my business.
So I decided to make some tweaks. I didn't have a lead magnet that would make sense for the post, so I decided to add in some Amazon affiliate links.
Since then, I've been earning money from that post on a monthly basis. By making a few tweaks, that added to my bottom line. Here's what I recommend for you.
In Google Analytics, go to Behavior > Site Content > All Pages.
Look at what your top-visited pages are and optimize those pages to align with your business goals.
Here are some possible things you can do: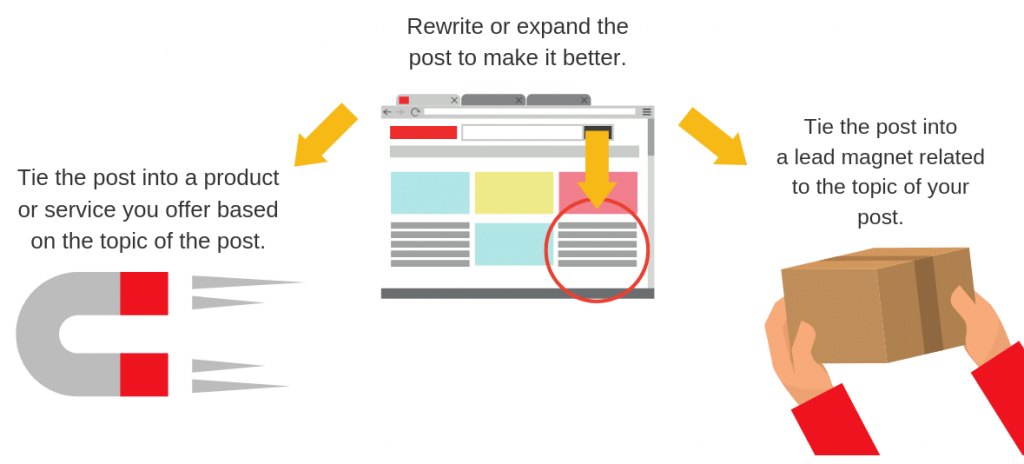 Doing one or more of these things will help you grow your business.
How to Use Google Search Console for Business Growth
As a blogger, you probably have a specific niche you're blogging about (hopefully). As you create your content, you will be covering different topics within that niche.
That's great, and what you should be doing. Eventually, you'll start ranking for different keyword phrases.
And as your site authority increases over time, you will start unintentionally ranking for things you didn't necessarily target.
In many cases, you will rank for topics you don't care to rank for. However, in some cases, you will rank for things you want to rank for but without even trying.
Here's an example.
According to Google Search Console, I rank for a bunch of keywords related to Terms and Conditions for bloggers.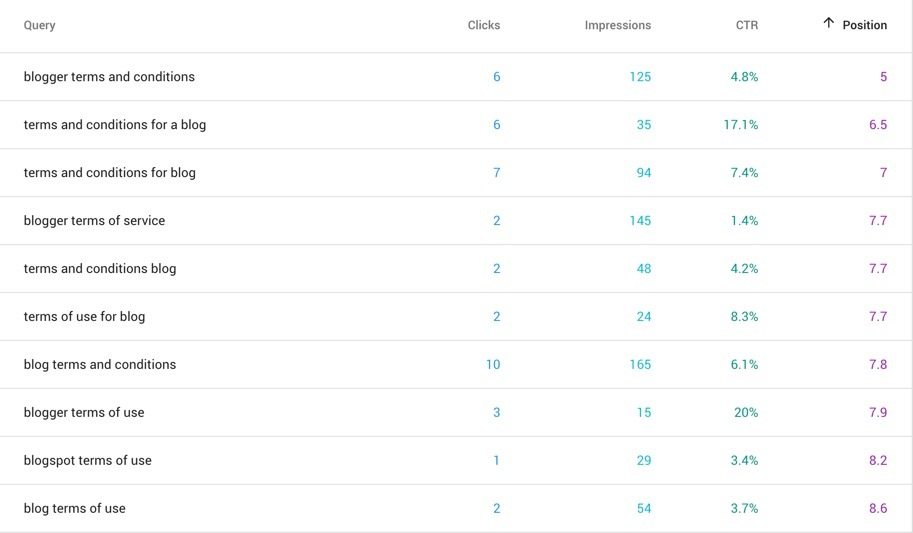 The only reason I rank for those phrases is that I have Terms and Conditions on my site and the word Blogger is in my site name.
I never tried ranking for those phrases. However, people that are searching for those phrases are great prospects for my business.
Google is telling me that it's easy for my blog to rank for those phrases because I'm already ranking without trying.
It would make sense for me to create a detailed blog post that shares resources for creating Terms and Conditions for your blog.
I remember seeing the same thing when I had my biology blog. With all the content I had on my site, I saw that I was getting a lot of traffic for searches about the kidney and urinary system.
This was the result of just mentioning it in one post. But the blog had a lot of authority in that space and started ranking for that (and many other phrases).
If I were still working on that blog, I would create an entire series on the urinary system and I know it would get a lot of traffic.
So here's what you should do: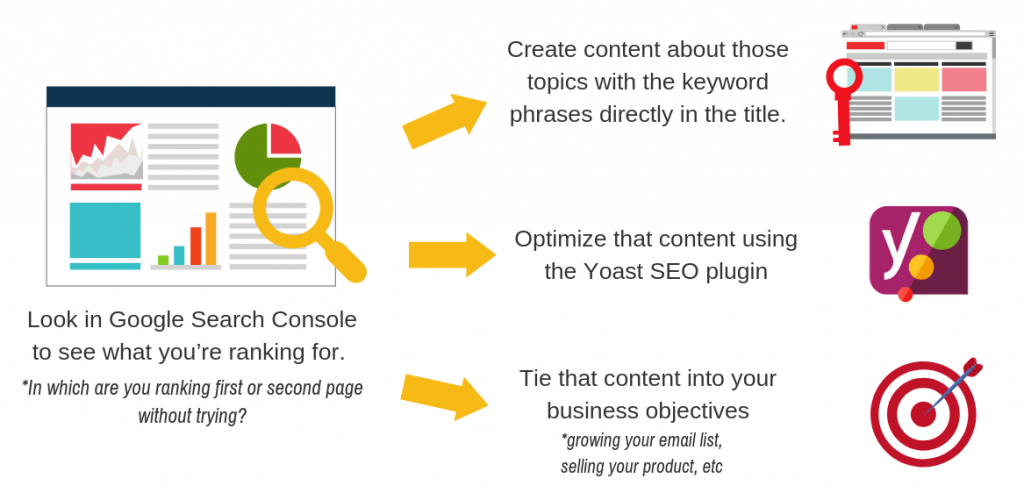 Let's wrap this up
What I covered in this post isn't anything revolutionary. But it can be powerful for the growth of your blog if you do it consistently.
I'm going through this process right now and am looking forward to sharing the results with you in a future post.
Take home lesson: Focus on what's already working. Focus on your strengths. The more you do that, the stronger your blog will become. And the more you align those activities with your business objectives, the stronger your business will become.
Let's do this!
Resources/References: