Does this sound like you? You've been with getting things done.
You've listened to the productivity podcasts, read the productivity books and admired your productive friends.
But somehow, nothing seems to click. No matter how much you read or study, it doesn't happen for you.
If that's you, you're reading the right post. Because in this post, I will share a tool that will help you go from trying to figure life out to a productivity machine.
I know, that's a tall order. But hopefully, by the end of this post, you'll be convinced.
Listen to the Episode
This will be a long one. If you'd prefer to hear me talk about this while you're on the go, click below to listen to the podcast episode.

Get the Spreadsheet
To fully take advantage of this post, make sure to download my FREE "Get it done" spreadsheet.
The Problem with "Getting Things Done"
I play the piano by ear. It's something I've been doing since the age of 12. I love playing the piano.
And if someone's singing while I'm playing (i.e. my wife), I'm on cloud 9. Because I've been playing for so long, I must say – I'm pretty good at it.
If you come up to me and sing a song, in most cases, I'll be able to play it immediately. It's just a part of who I am. God blessed me with musical talent.
But there's a situation I often find myself in. A fellow pianist hears me play and comes up to me to ask me the name of the chord progression I played at a certain part of the song.
My answer always confounds him – I don't know.
I can't tell you the theory of what I'm playing. I don't know the theory (in most cases). What I know is how to play.
This often leaves them confounded. They understood the theory. In fact, they are often experts. Put sheet music in front of them and they can play it immediately.
But remove the sheet music and they are useless. And their playing often amounts to that of someone with much less skill.
How did I learn to play the piano? By playing the piano. I spent countless hours on a near daily basis playing the piano for years.
And the more I did it, the more the music became a part of who I am.
Understanding theory is powerful because it forms the basis for what we do. Unfortunately, understanding the theory doesn't always equate with being able to do something well.
The problem with "Getting Things Done" and all of the theory that's out there is that it's just theory. How do you get stuff done? It has something to do with how I learned to play the piano by ear.
What to do instead
Over the last few months, I've been inspired by the following quote:
"If you want to teach people a new way of thinking, don't bother trying to teach them. Instead, give them a tool, the use of which will lead to new ways of thinking" – Buckminster Fuller (Designer, inventor, futurist)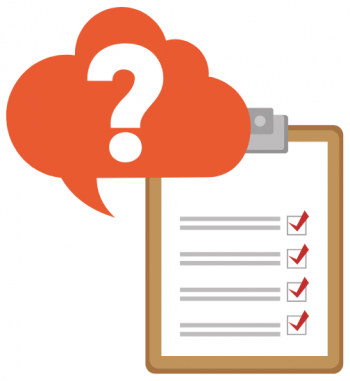 When I read that, it hit me. THAT'S how I learned to play the piano. The piano was a tool and I used it over and over.
I spent years using the piano, making mistakes and realizing that some of my "mistakes" actually sounded good.
And it didn't matter how it sounded because I was in the comfort of my own home. And my parents actually encouraged those mistakes.
They would sing out as we sat together during family worship as I stumbled through playing songs on the piano.
But the more I did, the better I got. That's how it is with getting things done. Here's what we can learn from my piano playing skills.
Choose a tool that teaches you to get things done, and use it over and over. The more you use it, the better you'll get at it.
My Get it Done Spreadsheet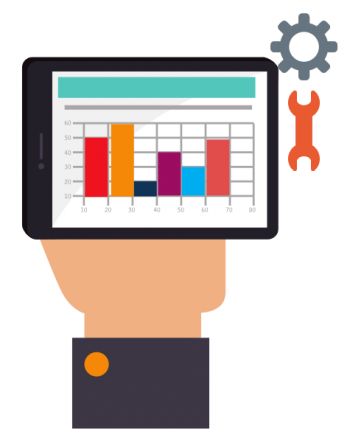 After buying into Buckminster Fuller's concept, I decided to create a tool. One to teach you the principles of getting things done.
And while I'll give you the theory here, that's only the beginning. Using it on a daily basis will help you to solidify the theory and actually get stuff done.
The core of the spreadsheet comes down to the following seven steps.
Step 1: Take inventory of your work-life balance
One of the problems with how we normally set goals is that they are often project focused. This isn't inherently a problem.
But what I now realize is that our project-focused goals take flight when they line up with our life goals. For that reason, you should take inventory of where you are in life.
Once you understand where you are in life, it's easy to see what's off balance. Once you know what's off balance, you can more easily see where you need to set goals.
In the Get it Done Spreadsheet, you rate yourself in the following six areas: work/business, finances, spiritual, health and body, relationships with others and personal.
This is done by grading yourself on a scale of 1 to 10 as shown below: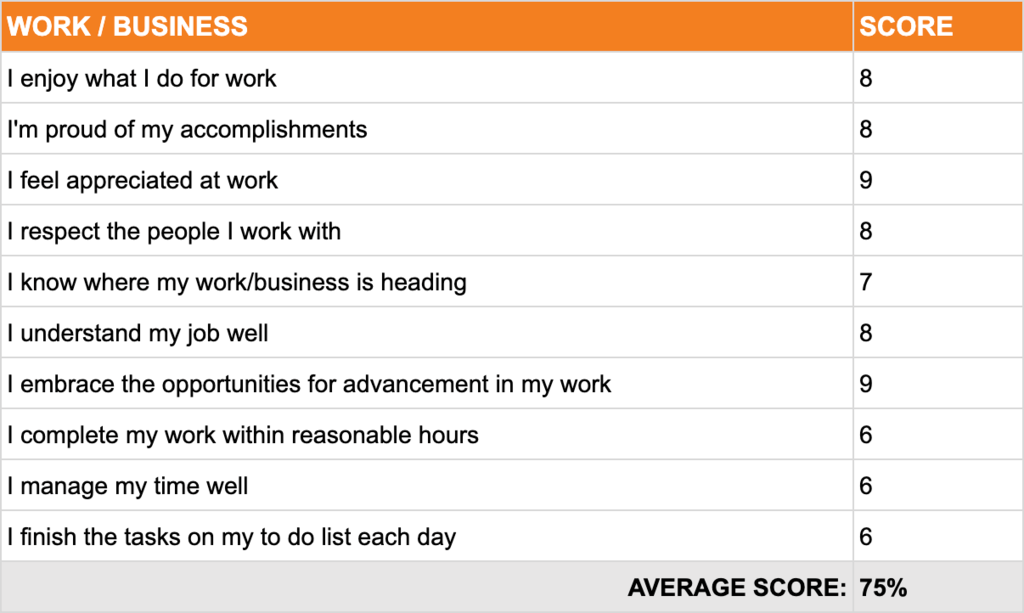 After taking this inventory, you will get a picture that looks like this: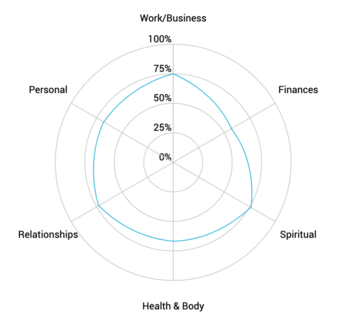 As you can see in my example, I'm relatively balanced in most areas, but there is room for improvement. But there's one that stands out.
Finances.
When it comes to things like long-term financial planning, following a budget, etc, I fall short. This tells me that I have some work to do, especially where my finances are concerned.
It also shows me that while the other areas are relatively balanced, there's room for improvement.
Understanding this will help you with the next step.
Step 2: Write down your goals
Now that you know where you stand, it's time to come up with your goals. They'll fall into three categories: short-term (0 to 3 months), medium-term (3 months to 3 years), and long-term (over 3 years).
Here are my short-term goals from when I went through this activity:

Notice that you're including all of the following:
What the goal is.
Why you want to accomplish each goal.
When you want to accomplish it by.
When you actually accomplish it.
These goals should be S.M.A.R.T. goals (specific, measurable, attainable, realistic and time-based).
Step 3: Break down those goals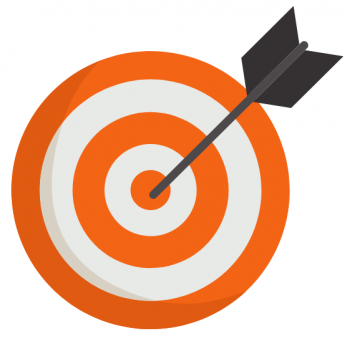 Ok, so you have your goals. It's time to break down these goals. For each goal, answer the following questions:
What is the goal?
What are the benefits of reaching that goal?
What are the pains associated with not reaching the goal?
What resources/knowledge do I need to help me reach the goal?
What are the steps I need to take?
When will I accomplish each goal by?
Dissecting each goal in this way will make you more confident in your ability to accomplish each goal. It will also give you the steps you need to take.
Step 4: Create your weekly and daily plan
This is where the "Get it done" spreadsheet really shine. It's what you do on a daily (and weekly) basis that sets the stage for success.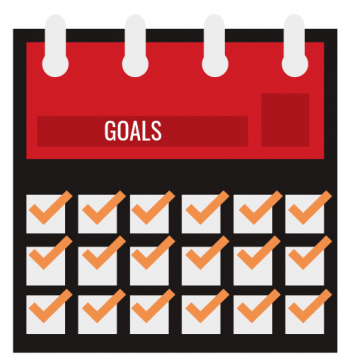 Here's what I recommend. At the beginning of the week, make your plan for the week. This includes a list of the 3 to 5 goals you're working on that week.
It's important to keep your goals front and center as you plan out the tasks you will be working on. It also includes the tasks you want to accomplish by the end of the week.
Once you've done that, it's time to plan out the tasks you want to accomplish each day as well as a tentative schedule to help you accomplish those tasks.
I've gone back and forth on this. When I first started using the spreadsheet, I would do my schedule daily. I figured that my daily tasks would depend heavily on what I did the day before.
But then I found that when I don't start with a good view of what I want to accomplish for the week, I get less done.
So now I plan out the entire week on Sunday and adjust accordingly as things change.
Step 5: Take massive action daily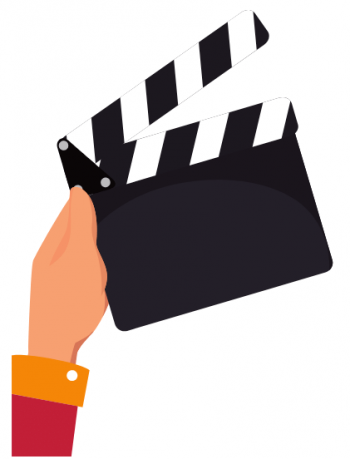 There's not much to say here. You've done the planning and now it's time to do what you planned. It's what you do on a daily basis that will result in the success you're trying to have.
And now that you've planned it all out wisely, make it happen.
It's important to realize that every day won't go as planned, and that's ok. This is one of the reasons I love having my planner as a spreadsheet.
If I need to adjust, I can easily change things around. My paper planner ended up getting really messy as I adjusted.
As you get things done, check them off your to-do list and give yourself a pat on the back.
Step 6: Review each day and week in light of your goals
If all you're doing is busy work, it's easy to get lost in the weeds. It's important to review what you're doing on a daily and weekly basis.
At the end of your workday, take a few notes on how the day went. Did you accomplish all your goals? Celebrate that. Did something derail you? Take note of that.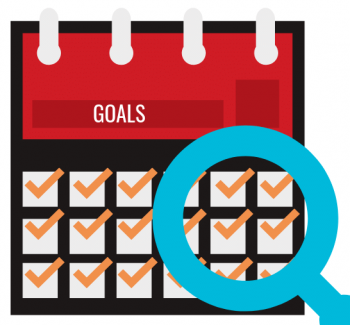 There are two spaces where you can do this. At the top of the spreadsheet, you can state exactly what you accomplished related to your goals. If you didn't do anything related to one of your week's goals, write the word NOTHING. I like to do it in all caps.
When you do that, the cell will automatically turn red to draw your attention to the fact that you didn't do anything there.
This is not a bad thing. You won't be working on every goal every day. However, when you see that red repeating itself over and over, it's time to start paying attention.
The second place is at the bottom of the sheet. This is more of an open area for you to write down your general thoughts about the day.
And at the end of your week, take notes on how your week went. Doing this review is important for getting you to reflect on your activity in light of your goals.
It will also serve as a reminder when you need to go back and figure out where you stand.
Step 7: Recalibrate every quarter
Alright, you're on your way to actually "getting things done" and it feels great. But it'll be easy to just keep going without having a good understanding of how far you came.
That's why I created a spreadsheet for every quarter. Every quarter, go back to the work-life inventory sheet and see where you stand. Is there more balance? Where did you improve? Where did you fall off a little?
Either way, it's all good. You're taking action and approaching your goals in a more strategic way. Not only that, you're learning the principles of success without focusing on learning.
You're learning by doing.
Get the Spreadsheet
If you haven't done so already, go ahead and get my "Get it done" spreadsheet. It's free, and you'll love it.
Enter your name and email address below and start your "get it done" journey. And if you want to take your "get it done" mindset to the next level, get access to my Goal Setting course by joining the Blogger Coaching Club.
In it, I walk you through the concepts taught in this episode in more depth by showing you exactly how to go through this process.
Along with the course, you get access to all the other courses in the coaching club as well as direct access to me. Ask a question and get a video response.
Looking forward to working with you.
Resources Mentioned
Infographic