In today's episode, I switch things up a little.
I answer two questions that were left on my voicemail hotline. If you'd like your question to be answered in a future episode, call (888) 835 – 2414.
Listen to This Episode
Question 1: How do you start and grow a review blog? – Marco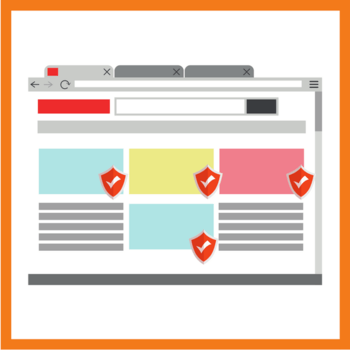 This is a great question. A lot of people are interested in creating review blogs because it's easier to see how these blogs can be monetized – affiliate links.
If you review a product and someone clicks your affiliate link to buy, you earn a commission. But most people approach this the wrong way.
Instead of trying to be a blog that focuses on providing reviews to make money, be one that focuses on providing value to your target audience.
In other words, the principles are very similar to starting and growing any blog that's focused on educating others.
It starts by having a clear picture of who your target audience is. Ask yourself:
Who he/she?
What are his/her goals?
What is he/she struggling with?
Once you know those things, your goal is to create the perfect review blog for that person.
To do that, it has to be more than a review blog. It needs to provide value and high-quality education.
The best example I've found: The Points Guy (more than a review blog).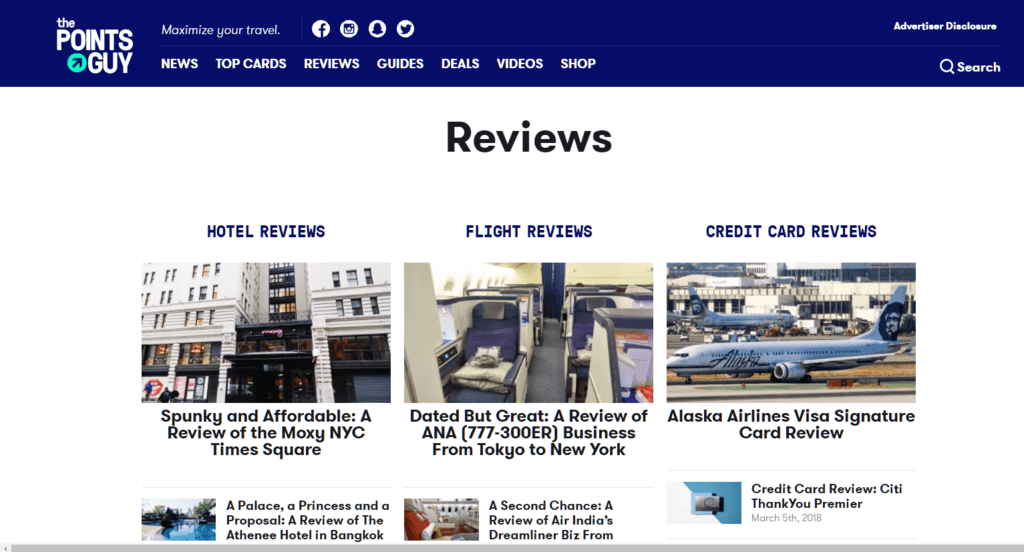 Here's what they do (and what I would recommend for you to emulate):
They understand who their audience is – people who are looking for smart ways to travel and maximize any trip while saving money and maximizing their experience.
To cater to that audience they publish:
Hands-on travel advice
Creative ways to book flights
Details about the latest changes to all major airlines, hotels and credit cards
And of course, a MAJOR feature of the blog is that they have all kinds of reviews of hotels, flights and credit cards.
Whenever I want to find out something related to travel, I go there.
I recently signed up for the American Express Platinum Card after reading a bunch of credit card reviews on their site.
Now my entire travel experience has been transformed because I was well-informed before signing up.
The question is – how can you provide as much value as is humanly possible for the person who is looking for the kinds of reviews you want to write?
Here are a few more practical tips:
Start by reviewing what you already own.
One of the things that attracts people to the idea of having a review blog is the ability to get free stuff to review.
Well, that comes as your reputation grows. To grow that reputation, start by reviewing the things you already own.
Do your research.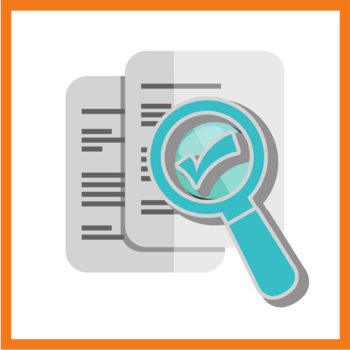 Analyse what other reviewers in your industry are doing. What's working for them? What are they missing?
Know the products you are reviewing. Research the features and benefits. Become an expert on that product.
Don't cut corners.
The best reviews are thorough. When you are finished with the review, ask yourself this question – Is this the best review I can make.
The better your review, the more trust you'll earn. Go all out.
This will also help in the future when you start reaching out to brands for free products.
Don't be a reviewer. Be an educator.
Your job isn't to review the product to get a sale. Your job is to educate your audience so that they can make the best decisions for THEM.
When you do that, you will earn their trust. When you earn their trust, you will be more likely to earn the sale.
Connect with the product creator.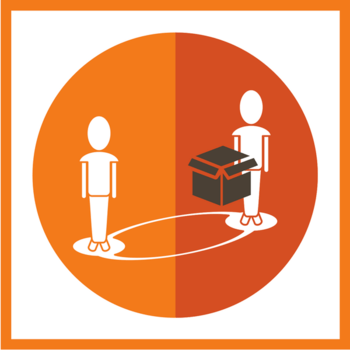 One thing companies love seeing is awesome reviews of the products they create. If you do a great job at the things above, you should be proud to share it with them.
Also they will be excited to see what you've done. These relationships go a long way to help you grow as a blogger.
I've had some of the best opportunities as a result of my reviews.
Connect with similar companies.
Once you have a portfolio of great reviews under your belt, reach out to other companies. Explain what you do and show them examples of your work.
Let them know that you would love to work with them to create high-quality training/reviews about their products.
You never know – you just might get stuff for free.
Question 2: How much value can I give away without giving away too much? If I give all my value, I have nothing else to sell. – Chris Morgan
This is a very common question. In fact, it's one that I've even asked.
It makes sense on the surface – If you give everything away, you won't have anything to sell. However, I look at it differently.
As a blogger, my goal is to provide value to my audience. The more value I provide, the easier it is for them to get to know, like and trust me.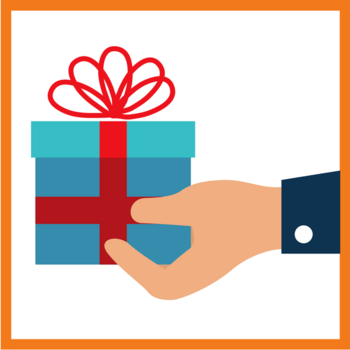 Instead of asking how much I should hold back, I focus on giving as much as I can.
I know what you're thinking – then you won't have anything to sell.
Wrong.
People will always pay for what's valuable to them if it's presented in the right way as a solution to their problem.
Here's an example . . .
When I build my biology blog (which I sold last year), I gave everything away. I created videos teaching biology, without holding back.
But I also knew I wanted to make money.
So I took the same content I gave away for free, repackaged it as an ebook and sold that.
Why did people pay for something that was available for free? They were actually paying for convenience.
Yes, they could go to my blog and click around to every page to find the content. Or they could buy it as one simple ebook.
Something they could take with them, consume from any device, whether they were online or off.
Here's another example . . .
I never hold anything back on Become a Blogger or in my podcast. I give as much as I can.
But I also have my coaching club.
Yes – you can go through all of my podcast episodes and put together a cohesive picture of how to build a successful blogging business.
Or you can get access to me, and the structure of my coaching club.
Here are a few tips to help you decide how to do this . . .
Give generously.
I said this already, but it's worth mentioning again. It's not about how much you should hold back. It's about how much you can serve your audience. Serve first.
Charge for structure and convenience.
If you give generously, there will be LOTS of info on your blog. They can find what they need. Or you can create products, courses, etc to provide structure to the value you provide.
People will pay for structure and convenience because it makes their lives easier.
Charge for access.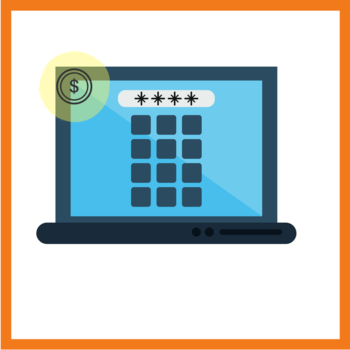 Your time is your most valuable asset. Charge accordingly. Yes, they can get superficial access to you via your blog. But there are lots of opportunities for you to charge for access to your time.
Make business decisions based on data.
Regardless of how much you give, there will always be more you can give. Yes, you can repackage what you already offer, but there's always room for you to create something new.
I recommend using data to make those decisions. Survey your audience. See what they are struggling with. Use that data to come up with interesting products or services you can sell.
Do you have questions?
I'm going to be including more questions in my podcast episodes from now on. If you have questions, go ahead and ask them by leaving a voice message on the hotline.
The number is (888) 835 – 2414