Do you want to increase the revenue your blogging business revenue?
Are you looking for a way to do that in a more automated way?
In this episode, I will share how to create a blogging sales funnel that will take your business to the next level.
Listen to This Episode
Why Create a Blogging Sales Funnel
This episode is taken from a talk I gave at Social Media Marketing World about creating sales funnels. In that talk, I shared why it's important in a very interesting example.
Go ahead and watch this short 3 minute video and you'll get the point:
Two Blogging Sales Funnel Concepts
Let's address two ways to look at blogging sales funnels..
1. From blog visitor to repeat customer.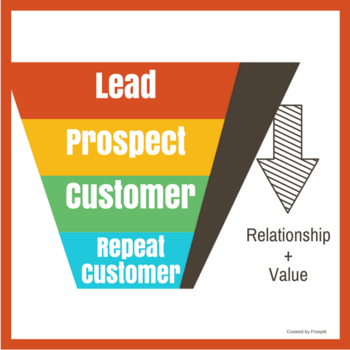 A blogging sales funnel is a system that you can use to take a casual blog visitor to a repeat customer.
When people visit your blog, some of them will signup to your email list and become leads.
Some of those leads will visit your sales pages and become prospects.
Some of your sales page visitors will buy and become customers. And some of those customers will love you so much that they decide to become repeat customers.
This is one basic way of looking at a blogging sales funnel. But there's another way . . .
2. From awareness to advocacy.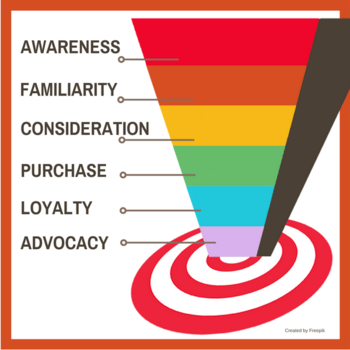 In a second model of a blogging sales funnel, you can bring people on a journey from awareness to advocacy.
As you create content and put it out there, people will become aware of you.
As they see you show up consistently, they become familiar with you.
When they see your offer, some will move to consideration.
Some of the people who consider your offer will make a purchase.
Of the people who purchase, if you continue providing value, some will become loyal to you.
And a smaller group will become advocates for your cause/business.
There are two key factors for taking casual blog visitors down your funnel.
Nurturing a relationship and providing value. You will do this by using a simple email sequence.
Your Approach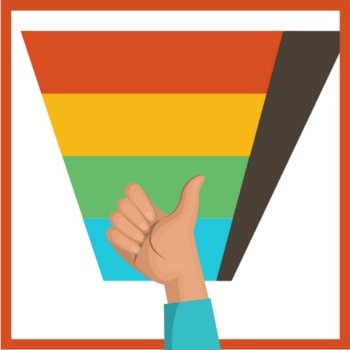 I will be sharing three plug and play funnels with you. But I don't want you to try to set up all three.
Instead, I would like for you to choose one to start with, customize it to your business, refine and perfect it.
Once you have done that, then you can do the same for a second funnel.
With that said, lets get to the funnels…
Kim's Relationship-building Funnel
Kim is a client of mine who blogs at Not Consumed – a blog devoted to building victorious families. Her funnel is a 6 day funnel that is powerful for connecting with your subscribers.
It works regardless of if you have something to sell. What's unique about what Kim does is that she NEVER hard sells.
Let's get into her funnel.
It starts with 3 lead magnets for her 3 categories of content and uses 4 emails.
Email 1 – Your Gift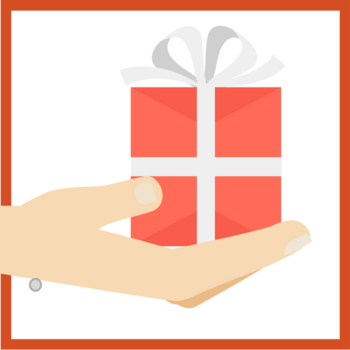 SUBJECT: Here's your [free gift]
As soon as someone subscribes to her email, she sends them an email. In the email she does the following:
Thanks them for signing up
Lets them know that she's always looking for ways to help them and that's what the free gift will do.
She lets them know that she wants to honor the time they've given to her by signing up.
She asks them to take 3 minutes to watch a video letting them know what the blog is about.
She gives them a link to download the freebie.
She includes a link to a FAQ page in case they have trouble downloading the freebie
Notice that she doesn't only link to the free gift. She tries to provide value even in this simple email. She also focuses on serving them.
Email 2 – My Story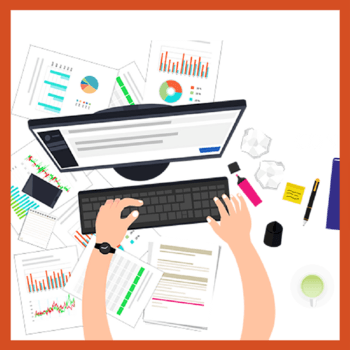 SUBJECT: In case we haven't met
Two days after signing up, she sends them one of the most powerful kinds of email.
It's an email where she shares who she is – her story. She gets vulnerable and shows her imperfections.
But she does it from a perspective of how she can help them.
After sharing her story, she asks them to hit reply and tell her about them.
What's amazing is that she gets an 85% response rate and takes the time to respond back to each one.
This email is powerful because it gets her audience to connect with her at a deeper level.
It also increases the chances that her emails will reach their inbox in the future.
Email 3 – Reminder + Gift Card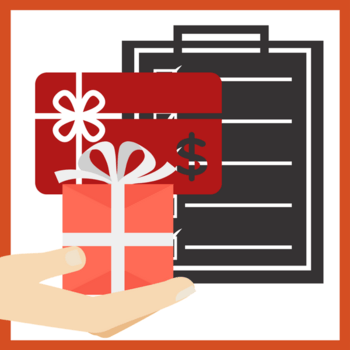 SUBJECT: Did you get the [free gift] you requested
This is a simple email reminding them about the free gift she gave them. She includes the following:
In case you haven't had a chance to download the free gift, here you go (includes a link).
Did you know that I have 2 other free gifts? Go check them out if you're interested.
One more thing – to thank you for subscribing, here's a $5 gift card.
What's fascinating is that she gets a 30% conversion on the gift card, which is a coupon code. Also, changing the wording from coupon to gift card made a big difference in conversion rate.
Email 4 – The Struggle
SUBJECT: The most important thing I want you to know
In this final email, Kim focuses on their struggles by sharing the following:
The nuts and bolts of who she is and what her blog is about – the idea of feeling consumed with life and how you don't have to be.
She appeals to their emotions by focusing on their struggles.
She lists a few of the struggles she knows her audience deals with.
She asks them to reply and let her know which of the struggles they identify with the most.
In her P.S. she links to an article where they can read the rest of her story
The key thing I want you to notice in Kim's funnel is the lack of emphasis on selling.
Instead, she focuses on connecting with her subscribers at a deeper level.
Yaro's 2-week Email Sequence
Yaro Starak blogs at Entrepreneurs Journey. He was my first blogging mentor and uses a very effective funnel for selling his products.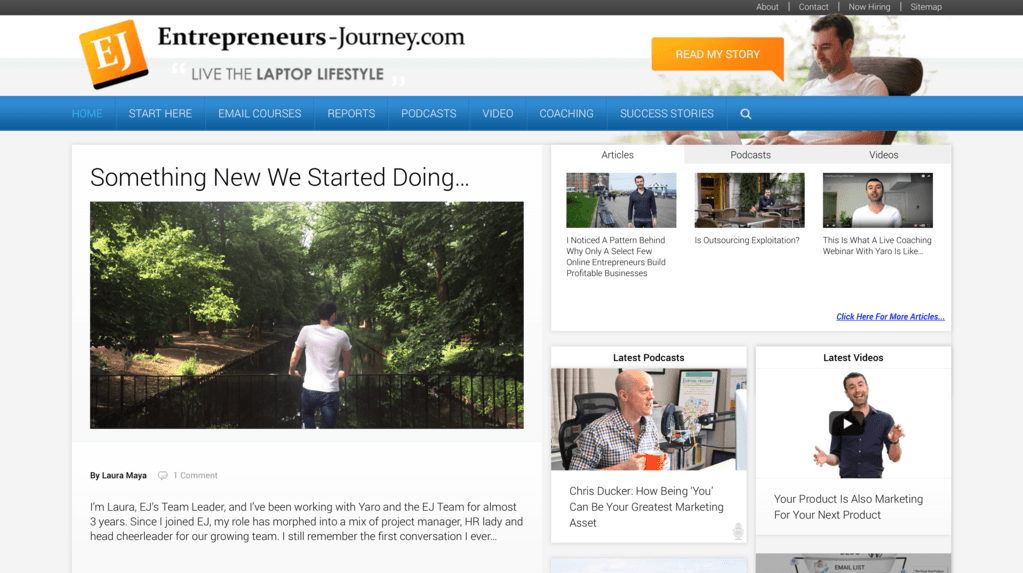 It's a 2-week email sequence with 4 emails each week. Here are the emails:
Email 1: Life Story
This is an email that has the following info:
Your background (your life story)
The story must relate to the problem you are helping your audience solve.
Your story should follow the popular Hero's Journey format.
The goal is to demonstrate your authority while building trust and rapport.
Email 2: Ah-ha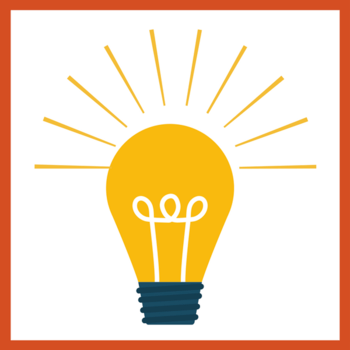 The goal of this email is to talk about an ah-ha moment you had related to your product. In this email, you should:
Explain your failures to appeal to your subscriber's emotions.
Give a detailed description of your breakthrough.
Translate this into the concept that you teach.
Give your system a name.
It's important to explain what your system is, but not get into the details of the how (yet).
Link to your product offering
Email 3: How-to
In this email, you should:
Dive into how to implement your system.
Keep in mind this is just and introductory lesson.
Breakdown the steps.
Make sure that the steps deliver an actual result.
If you can use examples to show the steps, do this.
Let them know that to go even deeper, they can check out your product.
Email 4: Case Study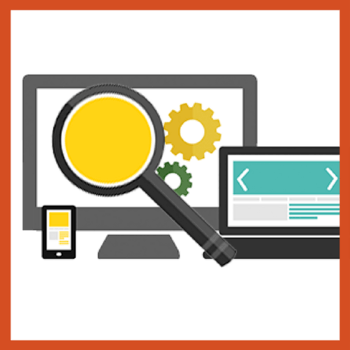 Has anyone used your product/service and had success? I hope the answer is yes. If so, then do the following in this email:
Tell the story about your client/customer
This will show proof that your system works
To find out more about that product, they can check out the sales page.
Email 5: Special Offer
This email marks the beginning of week 2. In this email:
Introduce your subscribers to a special week-long offer.
When introducing the offer, give them a reason for the offer.
Give them details about the product.
Include a special link or coupon code to claim that offer.
Email 6: Rejections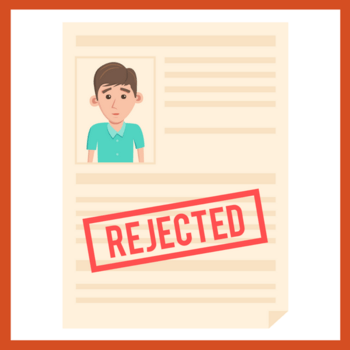 By this point in the funnel, your subscribers will have some key rejections in mind. Not everyone will take you up on your offer. In this email:
Address those key rejections.
You can find out what the rejections are by tracking questions and refunds (if you have any).
You can do this in a simple FAQ format.
Email 7: Product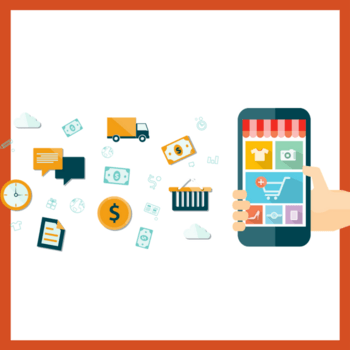 In this email, include:
An in-depth product pitch. Explain the details of the product.
Explain any bonuses that come with your product.
Describe the delivery formats (i.e. video, mp3s, handouts, etc).
Mention the details of your guarantee (i.e. 30-day money back guarantee).
Remind them to buy before the special ends.
Email 8: 24 Hour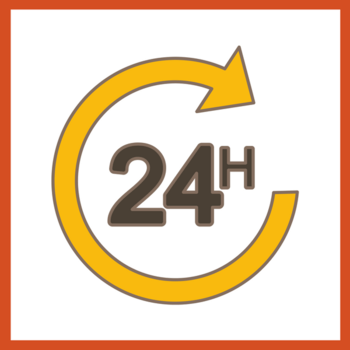 This is the last email in the sequence and probably the most important one. In most cases, this is where most sales will happen. Include:
A clear warning that the offer expires in 24 hours.
Keep it short and simple.
Briefly highlight the product benefits.
Emphasize that this is their last chance to get in with the special offer.
As you see, this funnel is way more aggressive than Kim's funnel. But it's also quite effective depending on your audience.
It also doesn't only sell. It provides value by giving some actionable info to help your subscribers.
My Webinar Funnel
The single most effective strategy I've used for making sales is doing webinars.
But these webinars don't work by themselves. I combine them with an 8 – 14 day email sequence.
Pre-Webinar Emails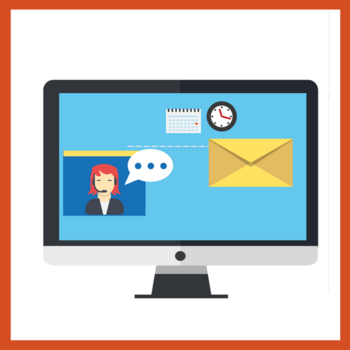 Here are the three emails that go out before the webinar:
Email 1: Thanks for Registering
This is a very simple email where I include three things:
Thank you for registering
Here are the webinar details (topic, date and time)
See you soon.
Simple and to the point.
Email 2: Before we Get Started
Depending on when the person registered, this email will go out on the next day. The main goal of this email is to get them to connect with me. Here's what I include:
A personal story. The personal story shares my why. Because if people connect with why you do what you do, they will be more likely to care about what you do. In my case, I share a picture of my family and talk about how I left my job to work from home so that I can be with them.
I then ask them to hit reply share their why.
Like with Kim's situation, I get tons of replies from this email, and I reply to every one.
Email 3: Reminder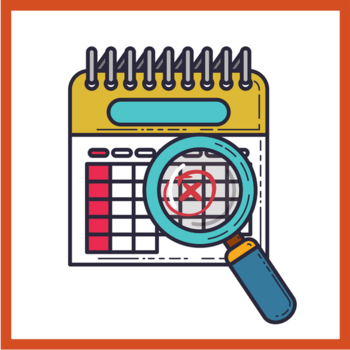 This is a simple reminder that goes out on the day before (or the day of) the webinar.
Because people tend to get a lot of emails, it's a good idea to send a reminder so that it can be top of mind.
Post-Webinar Emails
The emails that go out after the webinar are the most important emails in this funnel. It's where most sales usually come in.
Email 4: Replay + Special Offer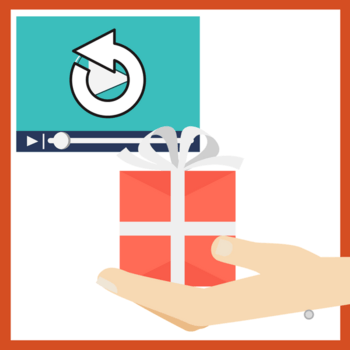 Here are the elements of this email:
Thanks for joining me on the webinar.
At the end of the webinar, I made a special offer. Here are the details.
Give a deadline (I usually go with 3 days after the webinar, but this varies depending on the audience).
Email 5: Personal Story
Here are the elements of this email:
Share a personal story
This personal story must relate to the problem your product/service solves
The goal is to connect with your subscribers even more and help them see the value in what you offer.
Email 6: Questions + 1 day remaining
Here are the elements of this email:
Answer 2 or 3 questions about your product.
The goal is to overcome objections.
Give the 24-hour warning about the special offer coming to an end.
Email 7: 12 hours remaining
Here are the elements of this email: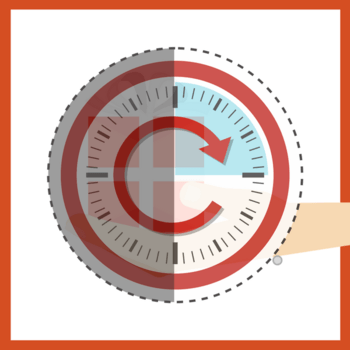 Reminder: there are only 12 hours remaining.
Emphasize one huge benefit of your product. Not a feature, but a benefit.
Give them the link to buy the product.
Email 8: Last chance
Here are the elements of this email:
This email should be short, sweet and to the point.
Let them know this is their last chance to join.
Emphasize the deadline.
Recommended Tools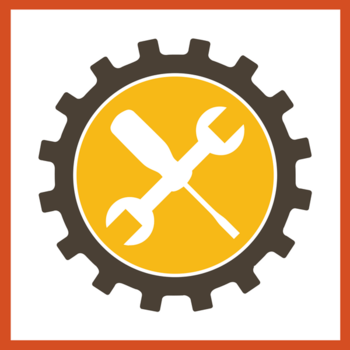 There are a few tools that I recommend that are great tools for helping you optimize your funnel. Here are those tools:
For creating opt-in pages
Thrive Architect: This is what I use for creating my opt-in pages. I like it because it looks good and you don't need a monthly payment to use it. This is a little more technical to setup than the second option, but much more affordable. And the result looks great.
LeadPages: This is an easier system for creating opt-in pages. But it can be pricey because you pay a monthly subscription.
Email marketing services
There are many email marketing services out there and any would work for the funnels I shared here.
My favorite (and the one I use) is Drip. Other alternatives are ConvertKit and Active Campaign.
For creating urgency
There are two tools I use for creating a sense of urgency in my campaigns:
MotionMail: This service allows you to create countdown timers for your emails. It's very easy and compatible with any email marketing service.
Thrive Ultimatum: This plugin allow you to create time-sensitive campaigns on your blog. It will automatically redirect people when your campaigns are over. It will also add countdown timers to your blog. It's very powerful.
Where will you start?
Now that we have gone through the three different funnels, this is the question I leave with you.
Which funnel will you start with? Let me know in the comments below.
Infographic