Since launching the 7 Day Bootcamp, I've been getting a lot of great comments. People have literally been raving at the fact that I've given away so much value for free. I've even gotten emails from people wondering why I would do such a seemingly crazy thing. I've been on coaching calls with some of the bootcamp students and they've commented that they couldn't believe what I was doing to help them out.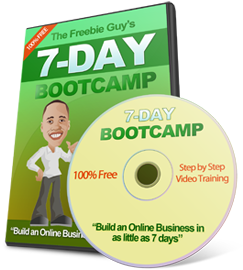 My answer is the same – "If you deliver value, you will receive value".  Please take that to heart, because in whatever you do online, you will get the most value from it IF you decide to do nothing less than deliver value for your readers, subscribers, customers or anyone else that comes across your business.
The Next Step
One of the question that might be plaguing you is – Where to next? What should I do now that the bootcamp is over. Well, I have a recommendation for you, and I believe that this recommendation can add tons of value to your business.
One of my mentors just released a new training series called the Instant Internet Lifestyle that, in my opinion, is pretty awesome at an unbelievable price. His name is Lee McIntyre. Let me tell you a little bit about my experiences with him, and you'll see exactly what I mean and why I think you should check it out.
About a year ago, I was introduced to Lee's content by a good friend of mine. I opted into his list, got tons of value, bought some of his products and absorbed tons of info from him. In fact, some of what you got in the bootcamp came from my training that I received from Lee. Now, Lee's big stuff. His online business generates 6 figures on a monthly basis. I know what you are thinking, and that's the same thing I think. That's more than pretty good!
It came to a point where I was so into his stuff that I did a 1-on-1 coaching call with him that cost me $1,000. Now you're thinking that I'm crazy. Well, here's the thing – I implemented 1 of the things he told me to do on that call, and I made back that $1,000 within 1 week and it has made me thousands since. Was it worth it? HECK YEAH. I mean, I implement that stuff every day right now to do what I do.
So what is it about. Well – Instant Internet Lifestyle is a very in depth training program with over 10 hours of step by step, high quality training where he goes into detail about the things I learned on that $1,000 Coaching call and a bunch more step by step instructions and strategies for building an solid online business.
So how much does it cost? Less than $20. That's right. I said – "LESS THAN $20".
Ok, you've had some great experiences with my content as a part of the 7 Day Bootcamp, and I believe that by now, you should know that I'm not going to recommend something that I don't think provides the absolute best value. Instant Internet Lifestyle really is it. If you can muster together LESS than $20 (that's less than the price of Coffee on a monthly basis for many people), you can get some actionable content that can take your Bootcamp experience to the next level.
Now, I will warn you, there will be some upsells. In other words, after buying the training, he will offer you the option of purchasing other products immediately. These products do have a high value attached to them (I can tell you from experience), but you do not have to buy any of them. The main thing you should get right now is the Instant Internet Lifestyle, which costs less than $20 training. You will thank me later.
BTW, if you have a question about Lee or his training, leave them in the comments below. I'm monitor all my comments, so that would be the best way to ask me.