Wow, I can't believe how great the launch of my FREE 7 Day Bootcamp is going. I knew it was going to go well, but I've been taken back by some of the comments that were left inside the bootcamp are. Just in case you haven't checked it out, let me give you a peak at some of the comments that were left:
"Thanks for the great info., Leslie.
My biggest issue seems to be organization and information stagnation. With your step by step guide, I'll actually get something accomplished." – Joe

"These videos were very helpful, Leslie. As someone who is intimidated by the idea of setting up a website, I have to say that watching your videos helps to remove a lot of the intimidation. When I get to the point of setting up a site, I feel like I will now at least try to do this myself. I have to admit I am still stuck back on keyword research." – Linda

"hey thanks for the video very good info . looking forward to day 2 . I've been writing alot of content everywhere just trying to find the perfect niche . but this video shows me what questions to ask myself to help me before i write my first sentence .. good stuff .. thanks" – Edward

"Thank you so much for all this valuable information, it is appreciated greatly. You are an excellent teacher who is easy to understand and follow. Good things will come back to bless you!" – Cheryl

"Really cool, it's one thing to have the tools but to know how to use them to fill in the blanks like you did today is great. I see that I can use this to improve my site content and keywords and actually know what I'm doing. Thanks looking forward to the next lesson." – Chris

"AWESOME!!! What a way to kick off the 7 Day Bootcamp, Leslie has really out done himself like usual !! I cannot wait to see the rest of this course! Thanks Leslie for the wonderful Marketing Bootcamp, I cannot beleive its FREE!!! You sure help alot of people with your website and all of the ideas and knowledge you give out to help everyone with. Kudo's to you!!" – Lee

"I've got the domain name picked (but not bought yet), hosting and WordPress is already taken care of and just sat down and came up with 25 posts for my niche. Just got to write them out. I didnt honestly think I could come up with that many in my niche. I think I could make 3 of the posts into ongoing series'. This bootcamp has gotten me extremely excited and I do believe this is the thing I needed to kick me in the butt. I have already taken more action in the last 4-5 days than I have in the last year and a half of looking into an online business. Thank you again Leslie." – Ryan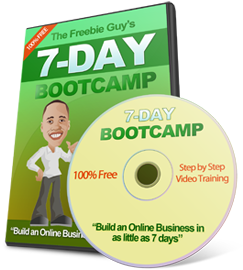 The best part of this entire experience has been seeing people take massive action. When I see that, it really makes me feel like everything I'm doing is worth it. If you haven't joined the 7 Day Bootcamp as yet, you might want to stop whatever you are doing and head on over to www.7DayBootcamp.net.
Here's what I want from YOU! I need answers to the following questions:
If you are already in the 7 Day Bootcamp, what do you think about it?
Are there things you would like to see added?
What other topics would you like to learn about?
Would you be interested in a paid private coaching program?
If so, how much do you think would be a reasonable price?
Any other suggestions for what you would like me to provide in the future  (Free or paid)
I would appreciate your feedback on those questions.