Ok, so I'm here trying to think of ways to add value to the 7 Day Bootcamp that launches tomorrow, and I have a question for you. First let me give you some info. The training videos will be on pages where you will be able to comment and ask questions directly related to the content of the video. However, I'm wondering if having a forum would add value to the mix.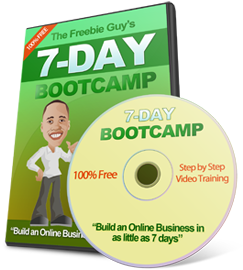 I need to get your opinions on this. I can't believe I'm even asking a question like this, but would you guys want to have a forum that is specifically dedicated to Internet Marketing topics like setting up your website/blog, driving traffic, making money online, building a list, etc? I've been wondering about it. In some ways, I think it could add a lot of value, in other ways I'm not sure.
If I do it, it would be a forum located here at TheFreebieGuy.net. I would start it with a few subforums, with the main one right now being the subforum for discussing the content from the 7 Day Bootcamp. You could discuss the steps you are taking, issues you are having, and anything else related to what you are learning.
Also, when I release future training programs (which will be happening soon), there would be designated areas for discussing those.
Sooo . . . .
What do you think? Should I add a forum or not? Why, or why not? Would you get value from it? Would you use it regularly? Would it be a waste of my time?