Who: Colin Yearwood
Blog/Website: Learnitdoitprofit.com
Twitter: @ColinYearwood
Are you getting the most out of your Twitter account? (Answer: probably not)
Never fear! Colin Yearwood is here with a unique strategy to help you find clients on Twitter.
Listen to This Episode
Who is Colin Yearwood?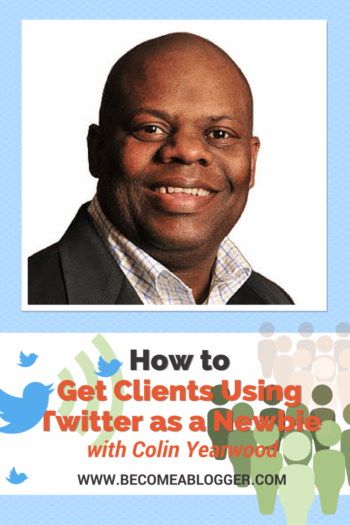 Colin started his home-based business in 1998 and has been an online marketing trainer for home-based business owners since 2008. He teaches people how to grow their businesses online by using simple strategies through his website, Learnitdoitprofit.com. He is passionate about helping others achieve their goals. I met Colin in 2008, when I had just started my online business, and we've been good friends ever since.
Colin's Twitter Strategy
Colin loves the human interaction side of having an online business. It's all about having conversations, building relationships, and helping people achieve their business goals. But how do you bring your products and services to people who are interested in what you have to offer? Colin's answer is Twitter.
Why Twitter? Because that's where people are. Twitter makes it easy for you to find the people you're looking for, and following someone on Twitter isn't the same level of commitment as, say, sending a friend request on Facebook. It's a great platform for reaching out to people to build new relationships.
Fair warning: this isn't going to be one of those magic wand things, where you can set it up and forget about it. This is going to take some work. But I promise it'll pay off in the end—Colin says that 95% of his interactions on Twitter lead to a sale. Wow!
He's only been using Twitter to find clients since October 2015, and already he's gone from about 600 followers to over 4,000 followers. More followers means more results.
Optimize Your Profile
First things first: identify your ideal client.
One of the best ways to find your clients is to take a good look in the mirror. You want to be able to relate to your clients, so it can be helpful to share their pains and their goals. In Colin's case, home-based business ownership is in his blood, so he knew that that would be his niche.
Next, you need to optimize your Twitter profile.
Once you know who your ideal clients are, you need to create a profile that will speak to them. Make sure that your profile and cover photos give off the right impression. For example, professional headshots show that you mean business. And make sure your cover image is relevant: Colin's shows him in action doing some teaching.
Use your bio to tell people what you do and what you're passionate about, and make sure to include a link. In Colin's case, the link sends people straight to a landing page where they can learn a bit more about him and opt-in to his email list.
Seed Some Content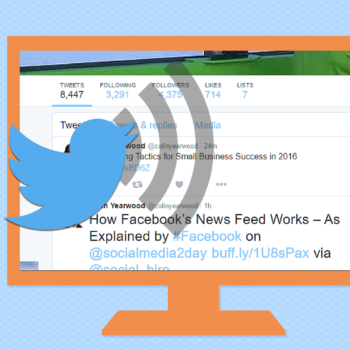 Once you're happy with your profile, you need to seed some content. There's no point getting lots of new followers if there's nothing useful on your page for them to see!
Keep in mind that your Twitter profile isn't for pitching products, it's for building relationships. You want to offer value, not try to close a sale. So think about the kind of content you're tweeting. You want to speak to your audience and help them achieve what they want to achieve.
Colin mostly tweets inspiration quotes, links to his own content, and links to other people's content. Don't be tempted to be selfish about what you tweet out: share value no matter whose value it is. And don't worry! The sales will come.
Colin says there's no magic formula or ratio to what he tweets, but he send outs at least 10 tweets per day. Most of his tweeting is automated, but it's all about genuinely sharing content that will provide value for your followers.
Getting New Followers
Colin has used a couple different paid services to help get new followers.
Social Quant
First up is Social Quant. It costs about $50/month, and it's fully automated. Basically, you create a list of keywords that your potential clients should be interested in. Social Quant searches for those terms on Twitter and follows accounts on your behalf. If someone hasn't followed you back after a couple days, Social Quant will automatically unfollow that account.
Wait, isn't that a little bit impersonal?
Status Brew
Well, yeah. That's why Colin recently switched to Status Brew, which allows you to send a customised direct message and an @tweet to new followers. Status Brew is also a paid service—$9.95/month—but it's not as automated as Social Quant. The service provides a list of accounts for you, but you have to manually follow them yourself.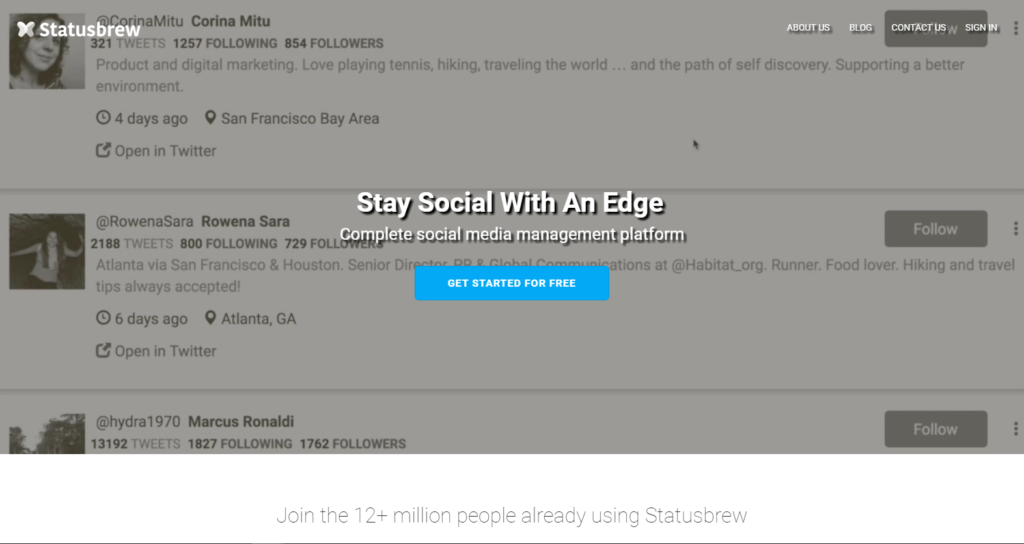 Colin sends personalized messages to all his new followers. In the direct message he says hello, introduces himself, and asks something like "What's your biggest challenge in growing your business?" before offering some free tools. In the @tweet, he'll ask something like, "What's making you happy these days?"
The key is that he isn't using the automated messages to pitch a product. That's so inauthentic! It's got to be about starting a conversation and finding out how you can help.
Colin follows about 200 people per day. With Status Brew, this process usually takes about 5 minutes. If someone hasn't followed him back within 5 days, he'll unfollow the account. With this method, he gains between 25 and 40 followers per day. And as we know, more followers means more results.
Posting Content
Twitter Jukebox
Twitter Jukebox is Colin's tool of choice for automated tweeting. The free version allows up to 300 tweets per month. Essentially, the service gives you a content library, a database of tweets that are available on a continuous basis. There are jukeboxes that they provide—Colin uses their database of inspirational quotes—and you can create your own, too. You can set it to tweet at regular intervals, and set up a schedule so different types of tweets go out at different times of the day.
One thing to keep in mind is that you want to make sure all of your content on Twitter Jukebox is "evergreen." The system pulls content to tweet at random, so you don't want anything in there that's time sensitive or that will fall out of date.
Just Have a Conversation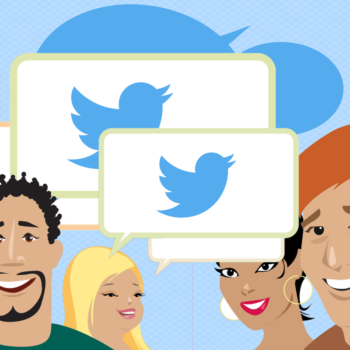 Okay, so you've got your account set up, you're gaining tons of new followers, and you've got some great content. How do you build a relationship and eventually make the sale?
Start off with a conversation. Use your direct messages and your @tweets to get people talking, and respond based on what they say to you. Then, end every single interaction with a follow up question. Walk them through the conversation.
This part is super important: do NOT pitch right away! Hang back. Get to know them, and find out what they need, otherwise you might pitch them the wrong thing. Engage, listen, build the relationship.
Then, when you've got a strong foundation, offer a resource and ask whether they'd like the link. If they say yes, send the link along with a note and an offer to chat about any questions they might have. Include your phone number.
What?? You read it right: send them your phone number (or your Google Voice number if you're more comfortable with that!). This tells the potential client that you're a real person, and that you're committed to helping them.
The Pitch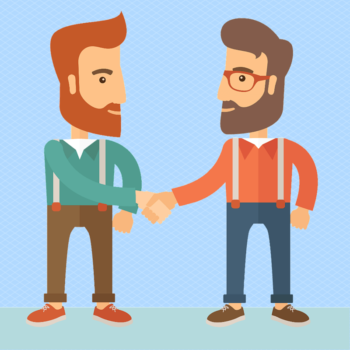 Play the long game: never get on a call with the intention of closing a sale. It doesn't work that way. You've got to go in with the aim of helping the client achieve their goals and providing value for them. Continue to build that relationship, and the sale will come.
Have a system for following up with people: once you've had that initial phone call, set up another time to talk. Use Google Calendar or a CRM (Customer Relations Manager) to keep track of everything.
Remember: your goal is to always find new ways of helping people.
Follow Colin on Twitter!
You can find him @ColinYearwood. Check him out on Learnitdoitprofit.com, too.
Resources Mentioned
Paid services to get new Twitter followers:
Twitter Jukebox – tool for automated tweetingTest
Infographic