Do you want to grow your email list? Hint: the answer should be yes!
Well, that's exactly what you'll learn how to do in this post.
Listen to This Episode
The Social Media Problem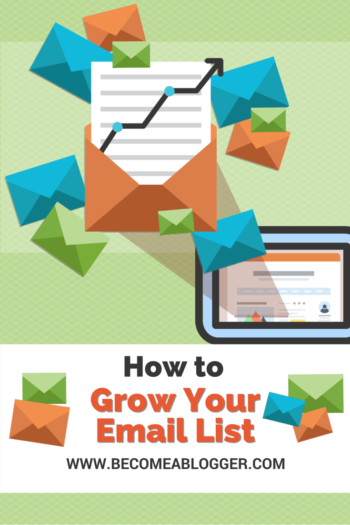 Why are we still talking about email in a world where social media seems to be the thing everyone is talking about? Well, there are a few reasons.
Yes, these free social media platforms can send your blog a lot of traffic. It can be a great thing.
However, you don't own or control those free platforms. I have some bad news for you – your Facebook page is not technically your Facebook page.
It's a page that Facebook allows you to use on THEIR platform. They own it and the buck stops with Mark Zuckerberg (and the rest of the Facebook team).
When they update their algorithm in a way that negatively affects your reach, you have no say in the matter.
Why You Need an Email List
If you're with me so far, the first reason will seem VERY obvious:
YOU own and control your email list!
When you are building a business, you want to have control of as many aspects of that business as possible.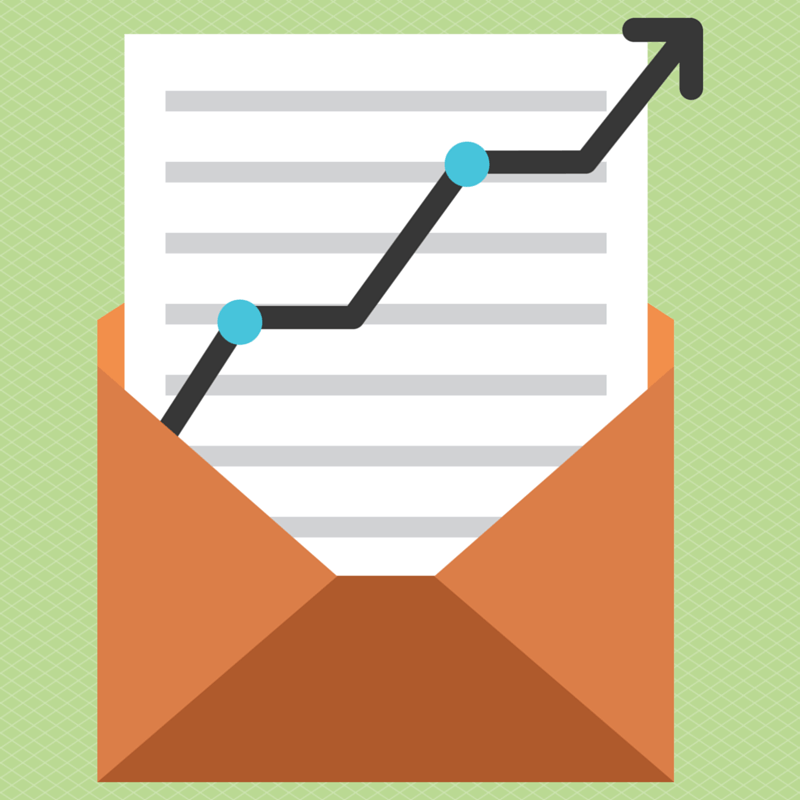 Facebook, Twitter and Pinterest can't restrict your access to that audience. That's a position of control, and that's a good thing.
It enables you to nurture relationships with your subscribers.
When someone signs up to your email list, they are giving you permission to contact them with relevant information.
By providing them with value on a consistent basis, they will come to know, like, and trust you. As a result, they will look to you as a source of valuable info.
You can build a tribe of action takers
If you focus on that relationship by providing value, you are building a list of people who will take the kinds of action you want them to take.
They will come back to your blog. They will consume your content. They will even BUY from you.
Where to Start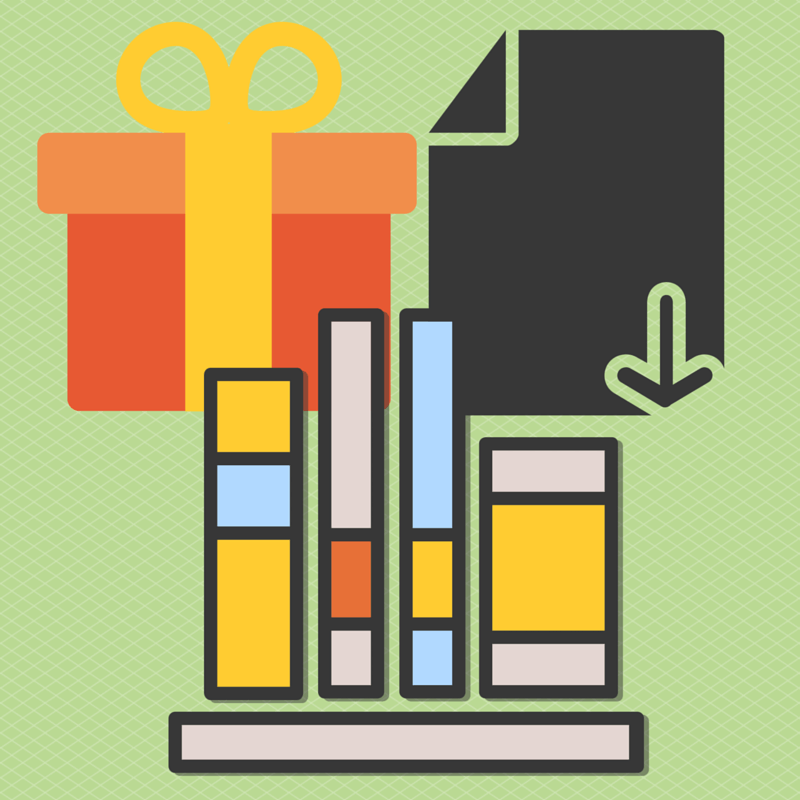 Before you create a strategy for building our email list, you have to set the right foundation.
It is important to know exactly who you are targeting.
Who is he/she?
What is his/her goals?
What are his/her struggles?
Be as detailed as possible when coming up with that description. This will serve as your starting point.
This is also something that you can refine over time as you get feedback from your subscribers via comments, emails and even surveys.
Getting the Opt in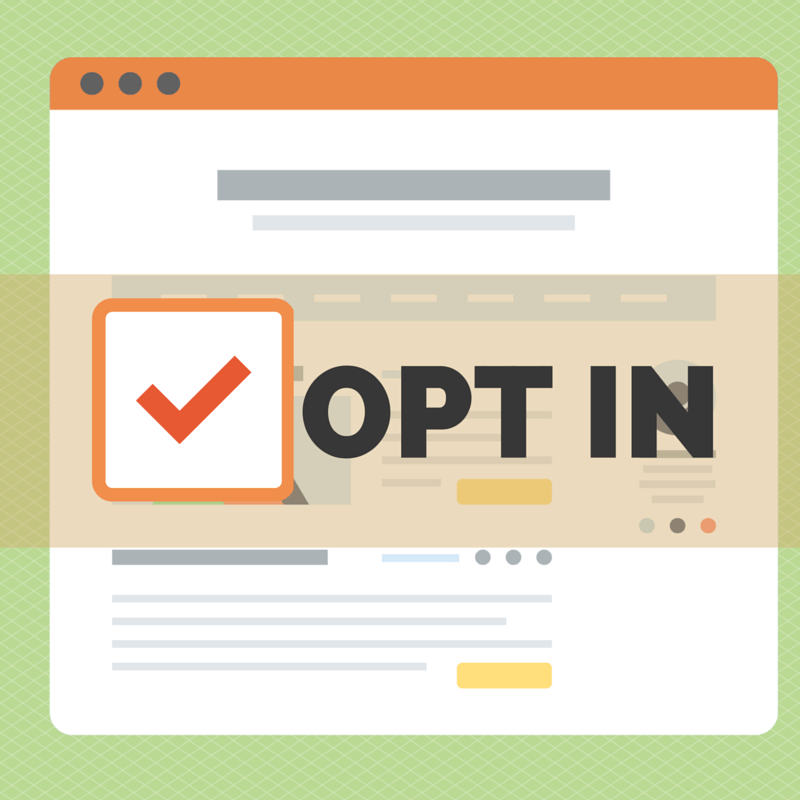 The best way to get someone to opt into your email list is by creating a resource that they want. How do you decide what to create?
Well, we spoke about knowing exactly who you are trying to target. The question you should be answering is this.
What resource can you create to help him/her accomplish a very specific goal or overcome a specific struggle?
Brainstorm a list of options and then choose one to get started. Oh, and keep it simple. Your free resource doesn't have to be complicated.
Side note: over time, you might decide that it's better to create a different resource. The key for now is to simply have something to get started.
The call to action
Once you've created your free resource, you need to have multiple calls to action to get your blog visitor to sign up to get access to that resource.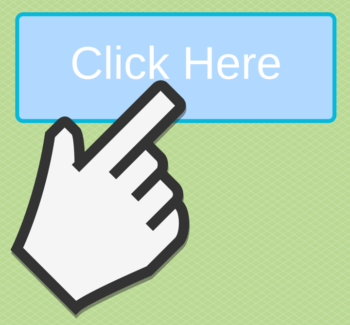 Here are a few places where you can include an opt in form:
In your sidebar above the fold (in other words, they don't have to scroll down to see it).
On your home page. This is a great place to give your opt in form a prominent space. As you let people know what your blog is about, you can provide them with your free resource.
On your about page. This is one of the most frequently visited pages of most blogs. Take advantage of that by giving them the chance to opt in.
At the bottom of your posts. When someone has just been through your entire post, they have demonstrated their interest in your content. That's the perfect time to let them know about your amazing resource.
Within your content. This is another way to capture their email even as they are consuming your content.
On a squeeze page. This is a dedicated page that you set up with one focus – to capture their email. Here's an example of one of my squeeze pages.
Advanced Opt-in Tactics
Now that we have the basics of getting someone to opt in, I want to share some tactics that can be used to increase your opt in rates.
Two-step opt ins
There is some evidence that having a two-step opt in may increase your signups. These are opt ins where in order to enter their email address, they first have to click on something.
Here's the psychology – it takes significantly less effort to click something than it does to enter your name and email address. Once someone has taken that initial (easy) action, they are more likely to follow through with an action that's congruent with your initial action.
Have content-specific opt ins
The best way to know that someone is interested in a specific topic, is by having them show that they are interested in that topic.
If someone just spent the time to read through a post on a specific topic, they are more likely to be interested in that topic than a random visitor.
By having an opt in that's specific to that topic, you are increasing the chance that they will actually sign up. This can be specific to the post category or to the individual post (better).
Use Lightbox Popups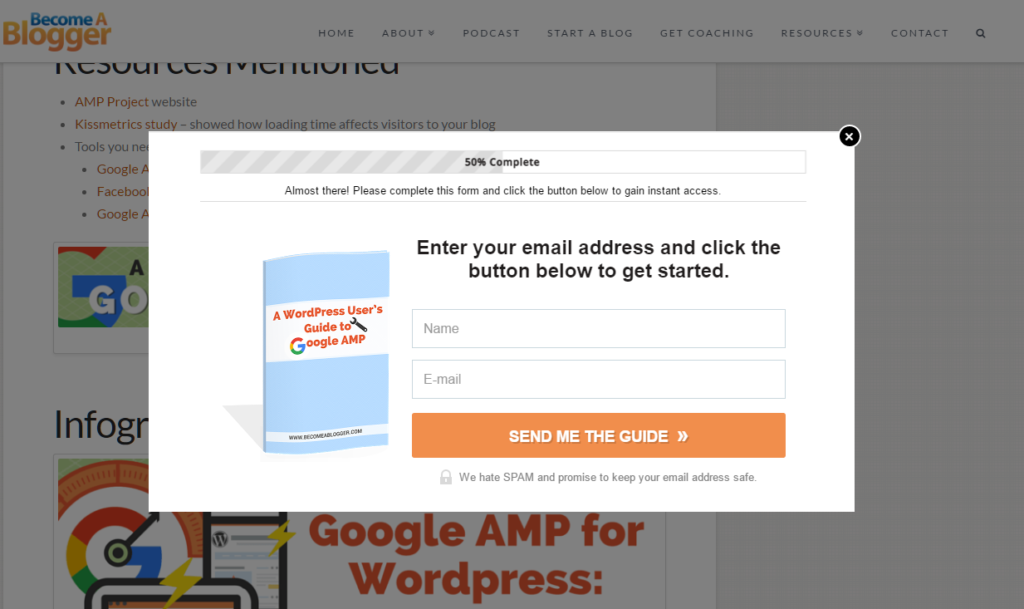 Yes I know – you probably think they are annoying. I used to think the same thing. However, when I first tested it out, it increased my signups by over 500%.
From that moment, I loved them :).
One way to minimize the annoyance is by using exit intent technology. This will make it so that they don't see the pop up until they go to leave the page.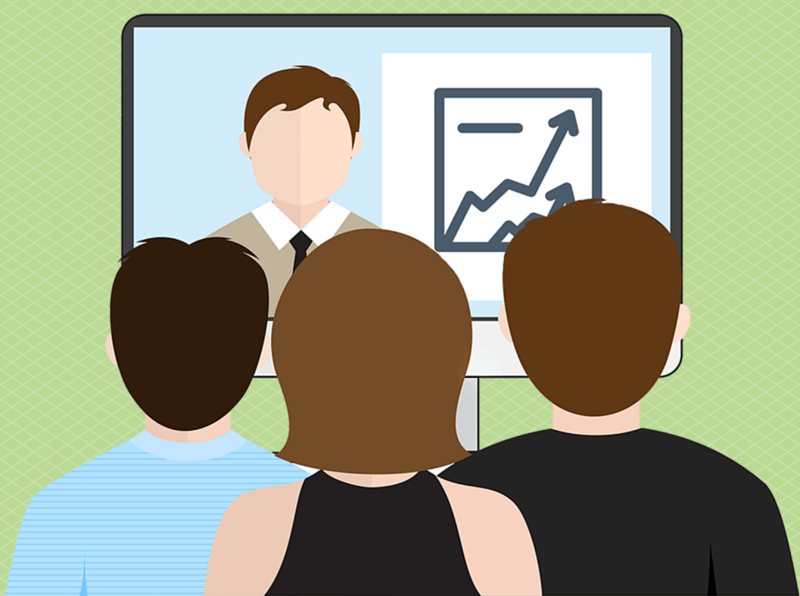 Use Webinars
I've been using webinars very effectively to increase sales for my coaching club. However, they are also great for building your email list.
What can you teach live on a webinar? Use that to get people on your email list.
The Tools that Make it Work
Here are the tools that I use and recommend to make this all work:
This is my preferred email marketing service. They also have GetResponse Pro, which includes the ability to do webinars. And they just recently launched marketing automation tools that are very similar to InfusionSoft (but much easier).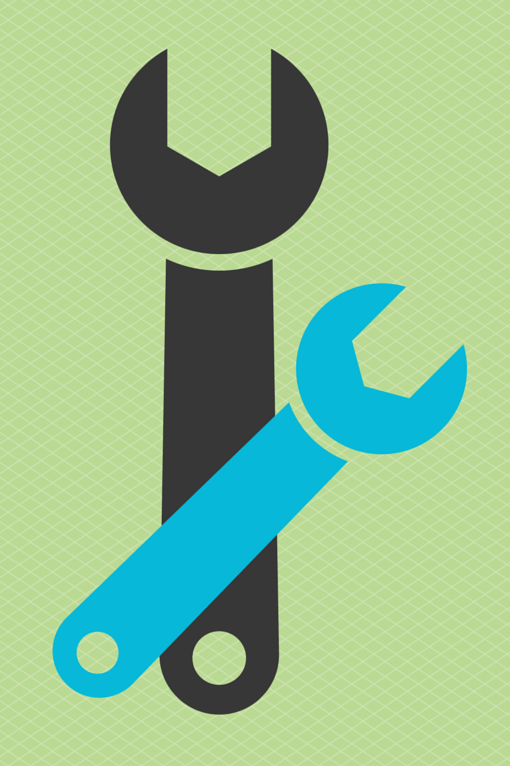 This company creates WordPress themes (and plugins) that are very focused on getting people to subscribe to your email list.
This is one of the WordPress plugins that Thrive Themes created that allows you to create opt in forms, pop ups, sticky ribbons, 2-step opt ins and all kinds of other features for getting people to subscribe to your email list. It also enables you to have content-specific opt ins.
This plugin is the landing page creator I recommend (by Thrive Themes) because it has great features and is built completely on WordPress.
LeadPages is the easiest system I know for creating Landing pages. It's not as flexible as Thrive Landing Pages, but if you are looking for a solution where you just fill out a "template" and have something that looks good, this is a great option. Their Lead Digits feature also works very well for getting people to subscribe using SMS. This works great for live events.
Nurturing your Subscribers
Once you've gotten someone to subscribe to your email list, it's time to nurture that relationship. This can be done by sending out a series of emails. Let's go through some of these emails.
The welcome email
This is the first email they receive after signing up. Here's what I recommend for this email:
Deliver on what you promised. If you promised a free PDF guide, give them access to it.
Set the right expectations. How will the relationship look from here on out? Will you be emailing them daily, weekly, or bimonthly? Let them know what to expect and then deliver on those expectations.
Additional tip: One of the issues that do plague email marketers is having their emails marked as spam. One of the ways to get around this is by having your subscribers whitelist your emails. You can ask them to do this in your welcome email.
Follow up emails
This is a great way to provide ongoing value to your subscribers. Once you understand what they are looking for, you can provide that as tips, stories, resources and anything else they might find value in.
Here's a good framework that I find works well for me:
Start with a story.
Use that story to teach a specific lesson.
End with an example of that lesson being applied or with a specific call to action.
Newsletter broadcasts
These are great for sending out timely messages. For example, when you just posted new content, or when you have a specific promotion going on.
Tips for Nurturing your Subscribers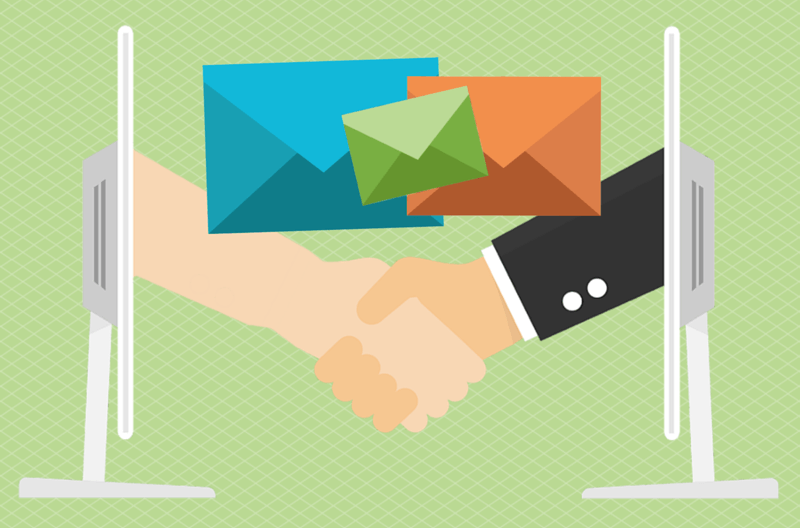 Let's end this post with some additional tips to help you on your list-building adventures:
Provide value. I know – it sounds so obvious. But it's often overlooked. With every email you compose, ask yourself if this really provides value for your subscribers. If it doesn't, don't send it.
Schedule your autoresponders and broadcasts on different days. I recommend designating one day (i.e. Mondays) for sending out promotional emails and/or broadcasts. Then you can make sure to not send out autoresponders on the same day so that they never get multiple messages on the same day.
Segment your list based on interest. Having a list is a great thing. However, if you can build multiple lists or segments of your lists with specific interests, you can better serve them with content that they will resonate with.
What about you?
Have you made your email list top priority? Do you have additional tips? Go ahead and share them in the comments below.
Resources Mentioned
Tools that will help:

Email marketing service:
Thrive Themes – Themes are very focused on getting people to subscribe to your email list.
Thrive Leads –

WordPress plugins that allows creation of opt in forms, pop ups, sticky ribbons, 2-step opt ins and all kinds of other features for getting people to subscribe to your email list. It also enables you to have content-specific opt ins.

Thrive Landing pages – Recommended

landing page creator

Lead Pages and Lead Digits – Easy Landing pages and text to subscribe
Infographic