Who: Pauline Stockhausen
Blog: paulinestockhausen.com
Course: Build Your Influence Online
Are you using Facebook groups to market your blog?
If not, have you wondered…
Listen To This Episode
Facebook groups are powerful tools for bringing people together and engaging with a community online.
In today's interview, Pauline shares strategies for growing your audience using these underutilized tools – Facebook groups.
Who is Pauline Stockhausen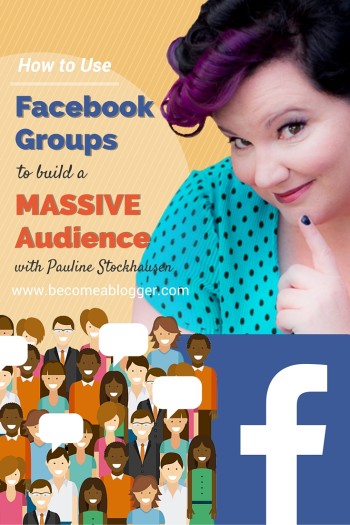 Pauline is passionate about everything Social media. She is the leader of a number of online communities and spends her days building them for businesses.
With nearly 20 years experience in the online space, she has become influential in the social media space and has helped many other New Zealanders do the same.
Pauline currently runs 14 different Facebook groups that reach a total of 500,000 people. She has been focusing on Facebook groups for the last seven years.
Some of her groups are location-based groups like her New Zealand group. She also has groups lion topics she's passionate about, like her International Business group.
Because of this, I knew she would be great for sharing on the topic of Facebook groups.
How Effective are Facebook Groups?
Facebook groups can be effective in many different scenarios. Pauline shares an example where she used a location group to help a political campaign in New Zealand.
The group was used to make sure that the politician was heard within the community.
As a result, it got that individual a lot of exposure, and he ended up winning the election.
Can you see how this can be effective in marketing your blog?
How Pauline Got Started with Facebook Groups
Pauline works part-time at a local newspaper in New Zealand. When she started working there, she worked on their Facebook group to connect local community groups and people.
That was her first real experience managing a Facebook group, but she managed to grow it to around 17,000 members.
When she started working with the group, she started learning how to deal with the members in a way that contributed to its growth.
It was important for her to observe the ongoing communication and try to understand how people engage within the community.
After seeing how well it worked, she started creating other location-based groups.
Then she started looking at her other passions. She was growing her business and wanted to start a group for business people to engage. This led to her forming other groups around her many passions.
Her company then started getting hired to build communities for other brands.
Setting up Your Group
There are a few things that you want to keep in mind when setting up your Facebook Group. You want to make sure to include the following before promoting your group:
Add a banner for your group (your group photo)
Think about (and post) your rules
Post a few items (i.e. photos) before you start sharing. She usually posts ten posts before sharing the group.
How to Grow a Facebook Group
It's one thing to have a Facebook group and another to have a vibrant group that is growing. I wanted to get Pauline to dig deep into what it takes to grow a Facebook group.
Here's what Pauline had to say.
Define who you are trying to attract
Having a well-defined avatar for who you want to cater to will help you talk directly to the right kind of person.
When Pauline got clear on her avatar (or as I like to say – ideal target person), that's when her groups started growing quickly, and her business started taking off.
Be strategic about posting content regularly
Consistent content is essential for keeping your group members engaged. At a minimum, you want to post daily, especially when you are just getting the group going. She recommends posting a few times per day.
Encourage members to post
Getting members to post can be challenging, but is the key to growing your groups. Eventually, you will get to the place where you don't have to start as many conversations because your members will be doing that for you.
Here are some of Pauline's tips for encouraging members to post:
Private message every new member and set expectations. In that message, provide the rules – show them the right and wrong ways to post. If they don't receive the message because you aren't friends with them, you can tag them in the group and let them know that you sent them a private message.
Build relationships with the members. Pauline encourages us to connect with members as friends on Facebook. Doing so will help you take your relationship to the next level. Since starting to connect with people outside of the group, it has helped her groups and business grow much faster than before.
When you find people with good content, reach out to them and ask them to share. Identifying key engagers can help get conversations going much quicker.
She NEVER recommends adding people to your group unless they have explicitly requested to join. PLEASE listen to her. Here's my rant on the topic.
If you want your friends to join your group, send them a private message and give THEM the option.
How to Manage Larger Groups
As your group grows, you will want to bring on more admins to help manage the group. Pauline's largest group has seven admins.
Everyone has their job, and the jobs are swapped every so often so that everyone gets familiar with everything that needs to be done in the group.
To facilitate effective communication among her admins, she created a separate Facebook group for them to be able to work together and even share ideas.
Approving Members and Moderating Spam
When someone requests to join a group, you should have guidelines for who to accept and who not to accept. Here are some best practices from Pauline's recommendations:
If they are already friends with multiple people in the group, they can usually be let in.
Check to see how long they have been on Facebook. If the account is new, they are usually spammers and shouldn't be accepted.
Check out their profile. You can usually tell if it's a fake profile by looking at what they post, their pictures and their names.
This doesn't necessarily mean that you will be spam-free. However, having an early filter will lessen the chances of accepting the wrong kinds of people and getting spam.
When members join her groups and leave spam, the first thing they try to do is educate that person. Remind them of the rules of the group.
If they continue to leave spam, they should be removed from the group.
Taking advantage of Pinned Posts
Pinned posts are the greatest assets in your group. Pauline recommends using them to increase the engagement in your group. She gives examples of different things she has done with pinned posts:
Pin themes for photos that the members should take and post (she did this in her photography group).
Pin a post to function as a live chat.
Your upcoming events.
Competitions hosted by the group
Feature your members (i.e. member of the month)
If someone has won an award, pin that.
Giveaways for members. If they want to get in the drawing, they can comment below.
Strategically pin promotions of your product(s) or service(s).
It's a good idea to rotate these pins and to use them to engage the community. The frequency of rotating your pins will depend on the group.
In some groups, you can do it once/week. In others, it can be daily. It all comes down to trial and error. Pick a frequency, try it and see how it works for your group.
Group Files
You have the option to upload files in groups. These files be a good way to store resources for your members.
Pauline has used this file feature as a place for a member directory and recommendations.
Most people don't understand how to use them, so if you use this feature, you need to explain to your members.
In the groups where she uses files, Pauline reminds her members once/month that the resources are available.
In Conclusion
When it comes to increasing engagement among your audience and connecting with other like-minded people, Facebook groups are a force to be reckoned with.
Pauline shared a ton of tips on how to use groups to grow your audience.
If you're considering using Facebook groups to connect with your audience, use the tips mentioned in this interview and then let me know how it goes.
Are You Using Facebook Groups
I'm curious. Are you already using Facebook groups to market your blogging business or to engage your audience? If so, how are you using them?
Let us know in the comments below.
Infographic