This post speaks directly to Freebie Traders. However, even if you aren't a Freebie Trader, I would encourage you to still read it, because there's a lot we can learn by looking at how an industry has evolved over time. One of the things I've enjoyed doing since I started building my online business is getting to meet new people. Since January 18th, 2008 (the day I started as a Freebie Trader), I've met many great people online and have even had the privilege of gaining new friendships that I believe will last a while. As I speak to many of my Freebie Trading friends, there's one question that I get asked more and more over the last few months: "Is the Freebie Industry Dead?
That is an extremely valid question, especially coming from "veteran traders" who have been trading for a while and have experienced an significant slowdown in business. Because of the amount of times I get asked this question, I figure that it's about time for me as "The Freebie Guy" to publicly address this issue. Before we talk about where Freebie Trading is, lets get a little bit into some History (my least favorite subject when I was in High School).
A Brief History of Freebie Trading
In order to understand where the Freebie Industry is today, it's essential for us to look back at where it has come from. I am by no means a Historian, and don't claim to know EVERYTHING about the history of the Freebie Industry. However, I have had a considerable amount of insight into where it came from. Please don't take the dates I mention as 100% fact. I'm pretty sure they are accurate, if not very close to it, but if I'm off by a few days or so, just accept it, move on and get the point I'm trying to make.
The Freebie Industry has been around for a while. Ever since it started back in 2001 with the site FreeCondoms.com by Gratis Internet, it has experienced a SIGNIFICANT amount of growth. This site was followed by the popular FreeIpods.com site.
In those days, the Freebie Industry was about a very simple concept. You complete offers and you get Free stuff. Of course, there was a significant amount of skepticism in the beginning, but as more and more people started receiving their free ipods (and condoms, lol) and with some publicity by major tv stations, more and more people started trying it out and actually trying it out and getting Free Stuff. At this point, the Freebie Industry was not known as an industry for people to make money. It was still people doing offers, and getting Free Stuff.
In January of 2004, we see the FreeIpodGuide coming onto the scene. The concept was simple – the site educated people on how they could use Freebie Sites to get Free ipods and other stuff. Members who donated $10 could get their link listed on the site for 24 hours, which helped people to start getting referrals without doing any work. In September of 2004, a forum was added to the mix, where members could discuss the different Freebie Sites and help each other out. The slogan at the time was "I came, I saw, I got Free Stuff".
In 2005 (somewhere around April), they added "The Trading Post" subforum, where members could trade greens in exchange for signups, money and other things and this is where the concept of Freebie Trading really got started. People started looking at the Freebie Industry as a place where you could make some money for trying out different services. However, it was still mostly about getting Free Stuff.
Coming down to the end of 2004, a second Freebie Forum was launched – Anything4Free.com. This grew to be a strong force in the Freebie Industry. As more and more people found out about Freebie Sites, the more people found the forums and the more Free Stuff were being sent out.
** Just wanted to add this little bit of info in here. Up to this point,Freebie Trading was not really looked at as a Work at Home opportunity. It was something people did for fun, as a way of getting Free Stuff**
Around December, 2006, one of the most significant launches in the Freebie Industry took place and that is when Project Payday opened its doors. Based on the Forum trading model, Project Payday (PPD) was the first full out Work at Home product to HEAVILY promote Freebie Trading as a way to make money. Using the fictitious name Monika St. John, the guys (or gals – who knows) over at Project Payday launched a full training program claiming that using their model of Freebie Trading, you can make as much as $50 per hour.
Before we get more into PPD, take a quick look at PPD right before and After they launched, just for the nostalgia (click to enlarge):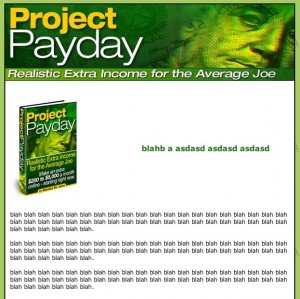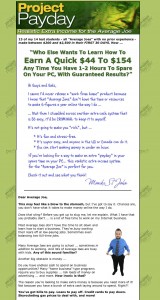 Project Payday's growth was slow in the beginning (as expected with most newly launched products), but soon became one of the fastest growing Work at Home products on the internet because of the simplicity of relative simplicity of the Freebie Trading Model AND the Affiliate program that launched soon after. With their affiliate program, you got paid for each person you got to submit their email address. Because of this, many popular work at home sites started promoting Project Payday as a way to make money working from home. More people heard about the "Project Payday system" and more and more people started promoting it. The rest, as they say, is history.
The Marriage between Project Payday and The Free Lunch Room
The Free Lunch Room (FLR) opened its doors on February 21st, 2007. In fact, here are some screenshot from when it first launched (Click to enlarge).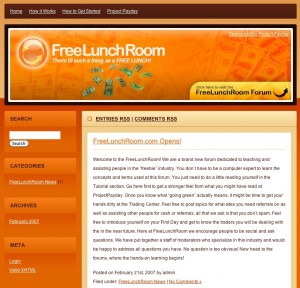 As you can see, FLR proudly boasted it's "sponsorship" by PPD. This, of course was a smart thing because PPD was really the driving force behind the growth of the forum. There was a huge influx of traffic into the Freebie Industry due to this "happy marriage". FLR started growing faster than any other Freebie Trading Forum ever had grown before. Members were getting trades left and right. It was relatively easy for someone to come into the industry, not do any off-forum marketing and start making a few thousand dollars on a monthly basis without having to worry about generating traffic. Some of us were literally sitting back and watching the referrals pile up. Trust me, I know. I was one of those newbies on January 18th, 2008. On my first day, I made $70 and within a few months, I was grossing between $2,000 and $6,000+ on a monthly basis, with my highest month at $6,878.54.
It really was an ideal situation for everyone involved. PPD kept increasing its presence and reputation online since many people were having success with the program. The Free Lunch Room was banking on all the traffic they were receiving from PPD. Freebie Traders sat back and made decent money. Freebie Sites were getting lots of business because they were on the forums and members were happily using them. Doesn't it sound perfect.
** Just wanted to add in here that all along, A4F was still going relatively strong. Not as strong as FLR, but members were still getting trades. They were second in command when it comes to Freebie Forums. PPD also mentioned A4F as another forum to use and A4F definitely benefited from some of that traffic **
Where My change started
After trading for a few more months, I started to realize something. If something happened to the forum I was trading on and that's all I was doing, my income could go from a pretty decent amount to nothing, almost overnight. In addition to that, there were things happening behind the scenes (and in some way, out in the open) that I wasn't too comfortable with. At that point, I realized that I had to start something of my own, and that is how this blog came on the scene. I went through Yaro Starak's Blog Mastermind coaching program and it literally changed my business forever.
I started getting my own traffic and building an online presence. In other words, I was setting up an online business, not just trying to benefit from other people's work. I started working my butt off to grow TheFreebieGuy to what it is today. Man, you have no idea how glad I am that I made that switch, because what I thought would happen ended up happening. Yep, you guessed it – The forum I was trading at started going down . . .
The Divorce that hurt
Divorce is never easy, and it never only hurts the couple. It also hurts the kids. This divorce was no exception. In March of 2009, PPD severed all ties with FLR – a change that had a ripple effect throughout the Freebie Trading industry, especially when it came to forum traders. Since PPD was THE main source of traffic for FLR, traffic dropped as if in Free Fall and many members who once thrived in the Forum communities struggled to get a few greens here and there. There were still forum traders making decent money, but they were few and far between.
When PPD disconnected from FLR, they made two main changes. First there was the launch of PPD's Fast Fifty training program, where you traded with someone by the name of "Kelly" on PPDs new Freebie Site and received $50. Once you are through that program, you were then funneled to Net Income Solutions (NIS). A newer Freebie Trading forum started by Zolie Ferrel, known in the Freebie Community as Zman. He was one of the first Freebie Traders under the PPD system and was even featured in a video in the PPD membership area. When I started as a Freebie Trader, he was one of the guys that I looked up to. He obviously understood the system and was doing very well with it.
However, this new arrangement came with an interesting twist. There is only 1 Freebie Network allowed at NIS and that is ZBestFreebies, owned by Zman himself. All of that traffic is funneled to 1 Freebie Network. Many people became upset about that new system because it basically cut all the other freebie networks out of piece of that Huge traffic pie. The way I look at it is simple. If you generate your own traffic, you should be free to decide what you want to do with that traffic. I KNOW that traffic takes a TON of work, so I have no hard feelings there. Also, since I became independent from FLR, the switch didn't really affect me directly.
I have never been active at NIS, but have heard a lot of talk about it. One of the problems that new traders seem to have is that because of the credit weighting, it takes many more offers to go green. This often causes them to become discouraged and move on.
An Honest look at CaliStyle101
Most of you know by now that I'm one of the co-owners of CaliStyle101, a freebie trading community with a few twists. When I was an active forum trader, there were things that I wished that I had. Things like clear training. Now, it's hard to be unbiased when you are talking about your baby, but I will try my best.
When we purchased CaliStyle101, we revamped it and relaunch it in May 2009. We did that, made a lot of changes to the design and layout, added the Video Tutorials and the Power Affiliate Program. Then we went to work on traffic. Wow, that was a lot of work. Day in and day out, we spent countless hours building the forum and generating traffic. Now think about this – This was a little different than I was used to. Before, I sent traffic to my blog for people to trade with me ALONE. Now, we were trying to drive traffic to a forum for people to trade with all of our members. It was a tough task, but we were doing it.
Members started getting trades, and they continued increasing by significant amounts over the first few months. However, at a certain point, we could not spend as much time working on traffic and the traffic started decreasing. People still trade there on a daily basis and it is still active. However, there has been a reduction in the amount of new traders that have been coming into Freebie Trading forums across the board and members all over are feeling it.
One of the main benefits of trading at CaliStyle101 is that if you can use your affiliate link to bring people to CaliStyle101. Once they are there, they get a notification letting them know that you are their mentor, advising them to go and check out the rules and Video Tutorials and if they upgrade their membership, you get residual commissions for as long as they remain upgraded. If you are an upgraded member yourself, you get 95% commissions. In other words, you make all the money.
So Where are we now and Where are we headed?
The Freebie Industry is in an interesting position right now. It's a great place to start making money online. Most people that come into Trading with the determination to start making money can make money on their first day or very soon after. The problem is that, in my humble opinion, it's not an end goal. It's a way to get started and see that it is possible to make money online. I think it gives people a boost because when you get that first PayPal payment there's a certain thrill that you feel. Yes, I remember my first day and the excitement I felt. It was great enough excitement to keep me pushing to build an online business.
If you've made it to this point in this blog post, you've been set up to realize something – If you are going to continue in the Freebie Industry (especially as someone who is not already established in the popular forums), you should be prepared to do more work to bring in your own referrals. The days of sitting back on one forum and waiting for the referrals to pile up are no longer around. It's a great idea to diversify between multiple forums, if you like trading at forums. I recommend CaliStyle101 if you are going to be using this approach because your affiliate link goes a LONG way and you can get paid for your efforts in multiple ways. A4F is still relatively active and I'm hearing that people are starting to get some trades at FLR again – not like before but something is better than nothing.
Also, I really want to emphasize that if your goal is to make money online, even to where you can do it full time, you need to start looking beyond Freebie Trading to establishing your own online presence. You should never be in a situation where if one site (that doesn't belong to you) goes under, all of your income will cease. Start a blog, provide great content, generate your own traffic, BUILD YOUR OWN BUSINESS! It's hard work, but what isn't?
Is Freebie Trading here to stay? I strongly believe that it is. As long as advertisers are willing to pay people for to try out their services, people will be trading. However, the way it's done will evolve over time. Learn to adapt to the changes. Every referral you get makes you approximately $20 – $50. If you only get 5 referrals, that's an extra $100 – $250. It might not seem like much, but when you add that to a diverse portfolio of Trading, Affiliate Marketing, Blogging and whatever else you might venture to do, it can add up to be a sizable amount. The only limit to how much you can earn is how much effort you are willing to invest.
My encouragement for you is quite simple. Yes, it takes a lot of work to make money online. Trust me, I know. I've busted my behind to make it to where I am today. Many of those gurus you see out there started exactly where you started. Yeah, they might look great in their nice cars, sipping on Pina Colada on a beach somewhere in the Caribbean, but it took a lot to get them there. Realize that whatever you want to do online will take a lot of focused effort. For some of you reading this article, you've been working at it for years and have had many failures. However, you've learned a lot. Oh trust me, I can tell you stories of how I've been scammed in the past, but I learned and grew a lot. Please don't give up. Keep chugging along.
I'm not gonna lie. I'm not some rich guru saying that I've reached the level of success that I want to reach. However, I've found a system that works for me, and I'm not delusional about how much work it will take. I make money online and am very glad to be able to do so, but as I continue learning, growing and implementing what I've learnt, I'm able to see my income grow from virtually nothing and it continues increasing. Be encouraged, because you can do it! I would also encourage you to keep checking my blog, because I will try to help as much as I can by sharing info that you can use to grow your business, if you implement the strategies I will share. Yes, that's my shameless self-promotion, but I do intend to continue bringing value to our relationship.
Your Comments
I wanna hear from you. Really I do. Every time I see a comment, I get excited (it's true). Give me your feedback on what I've said in this article. I know many of you are Freebie Traders and have seen some of these changes happen. Provide your perspective below, good or bad.