Why in the world would I write a post on this topic when I run two blogs?
Yes, this is actually going to be one of those "do as I say, not as I do" kind of blog posts.
I'm a guy of many passions. I love things like music and playing the piano, technology, entrepreneurship, biology, the list goes on and on.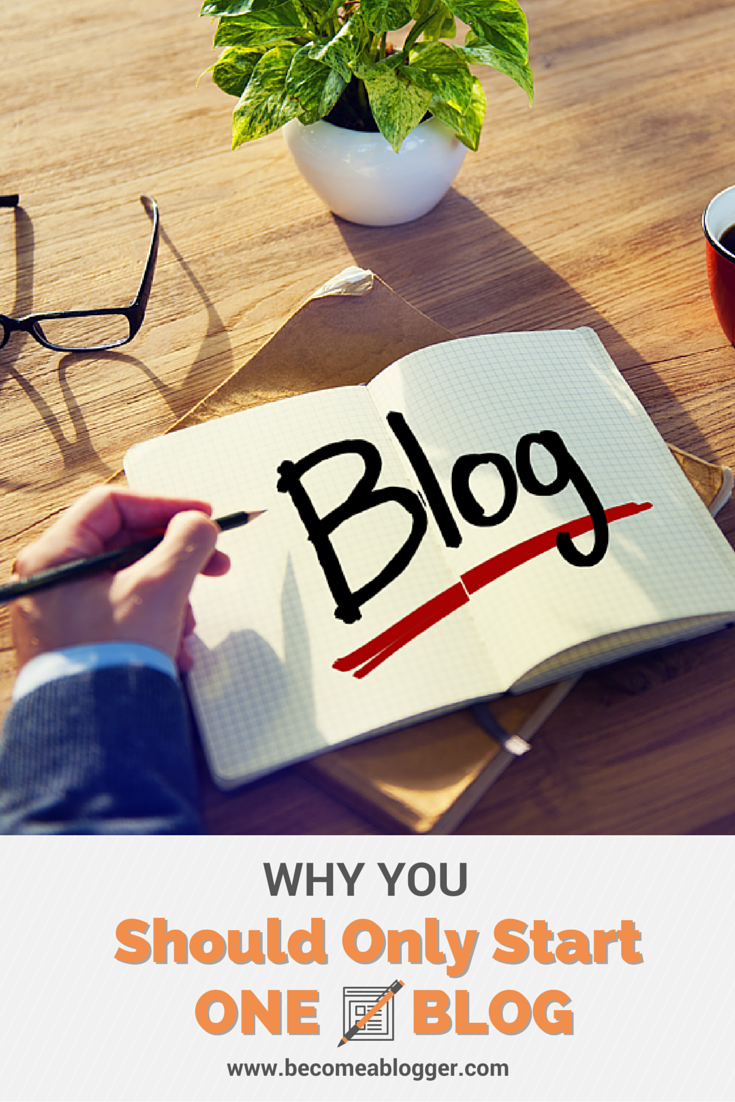 If you'd told me 10 years ago I would be in the business of helping people start passion-based blogs and building businesses around those blogs, I would probably ask – yeah, what else?
Now, I have people telling me about the many blog ideas they have and my answer is always the same – pick one, and choose a narrow niche.
Invariably, they'll respond – I have so much to say, I can't just choose one topic.
Like a broken record, I usually follow up with this statement: "a Jack of all trades is the master of none".
Building A Blogging Business
If you're building a blogging business, there are many things you will need to focus on. You have to create awesome content and market that content.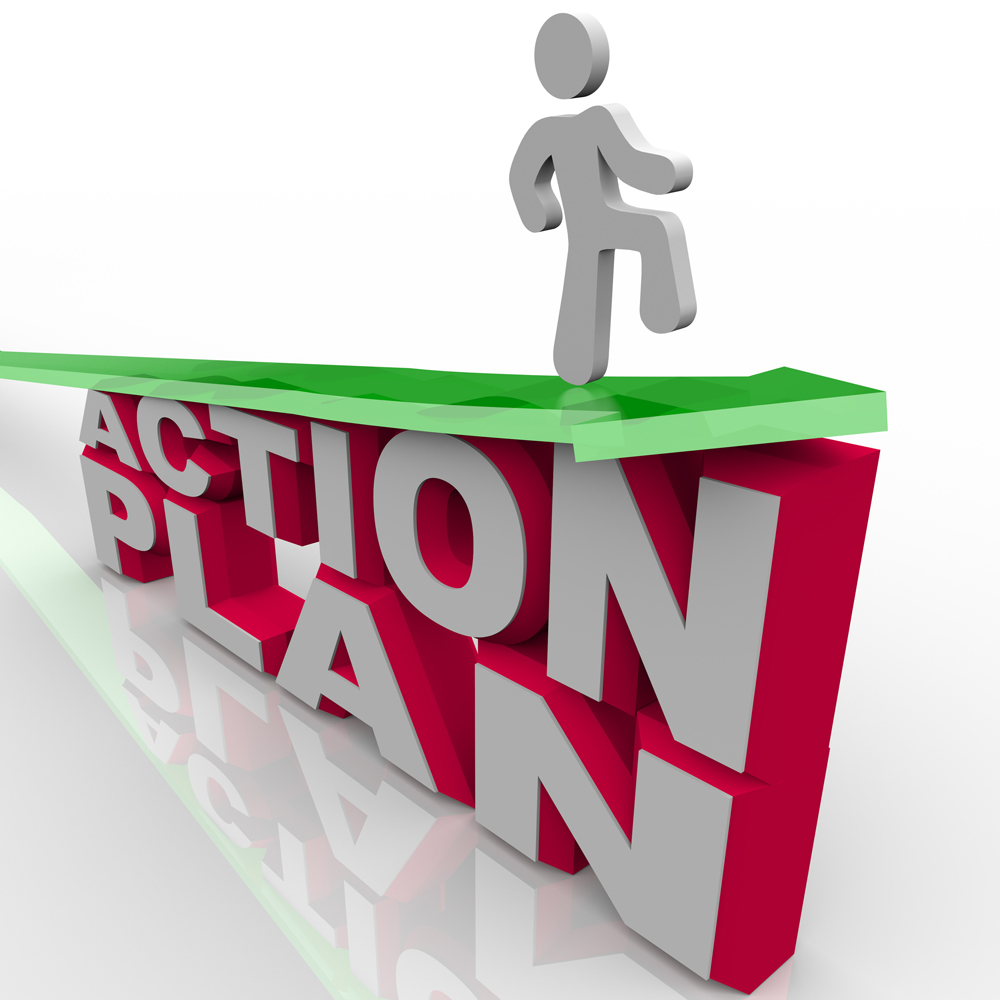 You have to work on building an email list and nurturing relationships with your subscribers.
You have to come up with a monetization strategy and implement that strategy as a core part of all you do.
You should be on social media engaging with your ideal target person(s) in a way that results in new leads for your business.
If that sounds like a lot, it's because it is. However, that's just the tip of the iceberg.
Building a business out of nothing but an idea is a serious challenge.
Make no mistake – doing this stuff is HARD WORK and most people who try – fail. Don't be surprised. It's well known that 8 out of 10 businesses fail within the first 18 months.
Divided Attention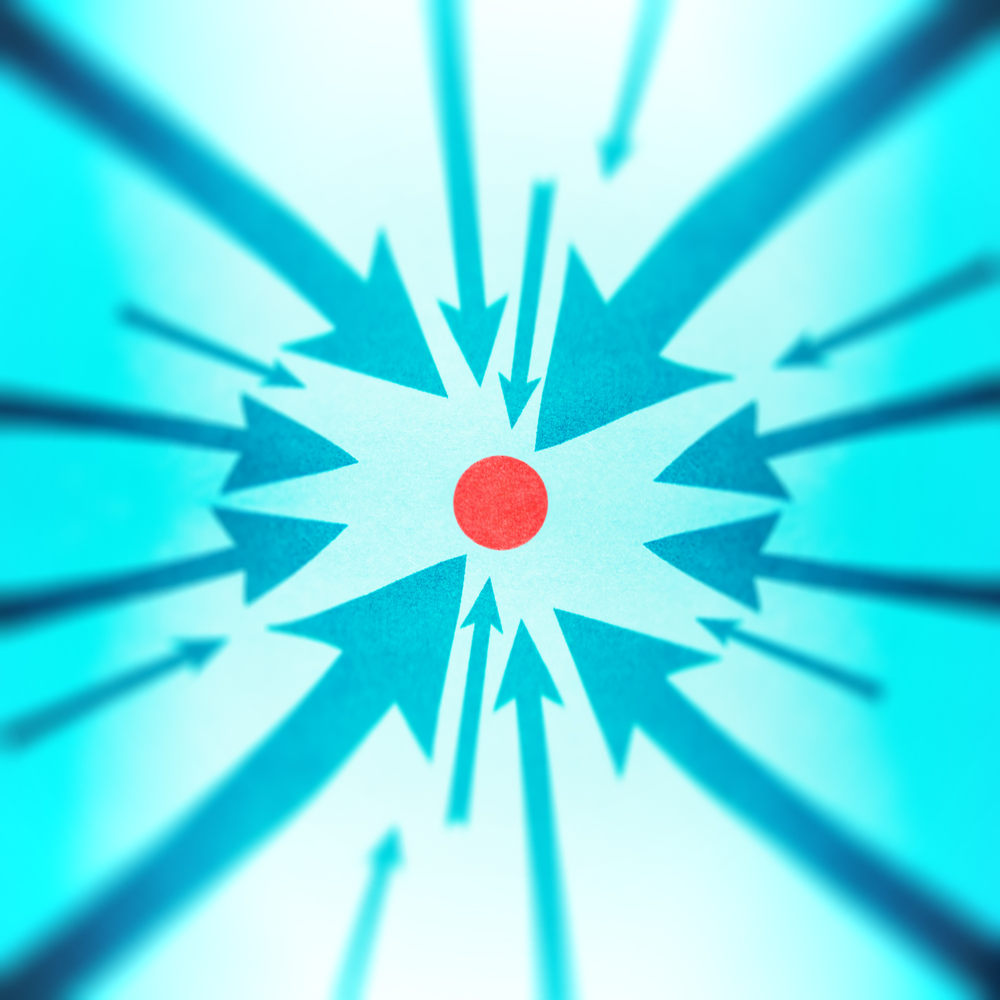 Now imagine this – imagine a situation where you are tasked with building not one business, but two.
Not only do you have to create content, market that content, engage on social media, build a list, and have a clear monetization strategy for one business, you have to do it for another.
Here's the crux of the matter – when your attention is divided between two humungous tasks, you aren't able to fully invest in either and make each as awesome as they could be.
It's almost like saying – I like blondes and brunettes, so I'm going to marry two women to make sure that I'm able to fully explore my passions.
Well . . . I'm pretty sure that wouldn't go over well with either of them 😉
Am I a hypocrite?
I have two blogs – this one and my biology blog. And let me tell you, it has been an interesting experience trying to juggle the two.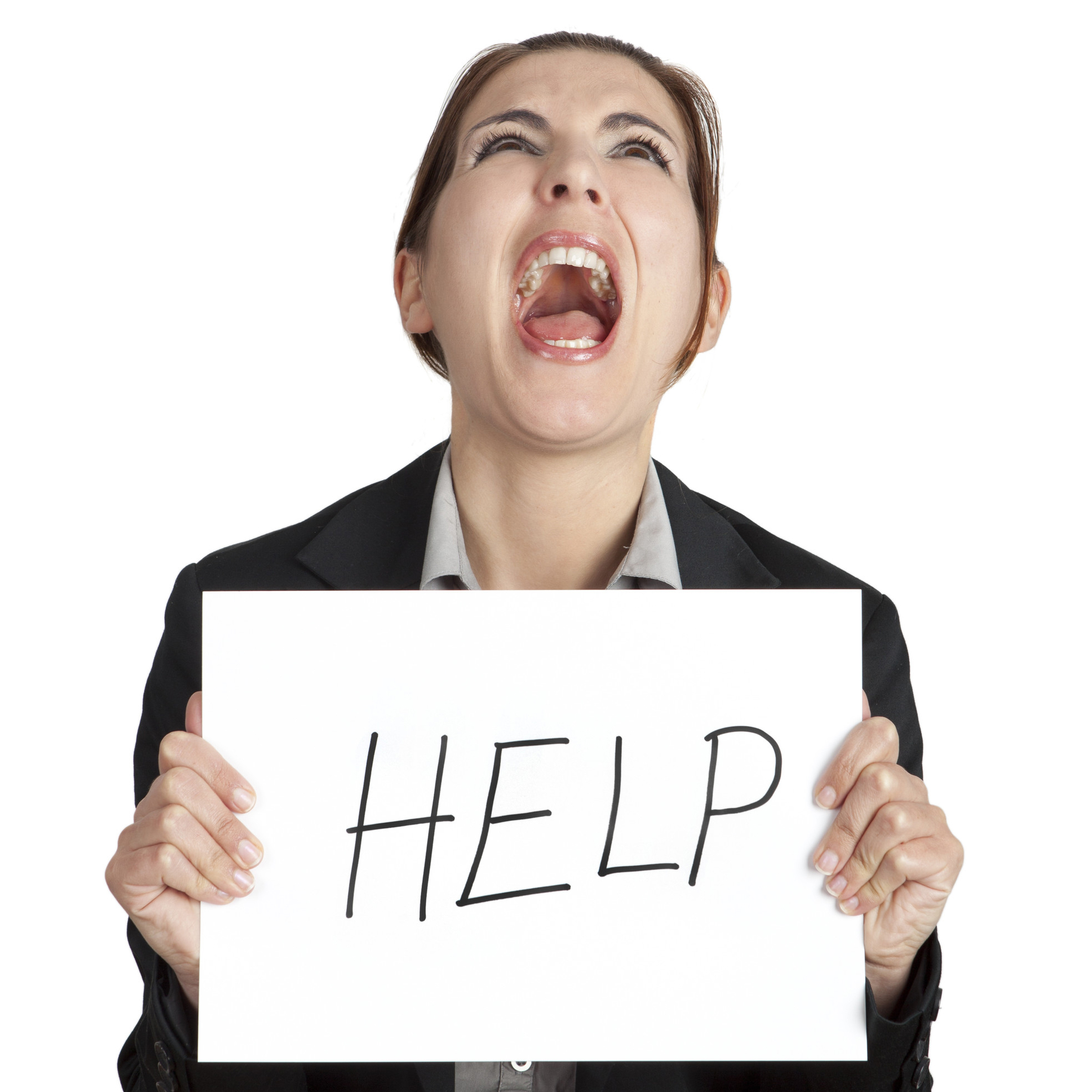 I do have a few things working in my favor:
I had help. At different times, I had two virtual assistants working for me and as many as 6 or 7 writers for my biology blog.
My main blog was already established when I decided to venture into my biology project.
With these elements working in my favor, it was still a challenge, and I know for a fact that neither blog has reached its fullest potential because I really wasn't able to focus.
In fact, this is why I haven't really worked on my biology blog over the last 3.5 years. I knew that if I tried to build that while building Become A Blogger, they would both stagnate. So I had to let the biology blog go for a while. I basically stopped working on it.
Don't box me in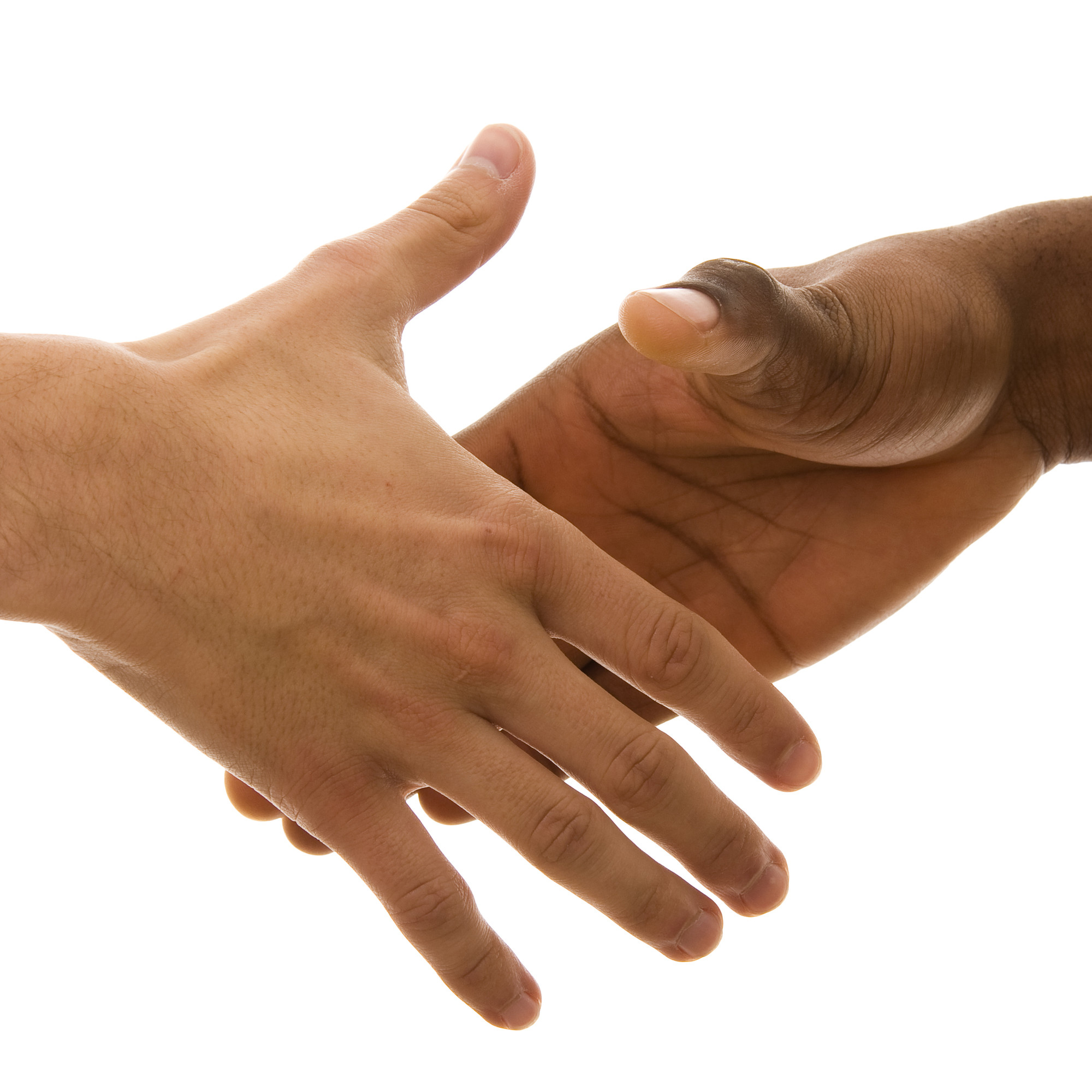 I know what you're thinking – I can't be placed in such a small box. Unfortunately, if you want to build a successful blog, you will need to – at least temporarily.
However, just because you have one blog about a very specific topic, doesn't mean that you can't bring your other passions into the subject.
I blog about building a business with a blog. However, most people who follow me know that I love music, have an awesome little boy named Noah and a beautiful wife.
I share some of my favorite music. I tell stories of things that are going on in my life.
I bring my passions into the topic of blogging, and am still feel fulfilled. It not only helps me to feel fulfilled, but it also allows my audience to form a deeper bond with me. Why? Because I'm showing that I'm human.
What if your passion changes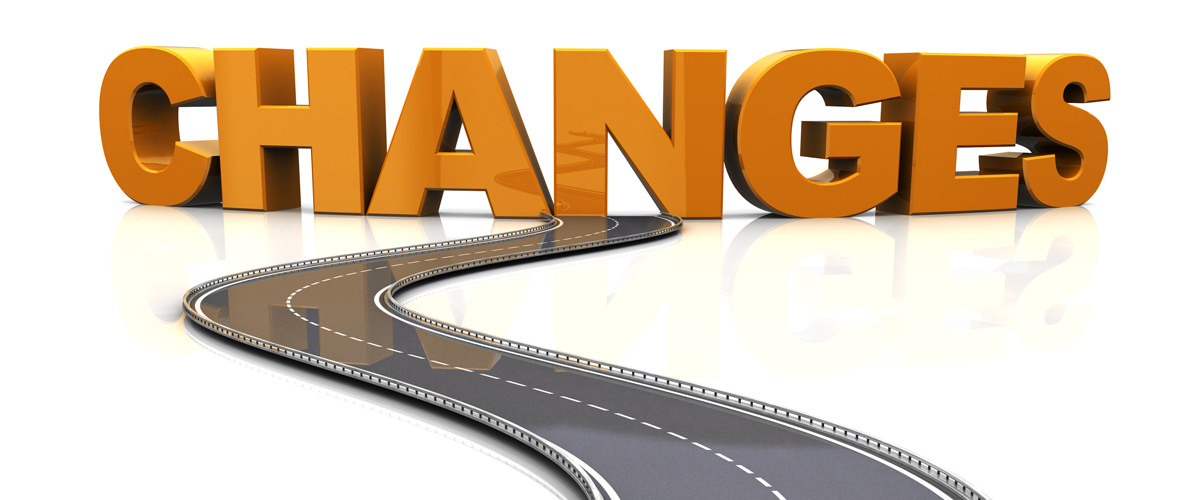 Here's the beauty of what we do. When I started my blog, it was on the topic of Freebie Trading – using websites to get free stuff for completing offers and referring others to do the same.
The Freebie Guy changed to Learning With Leslie, which then evolved into Become A Blogger.
Over time, my passions have evolved, and I'm always surprised to find people who read this blog today that have been there from the very beginning.
It's ok to not know where you're going to end up. The truth is – NONE of us know where we're going to be in 5 years.
However, there's one thing that is certain, if you never start anything, you will never be successful with anything.
So, don't feel as if starting something now means that you have to stick with that forever.
Should you EVER start a second blog?
I do think that there's room for one person to have multiple blogs. I actually don't have a problem with it.
"WHAT Leslie? After all of that talk about starting ONE blog, you're going to hit me with that?"
Yes, but there's a significant stipulation that comes hand in hand with that statement.
You shouldn't start a second blog until your first blog is up and running with systems in place that ensure a smooth continuity. If you're doing it as a business, it should be making a decent amount of money and you shouldn't be stressed out trying to develop and keep it running.
It's like running multiple businesses. There are many successful entrepreneurs that own multiple businesses, like Marcus Lemonis from The Profit. However, to be successful, systems need to be in place so that that one person isn't running around like a chicken with its head cut off.
Take My Advice
If you've been contemplating starting 2 or more blogs, stop it. Take a step back and look at where you are in life and whether you have the time, energy, and resources to run multiple businesses.
In most cases, that answer is no. So, decide on one topic and start THAT blog. Work it like nobody's business.
Put all your energy into making it a success. Learn what you need to learn. Experiment. Do what regular business owners do, but make sure to focus.
Infographic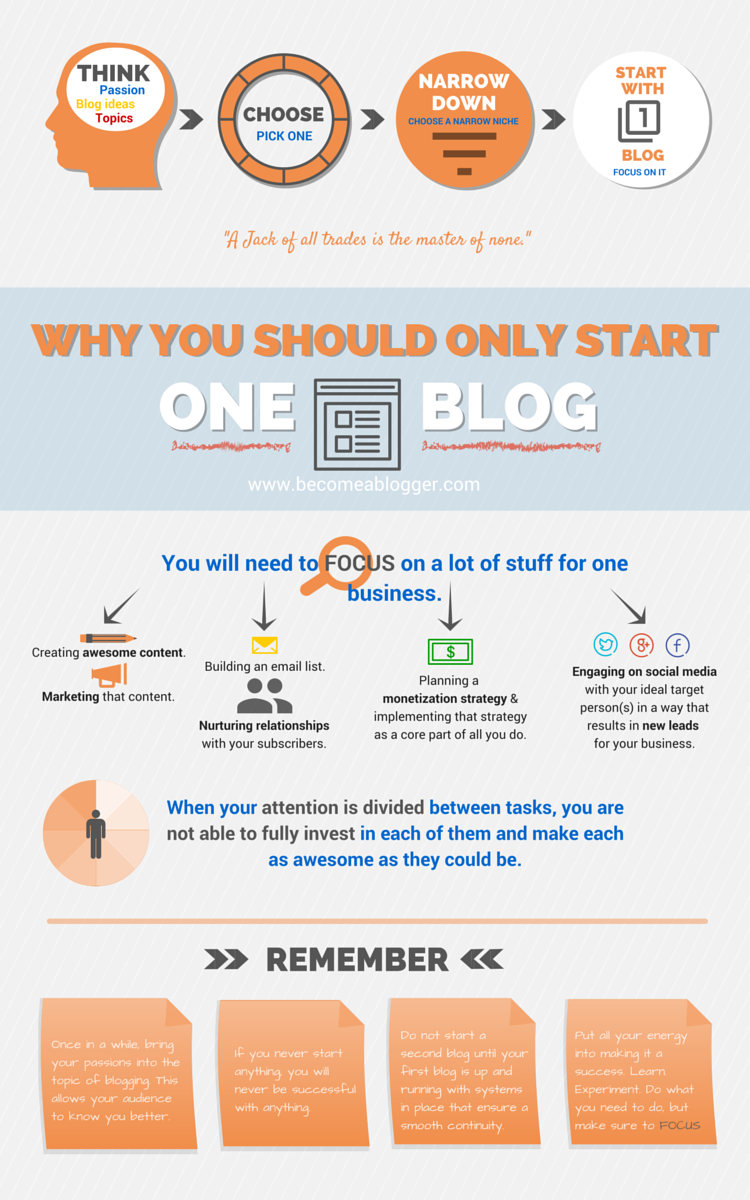 What About You?
After all of that, I'm going to ask you the question – How many blogs do you have? I'll start. I have two (because I'm crazy). How about you? Let me know in the comments and lets laugh at ourselves 🙂