In today's episode, episode 189 I'm going to be talking about how to conduct a strategic 80/20 audit of your blog.
Here's the thing – 2014 is coming to an end, and you know what's gonna happen after that? 2015.
People are going to start making all kinds of new years resolutions.
Many of those resolutions will never see the light of day.
Listen to This Episode
Here's the thing – we aren't always able to move ahead successfully if we don't take stock of where we are, what we've done, what has worked and hasn't worked.
By doing this, we can make some strategic decisions as to where we want to go in our lives and with our businesses.
So today, we're going to look at a way that we can strategically apply the 80/20 principle to take stock of what has worked so that we can know where to go and what to do.
Inside This Episode
The 80/20 Rule (or Pareto Principle) is a concept that was named after the Italian economist Vilfredo Pareto, who noticed that 80% of Italy's land was owned by 20% of the population.
He then started seeing this distribution in other countries after conducting surveys.
He also noticed that when planting peas, 80% of the peas came from 20% of the peas.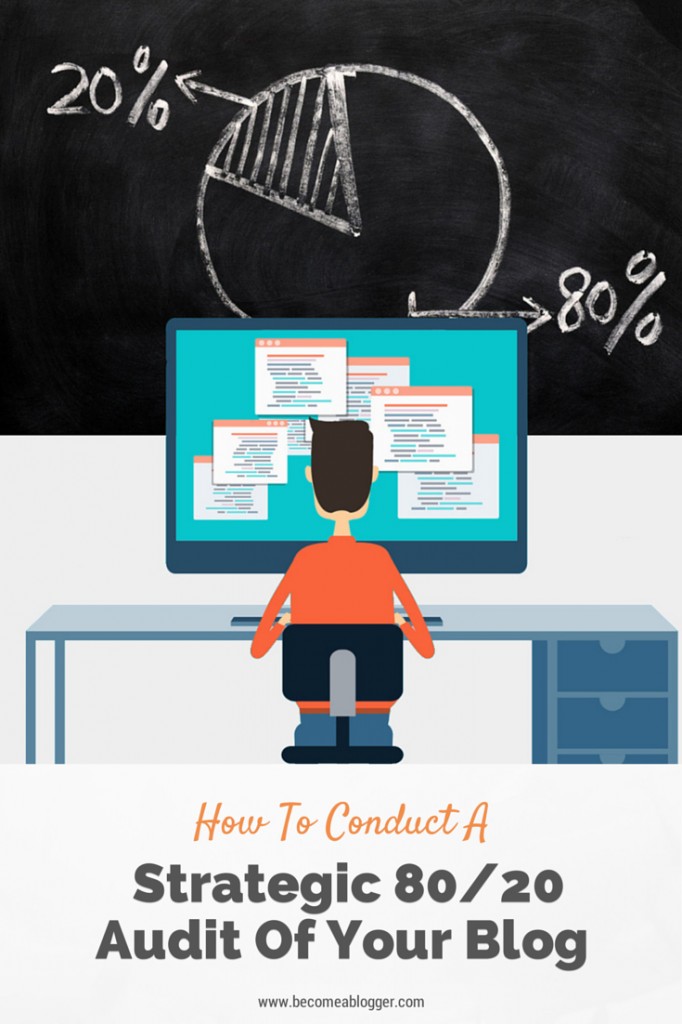 A similar distribution can be seen in so many different ways in so many different places.
Examples in business:
80% of your revenue come from 20% of your customers
80% of your output comes from 20% of your input
Examples for bloggers:
80% of your traffic comes from 20% of your content
80% of your social media results come from 20% of your social media efforts
The reverse of this is that 80% of what we do only yield 20% of the results.
Unfortunately, 80% is a bulk of things that we do and can be a waste of time.
Please Note: This 80 – 20 distribution is not a hard set rule. It can be 90 – 10, or 60 – 40. The main concept is simply that there is an unequal distribution between input and output.
The question then becomes – how do we find the 20% and focus so much on that that our productivity, income, success, satisfaction increases significantly?
In the episode, I go into the following processes . . .
For your income:
If you are making money, take all of your income and put in it a spreadsheet.
Sort them from highest to lowest (with highest at the top)
Calculate the total income
Take 80% of that number
Which products, services or other sources of income account for that 80% (start from the highest to the lowest)
For your content:
In Google Analytics, go to Behavior > Site Content > All Pages
How many total views do you have?
Calculate 80% of those views
Export the report as an excel sheet
Determine which pages (from highest to lowest) are responsible for 80% of those page views.
Perform the same analysis with keywords by going to Acquisition > Keywords > Organic
For your traffic:
In Google Analytics, go to Acquisition > All Referrals
Perform an 80-20 analysis as described in the previous 2 sections
Once you've done the analysis, come up with an action plan for 2015:
Focus on what works
Develop systems to capitalize on what's already working
Come up with a Content Calendar based on what people are consuming and looking for
Come up with a Marketing Strategy that focused on what is already working
This process basically eliminates all that guesswork and allows you to get much more done. Of course, I go into many more details in the episode. So have a listen.
Resources Mentioned
Transcript
Some people prefer to read along with the podcast episode. Others actually prefer to read than listen. If you are one of those people, not to worry. I've got a transcript right here for you 🙂
Click here to download transcript.
About The Podcast
Learning With Leslie is a podcast dedicated to helping you build a business around a blog. No, not one of those blogs that will fall by the wayside when Google has a mood swing, but one that will thrive no matter what gets thrown at it.
I share tips and strategies that I've learnt building blogs since 2008 and interview experts who are knowledgable about various aspects of blogging so that we can learn from their experiences.
If you're a blogger, thinking about becoming a blogger (pun intended) or are not even sure if blogging is right for you, go ahead and tune in to see what this blogging thing is all about.
How to Subscribe To The Show