If you log into your Google Analytics account, you will see a whole bunch of data about your blog's current traffic.
One of those details is your Bounce Rate.
Listen to This Episode
This is a number that many bloggers ignore. However, it gives you a lot of information about how your blog visitors are engaging with your content.
Bounce Rate is "the percentage of visitors who enter the site and "bounce" (leave the site) rather than continue viewing other pages within the same site." – Wikipedia
Based on that definition, you can see how you would want your bounce rate to be as low as possible.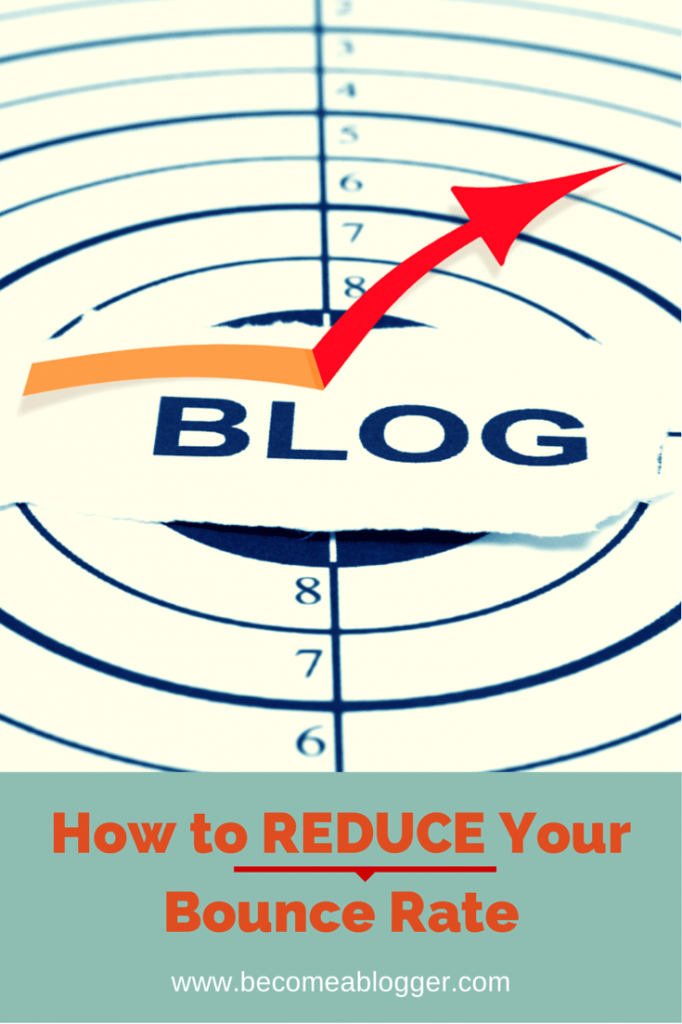 A lower bounce rate means that people are visiting multiple pages on your blog.
This will make them more likely to engage with your content, opt in to your email list, and yes – even purchase your products – and who doesn't want that?
That's why I decided to record this podcast episode, to help you do just that.
Btw, thank you to Marcus Kusi for recommending this topic on Facebook. If there's a topic you'd like to recommend, leave a comment here.
Inside This Episode
Lets say you notice that your Bounce Rate is higher than you'd like it to be (the average is 50%), the first thing you want to do is take inventory of your current situation.
You can do this right inside Google Analytics. Take for example my Biology blog, which has a Bounce Rate of 79.23% (ouch).
The next step is to drill down your site pages to see if there are any obvious problems staring you in the face. You can do that by going to "Behavior > Site Content > All Pages" in the left sidebar.
Then you can sort the content by Bounce Rate (by clicking on the Bounce Rate header) to see the pages with the highest bounce rates.
Visit those pages and see if anything stands out to you as a reason why people would just leave that page. Like in my situation, I went to the page below which is supposed to be a video and noticed that there wasn't a video.
Why would anyone want to stay on a page that didn't deliver on its promise? Sometimes there are obvious things like that that we can change and make a huge difference.
Once you've done that, there are a bunch of other things you can do to help reduce your bounce rate. Some ideas are:
Know what your audience wants and give it to them
Create more high value content
Stay on topic – deliver on expectations.
Link between your posts consistently
Plan your content in a logical sequence
Make content easier to read
Have clear navigation. Reorganize to make more helpful
Reduce the number of ads
Make sure your site loads quickly
But of course, there's a lot more too it than just that, which is why you're going to click play and listen to the episode 🙂
Enjoy!
Resources Mentioned
Transcript
Some people prefer to read along with the podcast episode. Others actually prefer to read than listen. If you are one of those people, not to worry. I've got a transcript right here for you 🙂
Click here to download transcript.
About The Podcast
Learning With Leslie is a podcast dedicated to helping you build a business around a blog. No, not one of those blogs that will fall by the wayside when Google has a mood swing, but one that will thrive no matter what gets thrown at it.
I share tips and strategies that I've learnt building blogs since 2008 and interview experts who are knowledgable about various aspects of blogging so that we can learn from their experiences.
If you're a blogger, thinking about becoming a blogger (pun intended) or are not even sure if blogging is right for you, go ahead and tune in to see what this blogging thing is all about.
How to Subscribe To The Show