If you're a blogger, you're already creating content. Well . . . you should be. But here's the problem, most bloggers stop there with their content.
Listen to This Episode
I'm going to share ten ways to get more from your content and leverage what you're already doing to build your blog bigger, better and faster.
Inside This Episode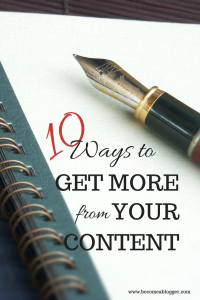 When you spend time researching and then creating content, you might as well get as much out of your content as possible. How do you do this? Well, there are many ways, Today, I share the following ten:
If you do a podcast/video, create a transcript
Use multiple media
Plan your content for the ultimate/greater purpose
Use slideshare for presentations
Do live presentations based on your blog content
If you do live workshops, record video and audio
Rearrange content for different purposes
Create Social media updates based on content
Create Free Giveaway from a portion of your paid product
Do webinars and create courses from webinars
No no, it's not that simple. Don't just read those ten tips and think that you got it all. There's so much more I have to say on the topic. Inside the episode, I go into a lot of detail explaining these tips and how to use them to your benefit. Curious? Have a listen.
Resources Mentioned
People Mentioned
Transcript
Some people prefer to read along with the podcast episode. Others actually prefer to read than listen. If you are one of those people, not to worry. I've got a transcript right here for you 🙂
Click here to download transcript.
About The Podcast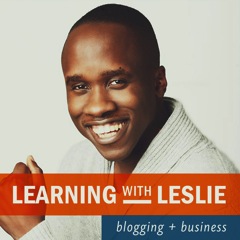 Learning With Leslie is a podcast dedicated to helping you build a business around a blog. No, not one of those blogs that will fall by the wayside when Google has a mood swing, but one that will thrive no matter what gets thrown at it. I share tips and strategies that I've learnt building blogs since 2008 and interview experts who are knowledgable about various aspects of blogging so that we can learn from their experiences. If you're a blogger, thinking about becoming a blogger (pun intended) or are not even sure if blogging is right for you, go ahead and tune in to see what this blogging thing is all about. How to Subscribe To The Show