A few weeks ago, I did a beta launch of the Become A Blogger University.
Today, I can say that I have learned a lot through this process and I wanted to share that with you.
Listen to This Episode
You see, I expected to be awesome. I expected the beta testers to enjoy the content, ask questions in the forum, and benefit from the different way I decided to structure everything.
I had hoped that it would eventually become a strong community of like-minded individuals, passionate about blogging and helping each other accomplish their goals.
I had hoped that eventually it would be the kind of place where people felt like they were a part of something bigger.
But what I didn't expect was that it would happen immediately. It's amazing to see how the members are being proactive and helping each other out.
I expected to teach members how to take their businesses to the next level.
I didn't expect to be pushed by the community to take MY business to the next level.
I expected the members to learn A LOT from and be pushed by the courses I teach.
I did NOT expect to learn so much and be pushed by teaching the courses.
Call me naive, but even after teaching as a university professor in a doctoral program and knowing what to expect from teaching according to a curriculum, I didn't expect it, but I LOVE it.
In this week's episode, I really go into detail about what I'm learning from the university, in addition to sharing what is happening inside the university.
The big lessons that I've learnt revolve around these two ideas:
When building a blogging-based business, use the monetization-based model
Let your community be the driving force behind your business.
Those are the two principles that are transforming my business today, and in this podcast episode, I share all the details.
Also, if you're interested in seeing what's actually happening on the inside, check out this short video:
We're getting ready to reopen the university this Thursday for up to 30 more beta testers or 24 hours, whichever comes first.
When I did the original beta launch, it sold out in less than 90 minutes. I have no idea what to expect for this round, but I'm very excited to get more people in there to test out what we've been building.
So, if you've been looking to join a community of like-minded bloggers, passionate about Creating Content, Inspiring Others and changing the world while building successful online businesses, make sure you're on my email list. You get on the list by signing up for my free blogging course.
If you got an email from me, then you're already on there.
I'll be sending out an email on Thursday at 9am EST announcing the brief opening.
Lets continue to transform the face of Blogging education together.
Transcript
Some people prefer to read along with the podcast episode. Others actually prefer to read than listen. If you are one of those people, not to worry. I've got a transcript right here for you 🙂
Click here to download transcript
About The Podcast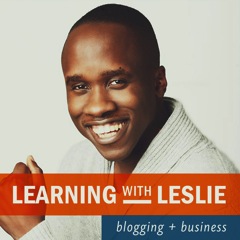 Learning With Leslie is a podcast dedicated to helping you build a business around a blog. No, not one of those blogs that will fall by the wayside when Google has a mood swing, but one that will thrive no matter what gets thrown at it.
I share tips and strategies that I've learnt building blogs since 2008 and interview experts who are knowledgable about various aspects of blogging so that we can learn from their experiences.
If you're a blogger, thinking about becoming a blogger (pun intended) or are not even sure if blogging is right for you, go ahead and tune in to see what this blogging thing is all about.
How to Subscribe To The Show