It's no secret, I'm a little bit of a tech geek. Yes, it's true, and I'm proud 🙂
Because of that, I've found myself testing out a whole bunch of different equipment and software.
The interesting thing is that I'm always on the lookout for more efficient ways of doing what I do, so I'm constantly replacing the old with the new.
Many of you have been asking me what I use to do different things with my blogging business.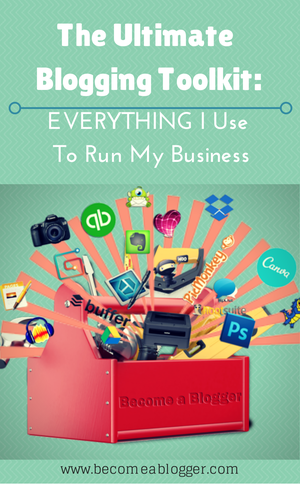 As a result, I decided to compile an exhaustive list so that anyone can find out what I use for everything from creating my videos to recording my podcast to managing my business.
I'm calling it the Ultimate Blogging Toolkit.
I will be updating this list on a monthly basis so that it reflects what I'm currently using. If I'm not using it, it won't be on this list.
If you have tools that you think I can use that would help me do a better job at running my business, please let me know in the comments and I will check them out.
Ok, so with that out of the way, here we go.
Disclaimer: You know the drill. Some of these links are affiliate links. This means that if you use that particular link and purchase a product, I might get a commission. Doesn't cost you anything extra, but it does put a smile on my face. And we all know that you like it when I smile 😉
Edited to add: Oh this is important. Please don't look at this list as a checklist of things you need to get. I admit – I'm a bit of a tech geek, so I try things because I'm passionate about tech, and then I find ways to integrate them into my life. Only get what you need. Don't be too geeky like me 😉
Computer Equipment

15" Macbook Pro 2.3GHz with Retina Display
I actually just got this laptop and I'm in love. I've been a mac guy for a while and this new upgrade rocks. And yes, I bought it on Amazon – No tax baby 🙂
G-SPEED Q 4TB High Speed RAID Array
2 years ago I was getting ready to launch my blogging course and my hard drive crashed. As a result, I lost a lot of what I had worked on. At that point, I went crazy and decided to get an extensive backup system. This RAID drive stores my info in an interesting way between 4 hard drives.
G-Drive Q 1TB External Hard Drive
A second backup external hard drive that stays on my desk with the RAID drive.
This is the portable external hard drive I take with me in my backpack.
Brother HL-2270DW Compact Laser Printer
Yes, from time to time I need to actually print something out. I found this very affordable laser printer that allows me to print wirelessly. It's pretty awesome.
Blogging Resources

This is the platform I use for my blog and is the only one I recommend. Easy to setup and extremely powerful. Watch my videos for step by step instruction on how to set it up.
In your online business, your email list is your most valuable asset. I use GetResponse for managing my list. It's the best option at this price point, and I've been around the block and back on this. Read my extensive post on why I switched to GetResponse.
The beauty of wordpress is that you can get a bunch of great themes to make your blog look awesome without breaking the bank. Elegant Themes is the premium theme provider I recommend. My favorite theme is the Divi Theme – EXTREMELY flexible and AWESOME.
This is another great premium WordPress theme site like Elegant Themes. I don't have an affiliate relationship with these guys but they do some pretty good themes, so I had to mention them.
This is who I host my blogs with. They are a strictly WordPress host and are optimized for WordPress. However, they limit what you're able to use outside of WordPress. My sites run faster on them and that makes me happy.
I've used hostgator for over a decade and they are a great place to start for regular hosting. If you're just getting started and you need a website, starting with hostgator is a great option.
I'm actually quite blown away by this service. They take care of almost ALL my technical issues at a price of $69/month. I used to pay $600/month for a tech Assistant. Now I just use these guys.
I use this to manage my RSS feed. Honestly, I don't use RSS for much. The only reason I still use it is because I needed a feed to submit to iTunes for my podcast.
The best free service available for tracking website statistics. Don't let the word free fool you. It's extremely powerful and backed by Google. You know those guys right?
WordPress Plugins

Unfortunately, when you run a blog, you get spam comments. This plugin helps to minimize that. It's not perfect, but it does reduce spam.
I use this plugin for scheduling interviews. It allows me to create a booking page that people can use to book a time slot with me.
Look above and you'll see some floating social sharing buttons (Facebook, Twitter, G+ etc). That's this plugin.
Jetpack is a plugin suite created by WordPress that offers a number of features like stats, subscribing to comments, social buttons and a bunch of othr stuff.
jQuery Pin It Button For Images
If you put your mouse pointer over any of the images on this page, you will see a Pin It button come up that you can click on and pin this post to Pinterest using that image. I would appreciate it if you would do that with the picture at the top of this post.
This plugin makes it so that I can tell you to go to www.iamlesliesamuel.com/hostgator instead of trying to remember my very long and ugly affiliate link.
This allows me to have custom sidebars for different sections of my site. For example, if you go to my GetResponse Resources page, you will see that the sidebar contains only content related to GetResponse.
I'm not one for SEO tactics. However, this plugin does a great job of reminding you of some of the basic things you need to do for your posts to increase your search engine benefit. It's the only "SEO" plugin I use now.
I used to hate popups until I saw that it increased my signups by over 500%. Now I LOVE popups. This is the popup that I use now on my sites. I've tried others, but this one works the best for me.
I use this on my Biology blog for showing my transcripts. Instead of making them downloadable PDFs, I make it so that if you click a button, it automatically reveals the transcript within the post.
Business/Monetization

This is a service I keep trying to get away from, but it really makes it EASY to create squeeze, landing and sales pages. I can't get away from it and I LOVE how easy it is to use.
I highly recommend this service for selling eBooks. It makes it super easy. I use it for selling my Physiology Study Guide.
This is the membership plugin I recommend. It's great for managing memberships and sales, and it even has a built in affiliate program.
Unfortunately, Digital Access Pass cannot be used with my current host, so I had to switch to Paid Membership Pro. It's not as good, but it does most of what I want it to do.
I use this to manage all my business finances. It's the program almost everyone I know who's running a business seems to be using, and now I know why. It's awesome.
From managing your invoices to keeping tack of how much you spend, with this tool you're able to organize everything in one place.
Recording My Podcast

Soundcloud
This is where I host my podcast files. I switched to Soundcloud because in addition to storing your files, it also has very cool social sharing features. However, their podcasting feature is still in Beta and not available to everyone as yet.
This is the only sound editing program I use because it's simple and free. Also, I hardly ever do any editing, so I don't need anything complicated.
Because I don't edit my podcast, I need something to play back my sound clips while I'm recording my podcast. This is the program I use to do that.
The mic of choice for many podcasters. This is the one I use and I love it. However, you can't use it unless you have some kind of audio interface or mixer to connect it to your computer or digital recorder.
This is a great mic because it's an affordable USB mic that you can plug directly into your computer and record. However, it also has an XLR connection that you can use to plug into a mixer.
I use a mixer so that I can have all of my audio going into my recorder to not have to edit when I'm finished recording.
I use the older version of this digital recorder to record my podcast episodes (but it's no longer being made). It's much more reliable than recording into a computer because it never crashes.
Shure SRH440 Professional Studio Headphones
These are the headphone I use in my studio when recording my podcast.
This is what I use to tag my podcast MP3 files with the episode information and artwork so that all of that info shows up on mobile devices.
A great website that processes your audio files for you. It's free and you can do the processing and tagging. I just started using this last week and I love it.
Did you know that iTunes only shows you reviews from your country? Well, this program allows me to see all of the reviews that were left for me in iTunes from all over the world.
I use this for podcast interviews and for communicating with people all over the world (even my mommy).
Making My Videos

Canon 60D DSLR
This is the camera I use for recording most of my videos. It's a beast and I love it. It gives me the ability to have a lot of control over my videos – more than I know what to do with.
This is my secret weapon for making great quality videos where I'm in focus and the background is blurry. Actually, I guess it's not a secret since most photographers/videographers know about it. Affordable and easy to use.
If you're going to do video, you have to have high quality audio. This is the lapel (clip on) mic I use for most of my videos.
Sony DSC-RX100M II Cyber-shot Digital Still Camera 20.2MP
As much as I love my DSLR, it's quite big. I just bought this camera because it can fit in my pocket, but the reviews are awesome. Will let you know what I think when I get it.
This is the webcam I use for Hangouts, Webinars, Skype calls etc. It gives a much better video quality than my laptop's built-in webcam because it's HD.
CowboyStudio 3300 Watt Photo Studio Lighting
Lighting is important for video. These do a pretty good job at lighting me without being very harsh.
I just got this tablet and I love it. I use it for making videos where I'm writing on my screen. It's MUCH cheaper than the Wacom tablets and do a better job in my opinion.
This is the program I use for recording my screen and for editing my videos.
This is the program I use for my Khan Academy Videos where I'm writing on the screen. It has a lot of great features for making yourself look like you are an artist who knows what you're doing.
Productivity/Team Management

I use this for sharing files and documents within my team. I love it because it's integrated with Gmail and also connects with many other services I use.
This is similar to Google Drive, except it does a better job with file storage and sharing (in my opinion). However, it doesn't do as well with editing within the app. I use both for different reasons.
This is a great place for writing notes and having them synced on all your devices. You can arrange your notes into notebooks. Got a quick idea? Jot it down in evernote.
I have multiple email accounts all managed by Google/Gmail. This allows me to have them all open at one time and switch between my accounts seamlessly.
This is a new find for me. I use it to manage all of my projects. It's great because you can setup workflows that makes it great for when working with a team (or just one assistant like I do).
This is the best app since sliced bread. You know all of those websites we use that don't actually have desktop apps? I don't. You know why? Because this app allows me to create apps for those non app having websites like Google Drive, Trello, Hootsuite and anything else you can think of. It's beautiful.
This is what we use for tracking time. You clock in when you're working and out when you're finished. Makes it easy for billing. I even use it just to see how I'm spending my time.
This is what we use to communicate within my team (of 2). It's kinda like Skype chat, except now I don't have to be logged into skype getting chat requests from people while I'm trying to work.
This is an alternative to Hipchat that I just started looking into. It doesn't have video chat like Hipchat, but that's not a function I use. It integrates with Google Drive and a bunch of other programs so we might be switching to this instead of Hipchat.
This is what I use to manage all my passwords, and share the relevant passwords with team members. It's great because they can log into the sites but don't have to get access to the passwords.
This is similar to lastpass, but it's much prettier. However, it doesn't have all the team functionality as Lastpass. If you're just one person, I recommend this one.
This is my todo list app. It's great because it syncs between all of your devices. However, it doesn't currently have a team functionality for working with others.
This is my second todo app. I use this one because it allows me to share todo lists seamlessly. Honestly, I only keep it because my wife and I use it for our shopping list.
So, I'm typing this long document and every so often, I jump on Facebook to see what's up. This app fixes that problem by blocking "time-wasting sites" for a specified period of time. It's for those weak people like myself.
I resisted this app initially because it just seemed like another music player. However, they've carefully selected the perfect music to help you be more productive and it seems to actually work.
This is a great app for when you have certain repetitive messages that you type. It's a good solution for creating canned email responses so that you don't have to type the same message over and over.
This app allows you to setup shortcuts for opening programs (and doing a bunch of other stuff). For example, if I want to open up evernote, I just type Ctrl+E and it pops up. It's all about efficiency.
I use this timer mostly for helping me be more productive. I like to work in 50 minute blocks and then take a break. I find that when I work this way I'm more productive and this app helps me do that.
This app is hard to explain without showing you. It allows me to fit my windows into specified areas of my screen easily and quickly. If I drag a window all the way to the left or right, it will take up that half of the screen. If I drag it to the top, it'll fill the entire screen.
I use this for automatically backing up my entire hard drive to the cloud. I never have to worry about my computer crashing because it's always backed up even when I'm not thinking about it. My peace of mind is definitely worth the $5/month.
This is a free program I use for creating mind maps. When I'm creating a product, it usually starts as a mind map and then gets fleshed out.
This allows me to take quick screen recordings and send it to my assistant, or anyone else that I'm trying to help quickly.
This program is constantly monitoring my activity and then sends me a report as to how productive I'm being. Last week I was only 67% productive. I need to step up my game (and get off Facebook).
Social Media

I use this for monitoring and posting to twitter. It's owned by twitter and is simple to use. It allows me to setup columns with the relevant social info that I want to keep track of. They've also recently added some scheduling features.
I'm not very good at this, but I do use Hootsuite as a dashboard for monitoring Twitter, Facebook and Google+ all in one place. You can schedule status updates and do a whole bunch of other stuff that I don't do.
This is the easiest app I've found for scheduling status updates. It's simple and has a great drag and drop feature for moving around your scheduled tweets. I also like that it shows you all of the analytics you need.
Documents/Presentations

I make all of my presentations in Keynote. I used to use PowerPoint but Keynote is a billion times better. Yes, I said a billion. If you're a PC user, this is reason enough to switch 😉
This is like Microsoft Word for people who like their documents to look awesome. When it comes to the finer details of design, Apple really got it right with these to programs.
Picture Editing

A free online tool for creating and editing images. It's great for adding text to images, and oh yeah – it's free.
Canva does a lot of what Picmonkey does, but it does more. There are a lot of templates to choose from, especially for images you plan to post on social media. And yes, it's free too.
This is great for capturing screenshots, editing them and adding text, arrows, etc. Works much better than the regular screenshot feature on your computer and has guides to make sure you are getting exactly what you want and nothing more.
Skitch is similar to Snagit but it integrates with Evernote, since it's owned by evernote. I prefer Snagit's features but love the evernote integration. That automatic cloud backup gets me every time.
The de facto standard for image editing. I'm no pro, but I use it from time to time for basic stuff.
Phew. That was a whole lot. Hope I didn't overwhelm you there. But yes – if you have any recommendations for me, let me know in the comments below.