Did you get everything right when you first started your blog?
REALLY? You did? Can you teach me?
Listen to This Episode
The truth is – there are things I wish I did different when I first got started. But you know what they say – Hindsight is 20/20.
After 6 years of blogging, I've learnt so much about how I want my blogging business to run, and as a result of that I've had to go back and make some changes.
If you're like me, you probably have a lot of things that you haven't done that you wish you did before getting started with your blog. Well, you know what? It never is too late to do better.
So, I decided to record this episode and share some of these tips with you. They are pretty simple, and they help – so why not?
Inside This Episode
I talk about those five things I wish I did before I started blogging. What are they? I'm glad you asked . . .
Think PROACTIVELY about your categories
What are the important categories that you need to cover as you create your content? Sometimes, we tend to create categories as we create our posts. Try working it the other way around. As you start your blog, think about the major areas you want to talk about in your blog posts, create those as categories, and then, start creating content within those categories.
Organizing your Pretty Links into groups
Why? This will help a lot in analyzing how your links are performing. And, as you grow your blog, you realize you will have tons of affiliate links and other links that you need to track of. Organizing them into groups in Pretty Link makes it easier to search for them in the future.
Having a clear understanding of your monetization strategy
Some of us like to think about this later in our blogging careers. But, if you have a clear picture of what you want to sell or promote on your blog, you can create content based on the stuff that you plan to sell to your audience. And from that (going back to the first point) you can create the categories you want to have for your blog posts.
Craft your mission and vision statements
Setting a clear picture of what you want to achieve with your blog helps you take the steps in the right direction towards achieving the goals you have set for yourself and your blog. Your mission statement really defines what your purpose and your primary objectives are.
Submit your sitemap to Google and Bing Webmaster tools
This tip came from a good friend, Colin Yearwood from Learn It Do It Profit – use a plugin called Google XML sitemaps plugin. This gives you a sitemap of all the pages in your blog and domain and gets updated every time you add content. If you submit this sitemap to Google and Bing, the more information they will have to help them decide as to how to rank you and what keywords to rank you for.
Listener Question
But, before I got into all that, I also answered a question from Lance who is the owner of Falling Knowledge. He just recently started his blog where he creates tutorials in Photoshop and Illustrator.
He asked whether it would be a good idea to plan his content calendar ahead of time even with having not enough keyword data.
Well, keyword research isn't everything. I don't do it myself. How do I manage to get more people to come to my blog? You'll learn more about that in my answer to Lance's question as you listen to today's episode.
Resources Mentioned
Transcript
Some people prefer to read along with the podcast episode. Others actually prefer to read than listen. If you are one of those people, not to worry. I've got a transcript right here for you 🙂
Click Here to Download Transcript
About The Podcast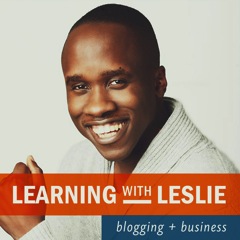 Learning With Leslie is a podcast dedicated to helping you build a business around a blog. No, not one of those blogs that will fall by the wayside when Google has a mood swing, but one that will thrive no matter what gets thrown at it.
I share tips and strategies that I've learnt building blogs since 2008 and interview experts who are knowledgable about various aspects of blogging so that we can learn from their experiences.
If you're a blogger, thinking about becoming a blogger (pun intended) or are not even sure if blogging is right for you, go ahead and tune in to see what this blogging thing is all about.
How to Subscribe To The Show