Who: Chris Ducker
Blog: ChrisDucker.com
Listen to This Episode
You think you know a guy and then you interview him and he surprises you with all kinds of interesting stories about his past and his insight.
From working on a documentary in Hong Kong to magazine publishing, writing books to starting companies in the Philippines, Chris Ducker has done it all.
He's known as the "go-to" guy for all things outsourcing-related. His Philippines call center Live2Sell Group employs over 300 full-time employees and his other company (yes I said other company) Virtual Staff Finder provides outsourcers for many successful bloggers (and other entrepreneurs) all over the world.
Since outsourcing is literally something that has changed my life (in a good way of course), I decided to grab Chris for a chat to share how we can be effective outsourcers in today's economy.
Inside This Episode
Chris talks about all of the following:
How a guy from the UK ended up working in Hong Kong, hanging with Jackie Chan and starting companies in the Philippines

One simple lesson he learned from his experiences in Hong Kong that he applies in business today
How to decide on what things you need outsourced
The 4 types of virtual assistants (VAs) you should be thinking about hiring
How to provide the right type of training for your VAs
Tools for managing your outsourced staff
Much, much more.
If you're anything like me, you are (or want to be) building a serious business – one that is not 100% dependent on you. One that allows you to work on the things you're passionate about and that will allow you to focus on the 20% of the things that will give you 80% of the reward.
If you're doing all the little tasks in your business that doesn't help your business grow, then you are wasting time. I found myself in that situation a few years back and it made me give up on my business, but only for a little while.
When I started back, I knew that I had to do things differently, and one of the BIGGEST changes I made was that I decided to outsource. It was the best decision in my life.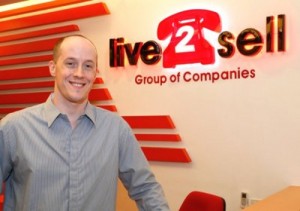 That's why I really wanted to get Chris on the show. I know that many of the people in the Become A Blogger community struggle with managing their time.
I know that because I find myself in that situation from time to time. Chris definitely over-delivers by providing actionable tips that we all can use to grow our business using outsourced staff.
Definitely give it a listen and then let me know what you think in the comments below. Oh, and if you have any questions about outsourcing, don't hesitate to ask.
The Chris Ducker Timeline
The following are some highlights from Chris' interesting adventures in the world of entrepreneurship.
1996: Launched his first entrepreneurial venture after publishing a niche magazine for HongKong for movie enthusiasts
1997: Visited Hong Kong and interviewed dozens of actors and producers. This later became a video documentary.
2000: Moved to the Philippines and lived there ever since.
2004: Started the Live2Sell Group
2010: Started Virtual Staff Finder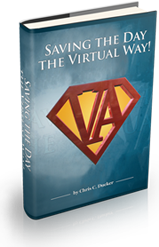 Ebooks Written
Here are some eBooks that Chris has written that he makes freely available for download from his site. If you're interesting in outsourcing or even entrepreneurship in general, you should check them out for further study. Hey – they're free. You can definitely afford that 😉
Business Growth and the Outsourcing Lifestyle
How to Build Your Brand Online, FAST!
Saving the Day, the Virtual Way
To download the eBooks go to this page
Resources Mentioned
Transcript
Some people just love being able to read along with interviews, or they might just prefer to skip the audio completely and just read through the transcript. Hey, if that's what floats your boat, it is all good. Here's the transcript just for you
Click here to download transcript
About The Podcast
Learning With Leslie is a podcast dedicated to helping you build a business around a blog. No, not one of those blogs that will fall by the wayside when Google has a mood swing, but one that will thrive no matter what gets thrown at it.
I share tips and strategies that I've learnt building blogs since 2008 and interview experts who are knowledgable about various aspects of blogging so that we can learn from their experiences.
If you're a blogger, thinking about becoming a blogger (pun intended) or are not even sure if blogging is right for you, go ahead and tune in to see what this blogging thing is all about.
How to Subscribe To The Show