Have you ever wanted to do more with your blog?
What about building something bigger than yourself – is that a thought you've had?
Listen to This Episode
In today's interview, I interview Michael Stelzner – the founder of Social Media Examiner, The world's largest online social media magazine!
In This Episode
If you know ANYTHING about Social Media, you know that it's a pretty hot (or should I say viral) topic. So the logical question is this:
How in the world does someone enter late in the game and build something that takes the world by storm in an overcrowded space? That's exactly what we talk about in this episode.
When most people start blogs, it's limited by one significant factor – themselves. If they (myself included) aren't creating the content, then there is no content. Michael decided to go a different route.
Instead of just being the typical blogger, he decided to bring together a team of experts that can share actionable, valuable content based on their experiences and create something huge as a result.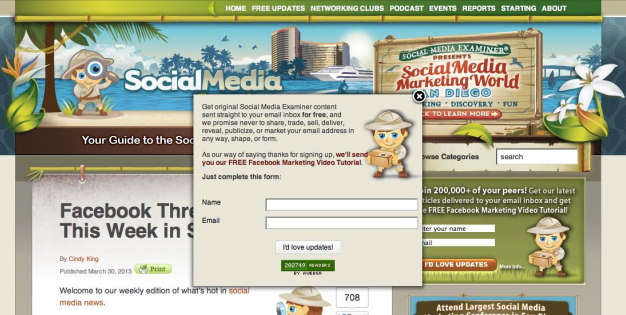 Well, that's exactly what happened and the rest, as they say, is history.
Michael shares the following details:
A surprising trend in Social media in 2013

What he did before Social Media Examiner

Why he decided to launch Social Media Examiner
How strategic partnerships helped him with the launch
How to nurture relationships that matter
The Social Media Examiner Process for creating Awesome content
How he manages his growing team
And much, much more
There's a ton of inspiration in this podcast episode. For me, it has given me a drive to want to do something bigger.
Here's what I recommend – Have a seat, take out a pen and paper (or some electronic device if you're like me), listen in and take notes. Blogging can be bigger than you think, and this is the interview to inspire you to think big.
Not just that. There are also many actionable tips that can help you really take things to the next level. And once you're finished listening, leave me a comment and let me know what you learned!
Random Highlights
PODCASTING SET TO EXPLODE IN 2013
According to the 2013 Social Media Marketing Industry Report, only 5% of marketers are podcasting. However, 24% plan on participating in podcasting in 2013. These are very interesting numbers, especially for someone like myself who LOVES podcasting.
With the boom of smartphones, Apple coming out with a dedicated podcast app, and car manufacturers integrating podcasting into cars, it opens up a relatively new ground for us to reach out to our target audiences and grow our brands. If you aren't podcasting, maybe you should get on it.
NURTURE RELATIONSHIPS WITH KEY PEOPLE IN YOUR NICHE
In almost every niche, there are movers and shakers – people who are doing big things. If you want to get your brand out there quickly, you want to make sure that you are connecting with the right people – the movers and shakers.
This is something MOST people get wrong. It's not about what they can do for you, it's about connecting with them as REAL people. How do you do that?
Listen to what Michael has to say in this interview.
USING TRADE SHOWS TO ACCELERATE SUCCESS
In the interview, Michael talks about how he strategically conducted interviews with key people and used that to help propel Social Media Examiner to the top. This worked for Michael in a VERY competitive niche and (in my opinion) can work even better in other niches where there isn't as much competition. Check out this interview with Scott Monty of Ford:
Resources Mentioned
Transcript
Some people just love being able to read along with interviews, or they might just prefer to skip the audio completely and just read through the transcript. Hey, if that's what floats your boat, it is all good. Here's the transcript just for you 🙂
Click Here To Download Transcript
About The Podcast
Learning With Leslie is a podcast dedicated to helping you build a business around a blog. No, not one of those blogs that will fall by the wayside when Google has a mood swing, but one that will thrive no matter what gets thrown at it.
I share tips and strategies that I've learnt building blogs since 2008 and interview experts who are knowledgeable about various aspects of blogging so that we can learn from their experiences.
If you're a blogger, thinking about becoming a blogger (pun intended) or are not even sure if blogging is right for you, go ahead and tune in to see what this blogging thing is all about.
How to Subscribe To The Show
Help us Spread The Word
If you are enjoying Learning With Leslie, go ahead and leave us an Honest Review In iTunes. That'll help get the word out there by increasing our rankings in the iTunes directory, and it'll make Leslie smile 🙂