Episode: 285
Who: Michael Stelzner
Website/Blog: Social Media Examiner
How should you respond to algorithm changes?
Can bloggers fight back?
In today's episode, I'm on the line with Michael Stelzner, the founder of Social Media Examiner, the author of Launch and Writing White Papers, the host of the Social Media Marketing podcast, and the founder of Social Media Marketing World. Mike has very deep knowledge about what it takes to do well with social media, and he has become a good friend and mentor to me.
Listen to This Episode
We're covering a VERY BIG topic today: social media algorithms and how to respond to declining organic reach. I don't know if you've noticed this, but when it comes to social media, the times are changing! I felt like I had to have this conversation with Mike to see what you and I can do as bloggers to set ourselves up for success.
Mike was actually on the podcast all the way back in Episode 116, so head on over to iamlesliesamuel.com/116 if you want to know more about his backstory. Today, we're going to launch right into the content.
Blogging and Social Media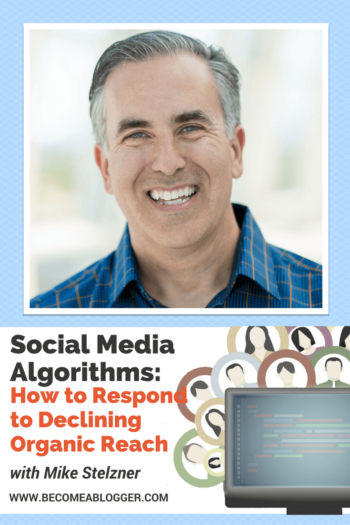 My first question for Mike is: how did blogging change with the invention of social media?
Mike started his first blog in 2005, and the social media revolution came about in 2008-9. He's seen lots of changes. Some are good, and some are not so good. But he thinks the changes are mostly good.
For example, he's seen a lot of people become bloggers who started out expressing themselves in short form on social media. They got used to having a platform and responding to an audience.
The biggest thing that social media did for blogging was that it was a traffic accelerator. In the early days, it brought in floods of traffic. It helped you when Google "had a moodswing!" It was the solution to not getting on search results.
But what about the downsides?
Mike says one of the biggest changes is that bloggers have seen declining comments on the posts themselves. Conversations have shifted off the blogs and onto the social media platforms. So bloggers now have to manage conversations in multiple places. People want to connect with you where they are, and it can get really confusing. And sometimes, it means that people aren't clicking through. They're just reading the headline.
It's also harder to get traffic from social media now. Social platforms want to host the content themselves, like Facebook Instant Articles and Google AMP. You used to have a "hub and spoke" model, with content in one place and everything pointing back to it. Now, it's like there's copies of the content in lots of different places.
Resisting the New Model
So how has Social Media Examiner responded?
They're holding tight. They're refusing to publish their content anywhere but on their own site. Their philosophy is: if you want our content, you have to come and get it.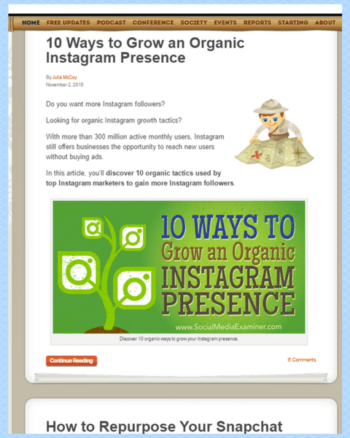 They have lots of strategies in place to make sure that people can find their content. For example, their email list has 525,000 subscribers! They send out new posts three days per week to the list.
Mike's business objective is to drive people to the site. Some people might say that he's limiting his audience by not putting the content anywhere else, but he's fine with that. He's not in the business of making money through display advertising, which is what a lot of big sites are doing these days.
Spreading your content around makes more sense if you need to go where your community is because you want to be a thought leader. If that's the case, then you should be publishing on LinkedIn and Medium and those kinds of sites. But if you're selling a product, you need to focus on driving traffic to your site.
That all sounds good, but what if you're both? What if you want to be a thought leader AND you want to sell a product? Mike says that in that case, it does make sense to publish on the big platforms because one of your goals is to get in front of the right audience.
The Algorithms Are Coming!
Why are social media platforms using algorithms now?
Mike explained by sharing that Facebook will run out of advertising inventory by mid-2017. That's insane. That means that there's so much competition for advertising on Facebook that they're going to run out of space. There's too much demand, and not enough supply. Economics 101.
When you think about the user experience on social media, Mike says, you realize that they can't just let everyone advertise. If they did that, people would leave the platform. Facebook has recently decided to prioritize posts from friends and family, so organic posts from pages are getting pushed out to make more space for advertising.
So Facebook advertising is like having a Disneyland FastPass: it gets you to the front of the line. There's a lot of competition on Facebook, and these days you're lucky if your posts get in front of 5% of your audience. To get around that, you have to pay. And if you pay more, you get seen first.
So is it even worth it to be on Facebook if no one is seeing my posts? Mike says, YES.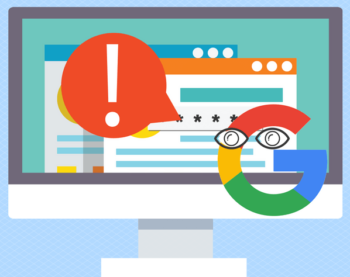 Why? It all comes down to social signals and how search engines work. We're circling back to the way things used to be: search results are becoming more important again.
Google picks up social signals from social media interactions. The more interactions you have, the more signals you have, and the more you're boosted in search results. So if you have 1,000 followers, and 50 of them see one of your posts, and then 25 of them like, comment, or share, that's 25 social signals that Google sees.
I have seen this idea in action on my blog posts. Google sends me the most traffic for posts that have the most social signals. I have a really popular Snapchat tutorial that got lots of shares. And now, if you Google "Snapchat tutorial," mine is one of the first ones that shows up.
Some bloggers who have been doing this a long time might grumble that things aren't the way they used to be. But Mike thinks this is the wrong approach. As bloggers, we need to be okay with lower traffic numbers and rethink what metrics we care about. How many email subscribers do you have? What's your sales income?
Smaller numbers mean that the people who come to your site are more qualified. They made the effort to find you, or they've been targeted with your content because they're interested in your niche.
Little Tweaks, Big Difference
Mike says that when you have a smaller community, little tweaks can make a huge difference for your business.
For example, Mike went from 10,000 new subscribers per month on Social Media Examiner to 25,000 new subscribers per month. That's a change from 1% to 2.5% of visitors opting in. It's a tiny change in terms of percentage, but it makes a big difference.
One way Mike encouraged more people to opt-in was by changing the pop-up boxes on the site. Visitors now see a pop-up as they leave the site, as well as when they arrive. You can do both!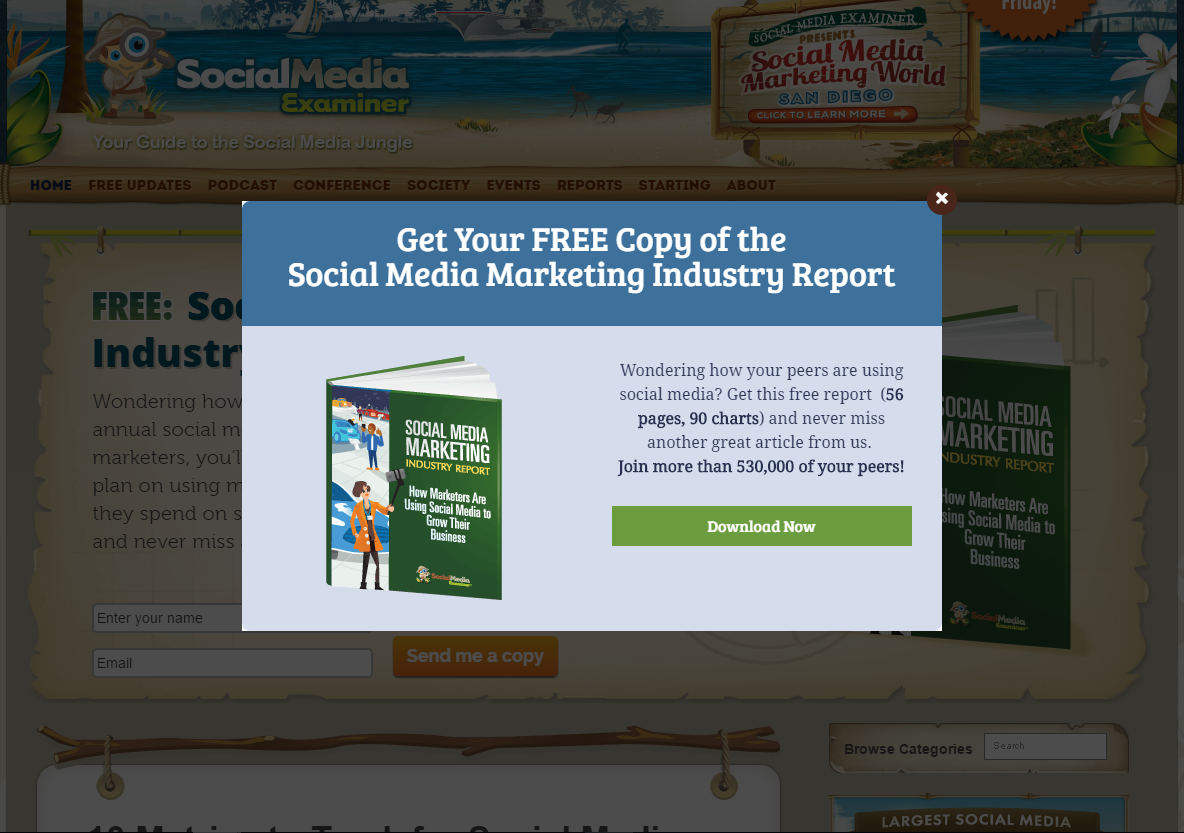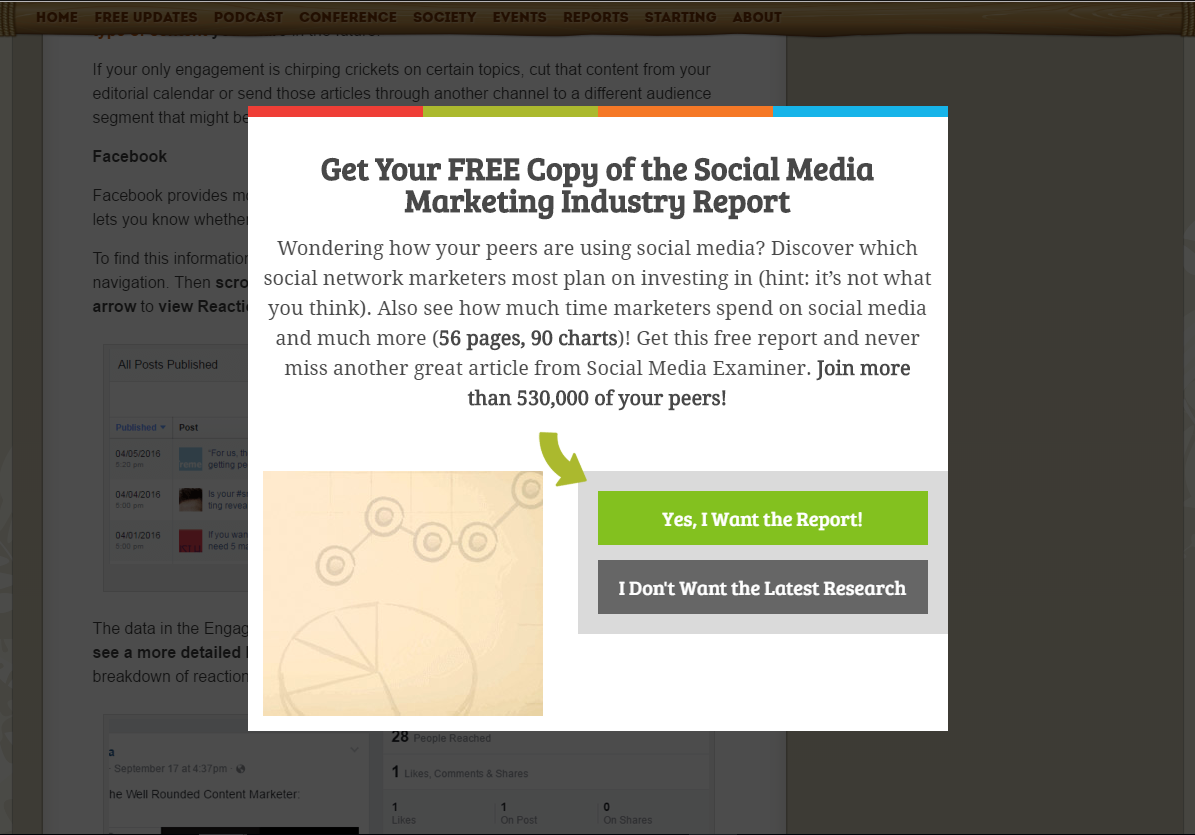 He also include slide-in opt-in forms towards the end of articles on the site.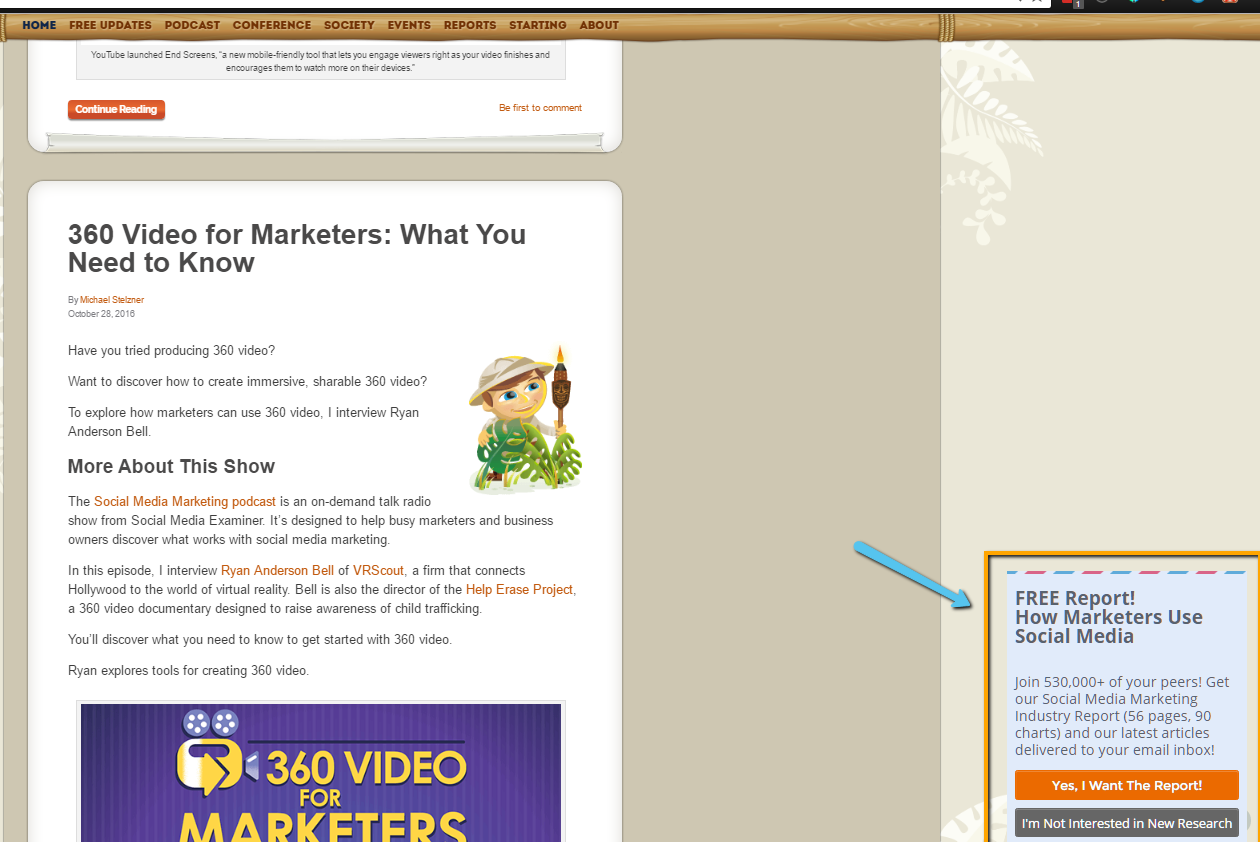 Mike's motto is: "If we can grow our email list, we can grow our business." They track everything at Social Media Examiner, and they've seen proof that email subscribers are their most loyal customers.
So what should I include in my pop-up boxes? Mike says to do a lot of tests. If you want to know more about how to run tests, he's actually going to be doing a podcast episode about that exact topic! Head on over to http://www.socialmediaexaminer.com/podcasts/ to listen.
Again, small changes can make a big difference. Test out a different headline. Change the button color. Yes, really!
Also, don't assume that what works in one place will work everywhere. If all your forms look the same, people will just ignore them. Test out different combinations to find what works for you.
Revisiting SEO
Mike says it's time to revisit SEO. He's not an expert, but it's worth the money to hire one. If you don't hire an expert, then make sure you're reading up on what the experts are saying.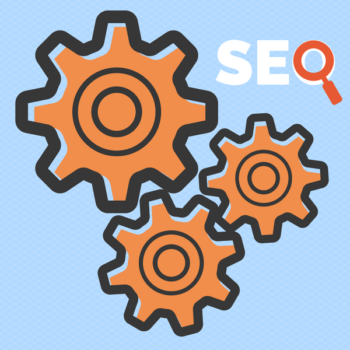 One tip Mike has learned, which is especially important for older sites, is that you need to clean up any Not Found errors on your site. They'll hurt your traffic.
Like the opt-in form changes, subtle improvements on Google can mean huge benefits for your business. It's partly about experimenting to see what works. The Artificial Intelligence that runs the algorithms is constantly evolving. Every time you try to game it, it pushes back.
But all the little things add up. For example, don't underestimate the power of emailing your list when you post new content. At Social Media Examiner, they post new content on social media first, early in the morning, and then send out an email several hours later. The email brings them a second wave of traffic, and Google takes notice.
Driving traffic to your site using your email list is smart. It's great for your readers, because they want your content anyway. But it's also good for your search rankings.
The important thing is to strengthen your home base so that you can get around the drop in organic reach.
What Is Still Working on Social Media?
Mike says it's important to think about community. In some ways, we're going back to the roots of social media: it's all about interacting with your community and building relationships. Your community, no matter how small, are the people who will have your back. They'll check in with you for updates. They'll select "show me first" on Facebook for your newsfeed (in fact, it might be a good idea to create a short video showing your Facebook fans how to do that!).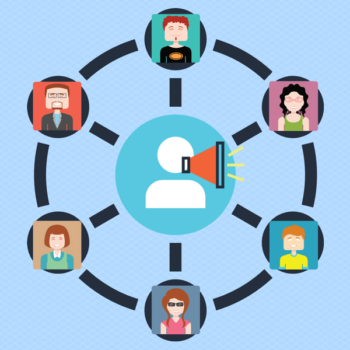 In the past, it was easier to automate your social media accounts. Now, you really do have to get in there and get hands on. You have to actually build relationships. And, really, those relationships are the most important part of your business. Would you send a robot in to do marketing meeting for you? Of course not!
Automation is really just outsourcing. Instead, interact with the people who comment on your posts. Reach out and thank the people who share your content. Find out what they loved about it. Automation is not what grows your business. YOU grow your business.
What about live video? That seems to be doing really well on Facebook right now.
Mike says that live video falls under that category of informal updates. A 10-second video on Snapchat or Instagram gives people a peek into the world you live in, and they love that.
The next level is a longer video on Periscope or Facebook Live. Doing it live requires very little effort, but people really appreciate having that insight into your life.
If you want to go even further, you can use live video to promote other content and connect with your audience at the same time. So you can publish a new post, and then go live and say, "I just published this article. Here's a quick tip. Here's how to find the article. Now I'm going to answer your questions, live." People absolutely love that kind of interaction.
Tips If You're Just Getting Started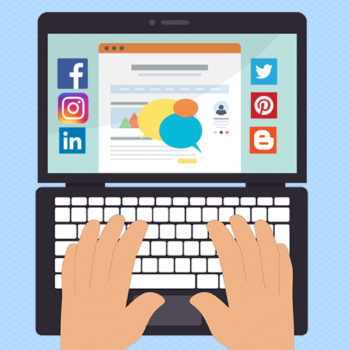 What would Mike say to someone just getting started as a blogger?
He says to work on your craft of communication in whatever medium works for you.
Some people are great speakers; others are comfortable on camera. Not everyone is a great writer, and that's okay. You can record an audio or video post and then get it transcribed as a blog. You can also re-purpose that audio or video as a podcast or vlog.
You can even hire a ghostwriter. That's someone who writes in your voice on your behalf. It's your ideas, but they do the writing part for you.
This might seem extravagant. But if you value your time at $50 per hour, and it takes you 5 hours to write a blog post, that's $250. If someone will do that work for you for $100, and save you the 5 hours, you're getting a good return on your investment.
Now if Mike had given me this tip a year ago, I would've said, "great idea, but it's not for me." However, now I have someone writing up the show notes for this podcast (hi!), and it frees me up so much!
Mike's other tip for new bloggers is to choose just one social network to start off with. Find out where your audience really are, and put your energy there. Do your research. Then, once you're established, you can slowly expand over time.
Social Media Marketing World
There's a ton of value in this episode already, but I can't let Mike leave without talking about Social Media Marketing World. It's one of the coolest conferences I have ever attended. It's for every blogger who wants to understand social media. That's the main focus. But it's so much more than that…
New in 2017, they're introducing the Creators Series. There will be 40 sessions dedicated to content creators in blogging, podcasting, video, and live video. Social Media Marketing World recruits 100% of its speakers, so you know that they're all high quality presenters.
There's also an opening party on an aircraft carrier, with Networking Ambassadors to help you meeting the people you want to connect with. And a networking bingo card! There's even a session called "Networking for Introverts." You will get networked at this conference!
You know me: I'm not going to recommend just anything. This is THE event that I recommend to anyone interested in social media and marketing. You can register now for 2017!
Resources Mentioned
Social Media Marketing World – one of the coolest conferences for every blogger who wants to understand social media. This is my affiliate link to the said event next year, 2017.
Social Media Examiner – Mike Stelzner's blog / website
Mike's products / services:
Episode 116 – How to Build Something BIGGER Than a Blog – my previous interview with Mike
Social Media that host content themselves:
If you're more of a thought leader, Mike suggests publishing through:
Video platforms that you can use for live updates and even for promoting your content:
Snapchat Tutorial – My ultimate tutorial on Snapchat that has gained a lot of traffic because of a high number of social shares
Infographic